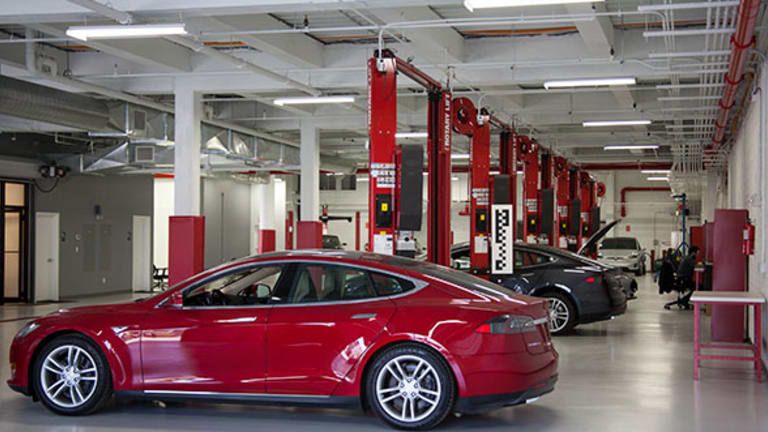 Add another potential obstacle to Tesla's (TSLA) - Get Tesla Inc Report audacious plan to expand production to 500,000 units annually by 2018: The automaker might not have regulatory approval to grow that fast.
Tesla produced about 50,000 vehicles at its lone plant in Fremont, Calif., in 2015, and hopes a second-half surge will help that figure grow to 90,000 units this year. But with the company's more affordable Model 3 scheduled to hit production by late next year, CEO Elon Musk has pushed for a dramatic expansion in the quarters to come.
That goal has been met with considerable skepticism from inside the auto industry, given the complexity of scaling car manufacturing and space limits at the Fremont plant. Musk and Tesla bulls have argued that a rethinking of the manufacturing process and a reliance on automation on the assembly line can help accomplish speeds that in the past have been unthinkable.
That debate could be moot. A report published Thursday at automotive news site Daily Kanban said that Tesla is limited to production of around 200,000 vehicles annually as part of restrictions under the Clean Air Act and California's Air Resources Board. At issue is the factory's paint shop, which generates a significant share of overall factory emissions.
More troubling, the automaker appears to have not yet applied for the necessary emission permit to cover a planned expansion of the paint shop to handle greater production levels.
A source who works in emissions regulation compliance who read the report said the approvals process can take upwards of two years, and given the plant's location in smog-heavy California and the large number of industrial businesses and refineries haggling over limited emissions authority "there are no slam dunks, there are no shortcuts."
Tesla responded to the report saying only that it was undertaking a "phased" expansion. Shares of the company traded off less than 2% on Thursday afternoon.
A slower production ramp would arguably be good news for Tesla, potentially pushing out some of the billions in capital expenditures the company requires to expand and easing worries that rapid growth could lead to lax quality control. Tesla is already facing many of those concerns even at current production levels, part of the reason the 500,000-unit goal seems so unlikely.
It is also possible that the automaker has some plans to get around the caps, via some new painting system that leads to fewer emissions or by some other alternative method. But automotive sources reached Thursday said the likelihood of some unknown innovation to bypass the problem is low.
Tesla has a long history of missing self-imposed production targets, and investors have by and large forgiven the misses. There is a belief among bulls that as long as the automaker can get its product to market eventually it will be successful, and to date that belief has been rewarded.
But Tesla has never before faced the amount of electric vehicle competition that is coming online in the near future, with General Motors (GM) - Get General Motors Company (GM) Report  bringing the Bolt to market in the months to come and a number of German luxury manufacturers developing Tesla rivals. It is possible Musk set such an ambitious target for growth in part because he realizes that consumers will have a flood of EV choices by the early 2020s, and knows sales will become more difficult in the years to come.
The permitting issue could also raise more disclosure questions at Tesla, a company already under scrutiny over its failure to divulge a fatality involving its Autopilot system prior to holding a secondary offering earlier this year. If the Daily Kanban report is accurate the company could face questions about whether its executives were making sales projections that they should have known would be impossible under regulatory requirements to fulfill.
A slowdown might also be cause for investors to rethink Tesla's valuation. The company today trades at 119.3 times projected earnings, giving it a market capitalization more than three times that of Fiat Chrysler Automobiles (FCAU) - Get Fiat Chrysler Automobiles N.V. Report despite selling just a fraction of the number of cars Chrysler sells annually.
Investors who are buying into Tesla at current levels are obviously buying into future growth. If that growth is delayed, or perhaps impossible without the costly process of building a second plant somewhere outside of Northern California, the current price becomes harder to justify.