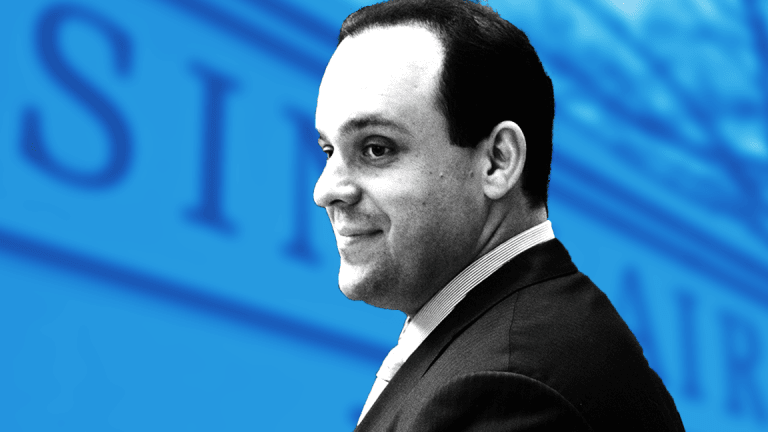 Sinclair Broadcast Likely to Get Another Gift From Trump's FCC
The TV station owner is poised to further consolidate its news operations if the FCC follows through on its plans to eliminate the Main Studio Rule.
Sinclair Broadcast Group Inc. (SGBI) , the country's largest owner of local TV stations, is poised to check another item on its wish list.
The Federal Communications Commission on Tuesday, Oct. 24, is set to take up a longtime broadcast industry proposal to eliminate the so-called Main Studio Rule, which requires TV station owners to keep a local staff where its antennae are based. The requirement dates to 1939, and though it was watered down in 1987 during the Reagan administration, advocates insist that broadcasters produce news and public affairs programming in exchange for using the public's airwaves.
"Broadcasters are granted licenses to serve local communities," said Chris Ruddy, chairman of conservative news organization Newsmax Media Inc. "What the FCC is saying is that it's all right not to have personnel in the community. But regardless of where you are politically, this a threat to free press and diversity of press at the local level, which leads to a centralization of news."
Sinclair has countered that it's not economically feasible or necessary to retain local staff at all of its TV stations, and that TV broadcasters are already overmatched by large tech companies such as Facebook (FB) - Get Facebook, Inc. Class A Report  , Amazon.com Inc. (AMZN) - Get Amazon.com, Inc. Report and Alphabet (GOOGL) - Get Alphabet Inc. Class A Report , owner of Google and YouTube, which have fast entered the media business.    
Judging by a spate of recent proposals, FCC Chairman Ajit Pai, a Republican appointee, agrees with Sinclair which has been calling for the elimination of the Main Studio Rule for years. The commission earlier this month argued in its official proposal that local residents are less likely to visit a local TV station, "instead choosing to contact their local stations through more efficient means such as the telephone, email or social media." At present, the FCC requires a station maintain at least two full-time employees.
As the country's largest owner of local TV stations, Sinclair's acquisition history is littered with employee layoffs. In locations where it owns more than one station, Sinclair has merged local news staffs, even sharing the same anchors. Examples include Columbus, Ohio, and Asheville, N.C. 
Sinclair's business model differs markedly from 21st Century Fox Inc. (FOXA) - Get Fox Corporation Class A Report or CBS Corp. (CBS) - Get CBS Corporation Class B Report , which generally own a single TV station in a given market and operate its local news bureau. By contrast, Sinclair operates about 65 total newsrooms among its 173 TV stations, located mostly in small-to-midsize markets such as McAllen-Brownsville, Texas, along the Mexico border, up to Portland, Maine. While its affiliations include broadcasters such as Fox and CBS, it also operates dozens of digital networks through Grit, Comet TV, a sci-fi channel, MeTV and getTV.
A Sinclair spokeswoman wouldn't comment on the company's position on the Main Studio Rule nor respond to emailed questions about its operations. An FCC representative declined further comment beyond the proposal.
Shares of Sinclair fell 2.1% on Monday to $30.10, extending its 2017 decline to 9.8%. By comparison, the S&P 500 has gained 15% this year.
The vote by the FCC comes as Sinclair is pressing the commission to approve its proposed $6.6 billion acquisition of Tribune Media Co. (TRCO) - Get Tribune Media Co. Class A Report , owner of cable network WGN America and 42 large-market TV stations including broadcast affiliates in New York, Los Angeles and Chicago. The vote also follows Pai's successful reinstatement in March of the so-called UHF discount, which allows station owners such as Sinclair to skirt federal regulations that prevent any one company from owning stations that broadcast to more than 39% of U.S. households.
The UHF discount, created in 1985, was eliminated in September when Obama appointee Tom Wheeler headed the commission and argued that the industry-friendly designation was archaic and no longer applied to stations in the digital era. Sinclair announced its deal to acquire Tribune Media in May, just two weeks after the FCC reinstated the rule, which counts UHF stations for just 50% of their coverage area.
Because of the rule change, Sinclair's acquisition of Tribune Media only would result in a station group that covers about 45% of the country rather than 72% without the discount. Sinclair CEO Christopher Ripley has said his company is prepared to sell some stations to get below the 39% cap. Pai, though, also has hinted that he hopes to remove or raise that cap, another change in telecom regulations long sought by Sinclair.
"Ever since Pai was elevated to chairman, he has been looking for ways to allow big broadcasters like Sinclair to consolidate further," said Dana Floberg, a policy analyst at FreePress, a Washington advocacy group that has joined with NewsMax and a consortium of cable operators to oppose Sinclair's purchase of Tribune Media. "The Main Studio Rule proposal would make it even easier for Sinclair to sustain the pattern it has established over many years of cutting news operations and putting as few resources as possible into their local stations."
Cutting back operations at local stations can have effects beyond just news, of course.
Stations acquired by Sinclair routinely suffer a decline in local sports coverage, according to Brian Hess, acting executive director of the Sports Fans Coalition, a Washington advocacy group. In an FCC filing, the coalition cited layoffs of key local TV sports reporters following Sinclair acquisitions of stations in Rochester, N.Y.; Oklahoma City; and Birmingham, Ala.
"You can't helicopter a sports reporter from Baltimore to Springfield, Ill., to cover the local high school football game," Hess said. "Sinclair has been cutting for years even as they pretend to be a local broadcaster. If you get rid of this rule, they'll no longer have to pretend."
More of What's Trending on TheStreet: