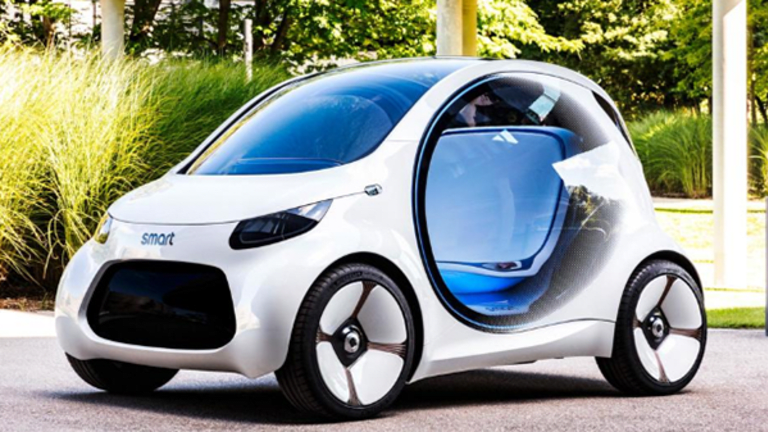 Here Are 7 Eco-Friendly Cars to be Featured at Frankfurt Auto Show
There are sure to be quite a few cars that resemble the car of tomorrow sprinkled among the head-turning supercars at the 2017 Frankfurt Auto Show.
Get ready to be blown away. 
The Frankfurt Motor Show show will kick off on Thursday, Sept. 14, and this year's show should place a solid emphasis on the disruptive forces changing the automotive industry, including autonomous driving, electric vehicles, new mobility concepts such as ride sharing and ride hailing and vehicle connectivity.
The motto of the show, "The future is now," is fitting this year, Matthias Wissmann, the President of the German Association of the Automotive Industry, or VDA, said in a press conference previewing the event.
"Full throttle and the digital development of the car of the future will be center stage of the IAA Cars," Wissmann said, "a connected and automated car."
Indeed, aside from a number of luxury vehicles from the likes of Bentley, BMW, Ferrari (RACE) - Get Free Report , Rolls-Royce, Jaguar, Porsche, and Mercedes-Benz, this year's show will feature a good selection of electric, autonomous and other envelope-pushing, eco-friendly vehicles. 
This is in line with growing trends in vehicle sales.
Overall, 53,806 electric vehicles were sold in the U.S. between January and July, up from 40,511 in the same period in 2016, according to automobile research firm Edmunds. Electric vehicle sales between January and July represented 17.3% of the green car market, compared with 15.2% in the same period last year.
"The EV market has faced a challenging few years with low gas prices turning consumer attention toward SUVs," Edmunds executive director of industry analysis Jessica Caldwell explained to TheStreet. "However, the recent introductions of longer-range electric cars at more affordable price points have breathed life into the segment, making it more compelling than ever."
Here's a look at a few of the envelope-pushing electric vehicles that we expect to hit the show floor in Frankfurt this week.
More of What's Trending on TheStreet:
Editors' pick: Originally published Sept. 11.