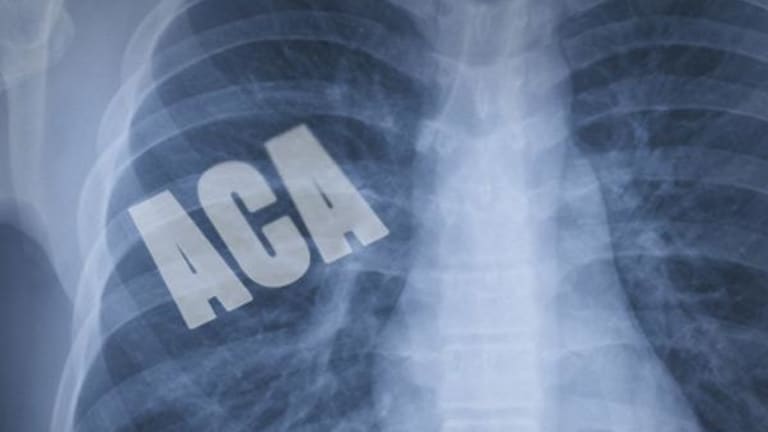 Senate's Delay in Medicaid Pullback Boosts Hospitals
Enactment of the Senate would cause a rise in the uninsured and end Medicaid expansion in 2024.
Enactment of the Senate would cause a rise in the uninsured and end Medicaid expansion in 2024.
Despite skepticism among analysts about the long-term effects of Obamacare repeal on hospital finances, shares of hospital stocks rose Thursday on the release of Senate Republicans' draft of legislation to repeal and replace the Affordable Care Act.
Quorum Health Corp. (QHC) - Get Report shares were up 8.56%, or 35 cents to $ 4.44; HCA Healthcare Inc. (HCA) - Get Report rose 3.77%, or $3.17 to $ 87.22; Community Health Systems (CYH) - Get Report  rose 3.85%, or 34 cents, to $ 9.16; Tenet Healthcare Corp. (THC) - Get Report  was up 2.26%, or 40 cents, to $ 18.08; and LifePoint Health Inc. (LPNT)  was up 2%, or $1.30, to $ 66.15.
Enactment of the Senate plan would cause a rise in the uninsured and end Medicaid expansion in 2024, which is better for hospitals than the House bill's 2120 phase out but nevertheless a negative.
Sheryl Skolnick of Mizuho Securities in a note after the draft was released agreed that hospitals stocks should up on the near term news but warned that the long-term outlooks for the sector is even worse under the Senate bill than in the one the House passed in May. "Medicaid goes away, albeit a bit more slowly, starting in 2021 versus 2020, and cuts hit hardest in 7 years from now instead of 3."
"Hospital stocks are up on this news today," she said. "They should be, in our view, as the near term risks would be abated if the subsidy and Medicaid provisions hold through Senate and House negotiations."
Over time, however, Medicaid cuts will be even deeper than the $800 billion the House bill cuts. "Expansion of Medicaid coverage was one of the few sources of volume growth since 2013 for the industry," she wrote. "So while the extra year of life for Medicaid helps the hospitals in the near-term, the bigger cuts over time hurt more."
The Senate's federal cuts also will lead to additional cuts by the states, she warned.  "The capped per capita scheme for future reimbursement, tied to a very low growth index, likely leads states to constrain the growth of Medicaid longer-term," Skolnick said. "That supports our negative long-term view on hospital volumes and likely will lead to higher incidence of no-pay heads in beds. Not good for our hospitals."
She said that on balance, "this is a positive near-term catalysts for hospitals. It ain't done and it's less worse, in the short run—likely less worse than even the Street expected. In the long run, we still see structural volume declines as the key risk for hospitals/benefit for health plans."
She has a buy rating on HCA Healthcare and UnitedHealth.
Skolnick warned in May that the few good parts of the House Republicans' initiative for hospitals—repeal of the health insurance industry fee and repeal of cuts to hospitals serving a disproportionate share of Medicaid patients—are "small comfort" compared to cuts in Medicaid funding, health insurance subsidies and coverage expansion.