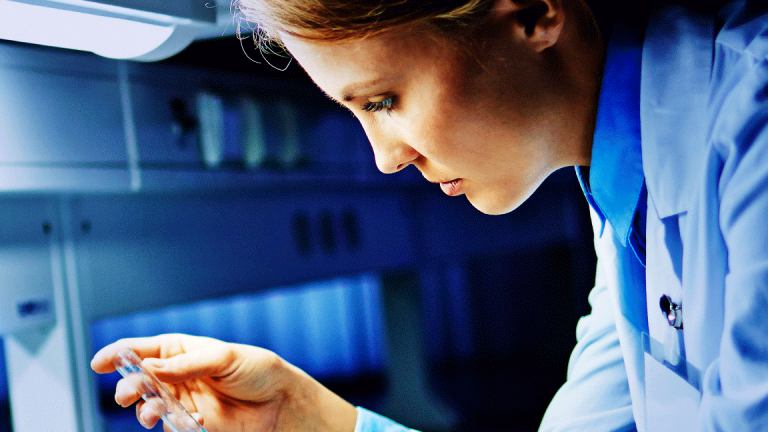 Sarepta Shares Skyrocket on Early Results for DMD Gene Therapy
The Duchenne Muscular Dystrophy specialist announces early results that show a gene-based treatment for the debilitating disease may be just two years away.
Sarepta Therapeutics Inc. (SRPT) has pulled ahead in the race to find a lasting treatment for Duchenne Muscular Dystrophy, sending its stock into orbit.
Shares jumped from a close Monday, June 18, at $105.24 to open Tuesday at $160 and reach $176.50 before pulling back to $144.80 by early afternoon in heavy trading. Even with the pared gain, the stock remains up 36.8% on Tuesday and 158.8% in 2018.
The Cambridge, Mass.-based company presented human trial results at its R&D event on Tuesday for a gene-based therapy, and while the data sample is tiny and the information is very early, the results are more than encouraging.
The data was drawn from just three boys with no control arm, a portion of a trial that will eventually include a dozen youngsters. But the subjects in the trial showed positive movement in microdystrophin and, based on muscle biopsy, a decrease in creatine kinase, an enzyme that indicates muscle damage.
Trials at this early stage, especially human trials, are focused on safety and sometimes dosage. The trial thus far has had no safety issues.
DMD is a genetic disease marked by progressive muscle degeneration and typically affects boys between the ages of 3 and 5. Teen patients lose their ability to walk and muscles associated with the respiratory system and heart weaken. The disease is fatal and has no cure.
The hope is that because DMD is a progressive disease that is debilitating and then fatal, a gene therapy could result in arresting the disease at an early stage, allowing patients to live longer with increased control of their bodies.
Sarepta officials were understandably excited at the results thus far and said they hoped the gene therapy could be accessible to patients two years from now if everything in the program lined up correctly.
Sarepta has the only FDA approved treatment for DMD, Exondys 51, but the therapy is only approved for treating a subgroup of patients with a specific dystrophin mutation. Critics also have pointed to the lackluster results that resulted in the FDA's approval, the effect of patient advocacy groups on that approval as well as the high drug price that patients are charged for the sole drug on the market.
Given its history with the FDA regarding Exondys 51, Sarepta will be sure to put trials together that will stand up to regulatory scrutiny. It also will need to deal with the DMD advocacy groups, which are active and vocal. And as the company moves its therapy through the trials, it may come under new pressure given the recent passage of the Right to Try legislation.
Sarepta's human lab results come on the heels of Solid Biosciences Inc.'s (SLDB) announcement that the FDA has cleared the company to resume its testing of Ignite DMD, its minidystrophin gene transfer therapy. The company had its DMD trial halted in November after the first patient dosed had a serious reaction to the therapy.
Solid Biosciences shares jumped 19% on the FDA news Monday and were up 60% to $47.01 on Tuesday afternoon.
According to a company statement Monday on the released FDA hold: "The event was characterized by a decrease in platelet count followed by a reduction in red blood cell count, transient renal impairment and evidence of complement activation. There were no signs of bleeding or clotting abnormalities and no laboratory evidence of liver dysfunction. The patient received standard medical care [and] remained clinically stable and generally asymptomatic throughout the event, which fully resolved."
Because of the FDA hold, the company is changing the protocol for the revived trial, which will include both children and adolescents. Following the initial dosing of Ignite DMD, patients will receive IV glucocorticoids, a type of corticosteroid, and monitoring will be stepped up.
In an investor call Monday, the company said that the FDA hold had nothing to do with manufacturing of the drug and that the agency released its hold from a manufacturing standpoint in April.
With the clinical hold in the rear-view mirror, Solid now expects to report initial data from a prespecified interim analysis in the second half of 2019.
The FDA action puts Solid Biosciences back in the chase for a viable DMD treatment, along with Sarepta and Pfizer Inc. (PFE) , which are also pursuing minidystrophin treatments. Pfizer began a $1 billion trial in March following its 2016 acquisition of Bamboo Therapeutics Inc. as well as its $100 million expansion of its North Carolina commercial-scale gene therapy facility. Pfizer's drug, PF-06939926, was granted Orphan Drug and Rare Pediatric Disease designations by the FDA.
Solid Biosciences, which was founded in 2013, was due for some good news. The company has taken a fair share of heat this year.
It rolled out its IPO in January under a cloud of controversy. The original IPO, five months in the making, required three registration revisions and was projected to price the company's shares at $18 to $19 each. But the day before the IPO was set to price, Solid Biosciences announced the FDA had slapped a hold on its Ignite DMD trial. The company dropped its offering price to $16 and increased the number of shares on offer to 7.8 million from 5.9 million to set up a $125 million take from the IPO.
Users vociferously complained on Twitter that the company had sat on the hold information from the FDA since November but failed to make it public until the offering filings forced Solid's hand. Nevertheless, investors didn't take it out on the offering, as shares jumped to $29.25 in the first day of trading before settling back to close at $22.62.
Solid Biosciences also was the target of speculation after gene therapy expert James Wilson resigned from its advisory board after a death in an animal trial associated with the delivery system of the company's therapy.
CEO Ilan Ganot -- a former JPMorgan Chase & Co. (JPM) banker wise in the ways of Wall Street -- has stayed busy holding the hands of investors that include Perceptive Advisors LLC (11%), JPMorgan (8.5%), RA Capital Management LLC (7.5%) and Biogen Inc. (BIIB) (5%), according to FactSet Research Systems Inc.
The company declined additional comment on Monday.
How Wealthy Investors Should Play Today's Markets. Whether you're a high-net-worth individual or just want to invest like one, you won't want to miss TheStreet's recent roundtable discussion on what wealthy investors should do right now. Register for this free roundtable video with top strategists from Bank of America, Fisher Investments, Invesco and Wells Fargo.