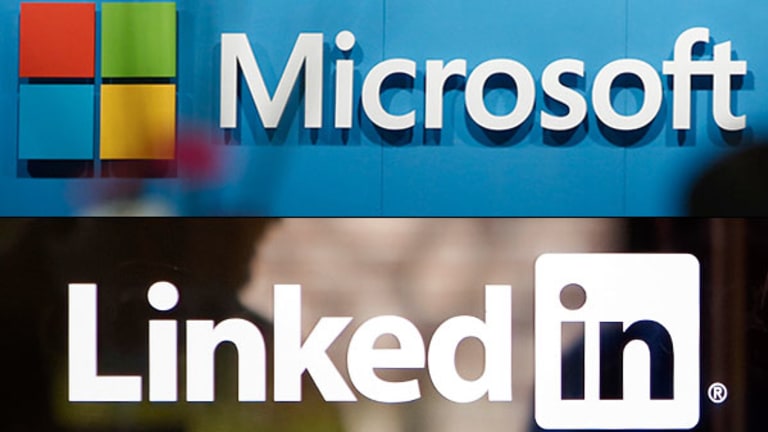 Salesforce Will Press Two Big Points in LinkedIn Antitrust Fight
The EC's new focus on Big Data and Microsoft's plan to meld office productivity tools with LinkedIn's pool of professional info will form a CRM monopoly, a worried rival argues.
Salesforce.com's (CRM) - Get Report surprisingly aggressive public statements late last week about their plans to ask the European Commission to challenge Microsoft's (MSFT) - Get Report $26.2 billion bid for LinkedIn (LNKD) deal were all the more astonishing because U.S. antitrust enforcers and competition officials in Canada and Brazil already approved the deal with no hesitation.
At first glance, it might seem wildly unlikely that European officials will challenge a deal that barely raised an eyebrow anywhere else. But Benioff obviously thinks he's got a fighting chance to either stop the deal or convince the EC to require that LinkedIn's data be made available to other developers of customer relationship software (CRM), like salesforce and Oracle Corp. (ORCL) - Get Report
News of Saleforce's antitrust campaign first broke Sept. 29 when CEO Marc Benioff complained about Microsoft's plan for LinkedIn, which the computer giant unveiled at its Ignite conference in Atlanta.
"Amazing @Scottgu says @Microsoft 2 use @LinkedIn data 4 anticompetitive bundles & denying access the data to rivals," Benoiff tweeted.
Salesforce Chief Legal Officer Burke Norton followed up with formal statements elaborating on the company's concern that the deal will allow Microsoft to combine its dominant positions in office productivity and CRM software with LinkedIn's massive store of data on individuals' business connections, employment history and companies use of the social networking platform for recruiting employees.
JMP Securities analyst Patrick Walravens expressed some veiled skepticism of Salesforce's chances in a research note Friday, hinting that he thinks the outbursts may be an attempt to generate buzz at Salesforce's own conference, Dreamforce, which runs Oct. 4-7 in San Francisco. "Mr. Benioff has done a stellar job of keeping salesforce.com in the media spotlight ahead of the Dreamforce conference next week, which now has over 171,000 registered attendees," he wrote.
But salesforce is likely to argue that two big events have occurred since the deal was cleared by other jurisdictions.
One is the vow European Competition Commissioner Margrethe Vestager made last month to take a tough stand against competition problems arising from Big Data-- the huge amounts of user information companies, including Facebook Inc. (FB) - Get Report and Google Inc. (GOOG) - Get Report use for advertising, marketing and other purposes. "We do need to keep a close eye on whether companies control unique data, which no one else can get hold of, and can use it to shut their rivals out of the market," she said, adding that "if we do find that companies are undermining competition, we won't hesitate to take action."
The other factor is that since the U.S. Federal Trade Commission completed its review of the LinkedIn deal, Microsoft has laid out an aggressive plan for incorporating LinkedIn's data into its Microsoft Office suite and its CRM platform, Microsoft Dynamics. Those plans were described by company Microsoft CEO Satya Nadella at Microsoft's annual Ignite conference in Atlanta last week.
Salesforce finds its rival's plans alarming because Microsoft will be combining its Office product suite and Dynamics, which, combined, hold 80% of the office productivity and CRM segments, and the 1.3 billion users of those products with a LinkedIn database built from the information of 450 million users around the world. (It should be noted that when counting CRM only, salesforce leads that segment with nearly 20% of the market versus Microsoft's 4.3% share.)
With the kind of data available on social networks, companies like Microsoft and salesforce will be able to provide productivity and CRM products that do more than look back at how well past sales practices have worked and instead offer predictive analysis that can be used to identify the movers and shakers in an organization, the most likely sales leads, how to get introductions to those leads and glean personal information like sales prospects' alma maters, hobbies and employment histories.
In short, the combination of LinkedIn's social media data and CRM technology will allow sales teams to replace the cold call with "warm introductions"--a prospect the CRM developers believe will be a game changer for their corporate customers.
But if LinkedIn's data is available only to Microsoft, salesforce and other rivals fear they will have an even harder time challenging Microsoft's dominant position and be quickly pushed out of the business.
Salesforce is believed to have made those arguments to the FTC but prior to Nadella's comments at the Ignite conference, there was little hard evidence that U.S. regulators could point to that showed a competitive issue may be brewing.
Action Alerts PLUS, which Cramer co-manages as a charitable trust, is long FB.