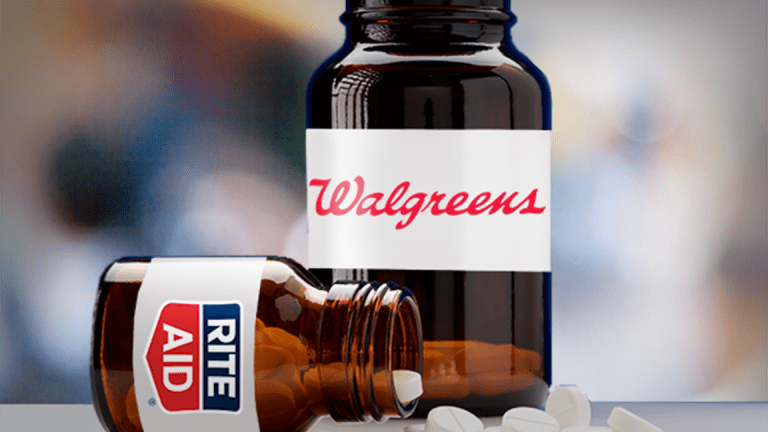 Walgreens to Begin Rite Aid Transformation in 'Carefully Planned Phases'
Store purchases by Walgreens are to begin next month and are expected to be completed in spring 2018.
Walgreens Boots Alliance Inc. (WBA) - Get Free Report cut down the number of stores it will buy from Rite Aid Corp. (RAD) - Get Free Report , a move that allowed the two rival drug store chains to finally win clearance from the Federal Trade Commission for a long-sought deal.
Walgreens said Tuesday, Sept. 19 that it has secured regulatory clearance for an amended agreement to purchase 1,932 stores and three distribution centers from Rite Aid and related inventory for $4.38 billion in cash and other consideration.
Store purchases are to begin next month and are expected to be completed in spring 2018. After all stores are acquired, they will be converted to the Walgreens brand "in carefully planned phases," Walgreens said.
The stores to be purchased are located primarily in the Northeast and southern U.S., and the three distribution centers to be purchased are located in Dayville, Conn., Philadelphia, Pa., and Spartanburg, S.C.
Rite Aid shares were down 10%, or 23 cents, in midday trading Tuesday to $2.44. Walgreens shares were down less than a percent to $81.83.
The latest version of the deal updates terms of an agreement announced in June after it became clear the FTC would not approve Walgreens' purchase of Rite Aid outright. The June deal first called for Walgreens to pay $5.2 billion to purchase and assume the leases of 2,186 of the former target's stores. But analysts noted at the time that some of the Rite Aid stores designated for purchase had a fair amount overlap with existing Walgreens stores and suggested that a reduction in the number of stores Walgreens ultimately bought would be needed.
The previous plan to buy all of Rite Aid, announced Oct. 27, 2015, called for Walgreens to subsequently divest a large number of stories to Fred's Inc. undefined , a financially shaky retailer that the FTC could not be convinced was capable of managing such a large purchase.
That original deal called for Walgreens to absorb roughly 3,600 Rite Aid stores and spinning off another 1,000 or so Rite Aid locations to Fred's.
The latest incarnation of Walgreens' deal with Rite Aid has been approved by the boards of both companies.
The transition of these distribution centers to Walgreens will not begin for at least 12 months.
In addition to the cash payment, Walgreens will assume related real estate leases and grant Rite Aid an option, exercisable through May 2019, to become a member of Walgreens Boots Alliance's group purchasing organization, Walgreens Boots Alliance Development GmbH. Walgreens Boots Alliance will also assume certain limited store-related liabilities as part of the new transaction.
"This is a significant moment for our company, and we are excited about the opportunities this agreement will deliver for our customers and patients, employees and investors," said Walgreens Boots Alliance Executive Vice Chairman and CEO Stefano Pessina. "Combining Walgreens retail pharmacy network with a strong portfolio of Rite Aid locations is expected to help us achieve enhanced, sustainable growth while enabling us to broaden our reach and provide greater access to convenient, affordable care in more local neighborhoods across the United States. We are confident in the path ahead and look forward to working together to shape the future of health care and deliver on the full potential these stores bring to our network."
That the FTC is willing to approve the tweaked version of the Rite Aid deal doesn't come as much of a surprise, given that Walgreens has been in discussions with the commission for nearly two years and had a clear idea of what the commission would accept and what it wouldn't.
"You should assume that we have taken account of specific feedback from the agency that we have received over the last 22-odd months in formulating the store package that we have agreed with Rite Aid," said Walgreens General Counsel Marco Pagni in June when they addressed analysts' questions about purchase agreement during the company's third quarter earnings call. "We have designed it in a way, which has been very carefully thought through with Rite Aid and with our counsel to take account of all the feedback that we've received during the last 22 months in a very detailed, very detailed review process."
Watch: Jim Cramer on Nvidia, Caterpillar, Facebook, HP Enterprise, Autozone, and FedEX
More of What's Trending on TheStreet: