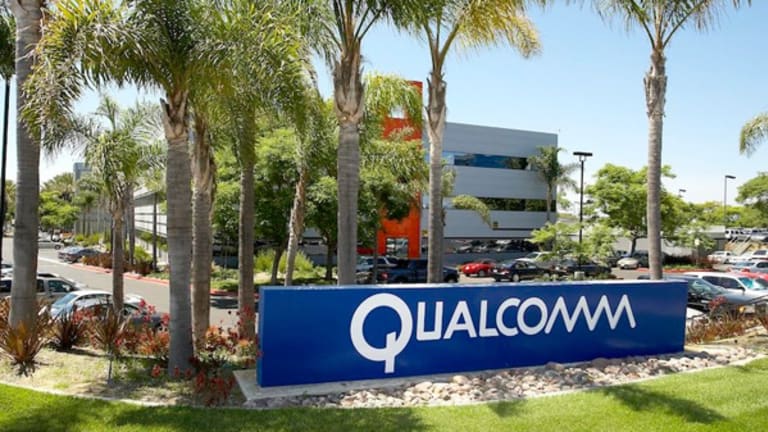 Qualcomm to Appeal South Korean $865 Million Patent Fine
South Korean regulators found Qualcomm failed to license patents for cellphone chipsets that have been incorporated into global industry standards on fair and reasonable terms.
Qualcomm (QCOM) vowed on Wednesday to appeal a massive $865 million fine imposed by the Korea Fair Trade Commission.
The KFTC found earlier Wednesday that Qualcomm failed to license its cellphone chipsets patents that have been incorporated into global industry standards on fair and reasonable terms.
EDITOR'S NOTE: This article was originally published by The Deal, a sister publication of TheStreet that offers sophisticated insight and analysis on all types of deals, from inception to integration. Click here for a free trial.
Qualcomm "coerced the execution and performance of unfair license agreements by using its chipset supply as leverage, while  circumventing" its fair and reasonable licensing obligations, the commission said.
The company responded with an angry pledge to fight both the commission's conclusion that Qualcomm had violated Korean regulations and the size of the agency's fine. "This is an unprecedented and insupportable decision relating to licensing practices that have been in existence in Korea and worldwide for decades and that the KFTC reviewed but did not question in a previous investigation of Qualcomm," the company said in its prepared statement.
Through midday trading Qualcomm shares had dropped 1% to $66.30.
The commission's decision undermines incentives to invest in fundamental technology and share it with competitors and the fine "is insupportable and not reasonably related to the size of the Korean market," Qualcomm said.
Korea-based Samsung (SSNLF) like all handset makers, depends on Qualcomm patents and is locked in a bitter battle with Apple (AAPL) for the top spot in the global market for smartphones.
The brewing litigation between South Korean officials and Qualcomm is the latest in a long-running series of legal conflicts globally over patent holders' rights to set royalty fees and their obligations to charge fair and reasonable terms when their patents are included in industry standards, such those required to ensure that cellphones manufactured by different companies are interoperable.
The question of how to determine whether patent owners' royalty demands are fair and reasonable has been an issue when large patent portfolios have been sold. In the U.S. the Federal Trade Commission and the Department of Justice have struggled with the dilemma when conducting  antitrust reviews of patent portfolio sales and in trying to establish general antitrust policies for so-called "standard essential patents," or SEPs, that are part of industry-wide technology standards.
Only last week Apple filed a sweeping antitrust lawsuit against patent patent assertion entities Acacia Research (ACTG) and Conversant Intellectual Property Management, accusing them of colluding with Nokia (NOK)  "to extract and extort exorbitant revenues" from Apple and other cellphone makers in violation of SEP obligations.
SEPs are typically established by companies that belong to industry organizations such as the Institute of Electrical and Electronics Engineers' Standards Association, the International Telecommunications Union and the European Telecommunications Standards Institute to ensure interoperability among competing manufacturers' products. In return for having their patents included in an industry standard,  SEP owners pledge to license the patents on fair, reasonable and non-discriminatory, or FRAND, terms.
Among the violations alleged against Qualcomm, the KFTC found the company has refused competitors' requests to license or has imposed restrictions on SEP licenses, linked chipset supply with patent license agreements, provided handset companies with only comprehensive portfolio licenses, had no procedure for calculating fair compensation and, finally, demanded that handset companies license their patents for free.
The commission stressed that its case against Qualcomm is noteworthy because it claims to be the first regulatory body to sanction the company for its "unfair business model," which the commission said was designed to "strengthen its monopolistic power" in the patent license and chipset markets.
The KFTC's findings were announced in a 27-page statement but the full legal opinion won't be available for another four to six months, according to Qualcomm. South Korean rules require Qualcomm to pay the fine within 60 days of the issuance of the written order.
Once the KFTC's full written order is published, Qualcomm said it will file for an immediate stay of the fine and appeal the KFTC's decision to the Seoul High Court. The company said it will also appeal the amount of the fine and the method used to calculate it. 
Qualcomm said the commission's decision "reflects a flawed process and represents a violation of due process rights owed American companies under the Korea-U.S. Free Trade Agreement."
Don Rosenberg, Qualcomm general counsel said the company "strongly believes that the KFTC findings are inconsistent with the facts, disregard the economic realities of the marketplace, and misapply fundamental tenets of competition law."
In its statement Qualcomm said the shortcomings of the South Korean ruling include the lack of a coherent theory of competition law violations, no evidence of harm to what is "robust" competition among chip and handset suppliers, denial of Qualcomm's right to have complete access to evidence and the right to cross examination, and disruption of established licensing practices that have been accepted by the wireless industry and used by Korean companies and government institutions and other major patent holders for decades.