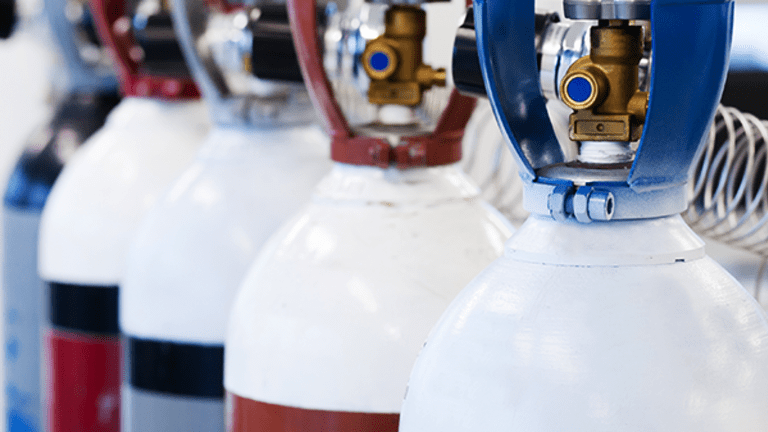 Praxair, Linde Likely to Make Divestitures for FTC OK
The companies disclosed in a regulatory filing that they received a second request for information from the commission.
Linde AG and Praxair Inc. (PX) continue to prepare their answers to U.S. and European competition enforcers' questions about the planned $74 billion merger of the rival industrial gasmakers.
The companies disclosed Aug. 16 in a regulatory filing that they received a second request for information from the U.S. Federal Trade Commission, an action that extends the government's merger review beyond the perfunctory 30-day initial review. In an update for investors Monday, Aug. 28, the companies said they are still responding to the FTC's information request and are in the pre-notification phase with the European Commission.
Since Aug. 16, shares of the target Praxair have dropped from $133.59 to $130.88 as of close Tuesday, Aug. 29.
The German- and U.S.-based companies have said that their merger is subject to antitrust review in approximately 24 jurisdictions and isn't likely to close until the second half of 2018.
Other countries where competition enforcers' approval must be obtained include Brazil, Canada, China, India, Mexico, Russia and South Korea.
In their merger agreement, the companies have signaled that they expect competition enforcers will require them to make divestitures to address competition concerns. A provision in their merger contract limits the amount of spinoffs they must submit to if ordered by enforcers to assets that individually or in the aggregate generated 2016 annual revenue in excess of €3.7 billion ($4.43 billion) or Ebitda in in excess of €1.1 billion ($1.32 billion).
If the regulatory approval is not obtained by October 24, 2018, the exchange offer will terminate. "Any delay in the completion of the business combination for regulatory reasons could diminish the anticipated benefits of the business combination or result in additional transaction costs," the companies said in their agreement.
The companies also plan to submit their deal to the Committee on Foreign Investment in the United States, the interagency panel led by the U.S. Department of the Treasury and reviews purchases of U.S. assets for national security threats. The companies said they expected to file a voluntary notification with CFIUS by the end of September.
They predicted expect that the CFIUS proceeding will be concluded in the first quarter of 2018 but no later than October 24, 2018.
Munich-based Linde and Praxair of Danbury, Conn., participate in the industrial gases industry by producing, selling and distributing atmospheric (oxygen, nitrogen and argon), process (carbon dioxide, helium, hydrogen and acetylene), rare (krypton, neon and xenon), specialty and electronic gases. Linde and Praxair distribute industrial gases through three basic distribution methods: on-site or tonnage, merchant or bulk, and packaged or cylinder gases.
In addition, Linde operates an engineering business and Praxair operates a surface technologies business. Linde's engineering business provides technology, engineering, procurement, project management and construction services for industrial plants. Praxair's surface technologies business supplies wear-resistant and high-temperature corrosion-resistant metallic and ceramic coatings and powders.
Furthermore, Linde and Praxair participate in the healthcare business which includes providing medical grade gases and related services to hospitals, clinics and other healthcare facilities as well as homecare patients that require the administration of supplemental oxygen, assistance with breathing or administration of drugs via respiratory systems and other therapies.
Both companies serve a variety of end-markets including aerospace, chemicals, food and beverage, electronics, energy, healthcare, manufacturing and primary metals and many others.
The size of the global industrial gases and related market in 2016 was around $120 billion.
Approximately 56% of Praxair's 2016 sales were outside of the United States, with the majority of revenues and earnings generated in the U.S., Canada, Mexico, Brazil, Spain, Italy, Germany / Benelux, Scandinavia, China, India, Korea and Thailand.
Linde has three main divisions, with the largest being the Linde Gases Division, which is active in approximately 100 countries, divided over three geographic reporting segments: Europe, Middle East and Africa; Asia/Pacific; and the Americas. Of the other two segments the Engineering Division is active across the globe and ranks among the leading process plant contractors. Linde's Other Activities Division includes only the discontinued operation relating to the logistics business called Gist.
Excluding any potential divestitures, the combined Linde/Praxair would receive 43% of its revenue from the Americas, 26% from Europe, Middle East and Africa and 21% from Asia Pacific and 10% from Engineering and Praxair Surface Technologies.
The companies said the global market is "highly competitive" in the industrial gases, engineering and healthcare arenas and is "characterized by a mixture of local, regional and global players, all of which exert significant competitive pressure" on the merging companies.
Competitors in the industrial and medical gases industry include many global and regional players such as Air Products and Chemicals Inc. (ADP), L'Air Liquide SA and several other regional and global players such as Messer Group GmbH, Mitsubishi Chemical Holdings Corp.'s Taiyo Nippon Sanso, Air Water Inc., Yingde Gases Group Co. Ltd., Iwatani Corp. and SOL Spa. They said there also is "an extensive number" of small to medium size independent industrial gas companies which compete locally as producers or distributors. In addition, customer-owned plants comprise a significant portion of the international gases market.
Although there are more than 80 players in the U.S. market, the four top companies account for more than 88% of industry revenue, according to market research firm IBIS World. A 2015 IBIS report issued listed the top U.S. players as Praxair with a 36.3% share of the market; Air Products and Chemicals with 26.5%, Linde Group with 18.3% and Air Liquide with 7.8%.
The FTC required divestitures as terms of antitrust approval for Air Liquide's $13.4 billion acquisition of Airgas Inc. in 2016. Air Liquide was required to sell to Reliant Holdings, Ltd. assets related to production of bulk liquid carbon dioxide and dry ice at facilities in Galva, Ill., and Sergeant Bluff, Iowa, to address the competition concerns.