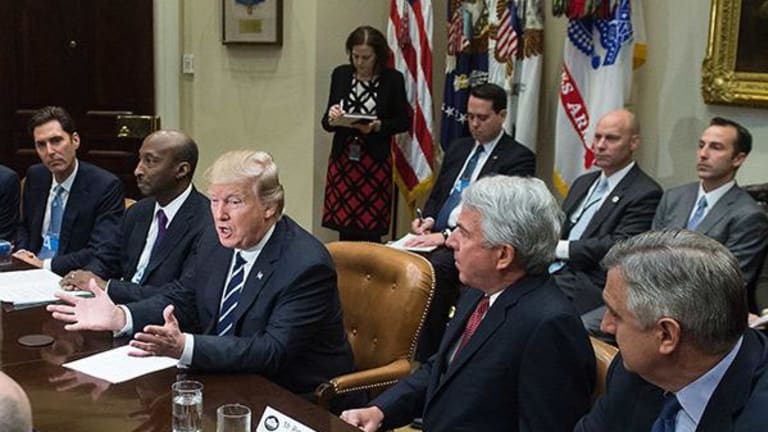 Obamacare Repeal to Cut Deficit, but Greatly Expand Ranks of Uninsured
The deficit would be cut by $337 billion through 2026 but the number of people without health coverage would increase to 24 million.
The plan to repeal Obamacare and replace it with a plan being crafted by House Republicans and the Trump administration would cut the deficit by 337 billion through 2026 but also would increase the number of people without health coverage would increase to 24 million, according to estimates released by Capitol Hill budget and tax analysts Monday afternoon.
The estimates from the Congressional Budget Office and the staff of the Joint Committee on Taxation are being closely watched because they could greatly affect the support for enacting the plan, key components of which were passed by House committees last week.
The prediction that millions will lose or give up insurance could diminish support for the package and the White House issued a statement saying it disagrees "strenuously" with the CBO analysis. Over the weekend the White House insisted that no one will be made worse off by passage of the legislation.
Health and Human Services Secretary Tom Price told reporters Monday evening that the bill's supporters believe more people will be enrolled in health coverage because they will have more choice in coverage options and will be able to pick one they like. 
House Speaker Paul Ryan said the report at least confirms that the repeal and replace legislation, dubbed the American Health Care Act, "will lower premiums and improve access to quality, affordable care."
He added, "CBO also finds that this legislation will provide massive tax relief, dramatically reduce the deficit, and make the most fundamental entitlement reform in more than a generation."
He also noted that the report does not take into consideration additional steps Congress and the Trump administration are planning to further lower costs.
Editor's pick: This story was originally published on March 13 at 5 pm ET
Separately, the Senate on Monday evening confirmed, 55-43, Seema Verma to be administrator of the Centers for Medicare and Medicaid Services. Verma will be tasked with making it easier for states to try new approaches in aiding low-income and disabled people. The White House intends to make Medicaid policy waivers a central part of its strategy for overhauling health care
The largest budget savings would come from reductions in outlays for Medicaid and from the elimination of the Affordable Care Act's (ACA's) subsidies for nongroup health insurance. The House plan would scale back a planned expansion of Medicaid.
The largest costs would come from repealing many of the fees and taxes that were created to pay for Obamacare, which makes subsidized health insurance available through government-run exchanges. Those taxes include an increase in the hospital insurance payroll tax rate for high-income taxpayers, a surtax on those taxpayers' net investment income, and annual fees imposed on health insurers-and from the establishment of a new tax credit for health insurance.
The legislation also would eliminate an ACA provision requiring individuals to purchase health insurance or pay a penalty. As a result, CBO and JCT estimate that, in 2018, 14 million more people would be uninsured under the legislation than under current law. Most of that increase would stem from repealing the individual mandate because some people would choose not to have insurance once free of the threat of penalty. Others would forgo insurance in response to higher premiums.
HHS Secretary Price said CBO is wrong to assume many people will give up coverage because the mandate is disappearing. "We believe CBO simply has it wrong," Price said.
Down the road, as subsidies for insurance purchases in the individual market are scaled back and the Medicaid program reduced, the increase in the number of uninsured people relative to the number under current law would rise to 21 million in 2020 and then to 24 million in 2026. The increase in uninsured would stem in large part from changes in Medicaid enrollment -because some states would discontinue their expansion of eligibility, some states that would have expanded eligibility in the future would choose not to do so, and per-enrollee spending in the program would be capped.
In 2026, an estimated 52 million people would be uninsured, compared with 28 million who would lack insurance that year under current law, the analysts said.
Ron Pollack, executive director of Families USA, said the CBO analysis "clearly shows" that GOP leaders "are pushing a health bill that would be a disaster for America's families."
Cutting Medicaid by $880 billion over those years threatens the safety net of millions of children, seniors, and people with disabilities, he said. "This proposal's cynicism is underscored by its simultaneous showering of close to $600 billion in tax breaks to the wealthy and corporations. It also belies President Trump's promise that his health plan would be better for America's families."
The largest health insurers were almost all up on anticipation of CBOs numbers Monday. Anthem (ANTM) - Get Anthem, Inc. Report was up 83 cents to $167.24, UnitedHealth (UNH) - Get UnitedHealth Group Incorporated Report was up 23 cents to $170.21, Cigna (CI) - Get Cigna Corporation Report climbed $1.48 to $153.40 and Humana (HUM) - Get Humana Inc. Report rose $1.25 to $219.18. The only insurer among the big five to fall was Aetna (AET) , which dropped 18 cents to $132.62.
Hospital stocks were mostly down. Tenet (THC) - Get Tenet Healthcare Corporation Report dropped 59 cents to $18.63, HCA (HCA) - Get HCA Healthcare Inc Report declined 76 cents to $84.99, LifePoint (LPNT) dropped 75 cents to $62.85.
Editors' pick: Originally published March 13.