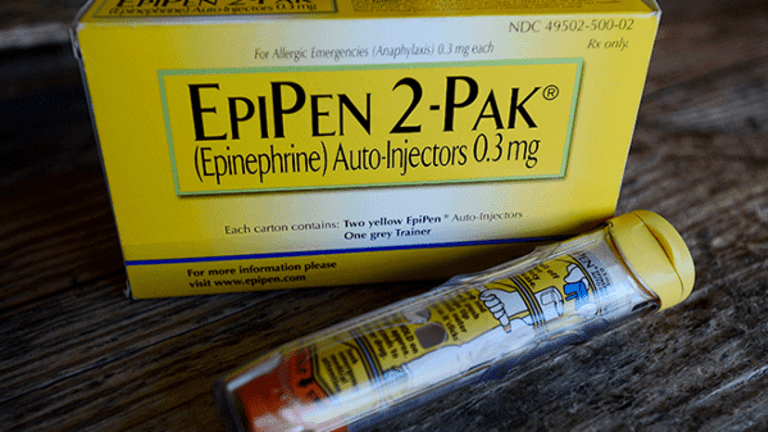 Mylan to Meet Sen. Grassley on EpiPen Claims
Mylan's offer follows Grassley's release of a Medicaid investigator's report concluding EpiPen may have received $1.27 billion more from a rebate program than the company was entitled.
Mylan (MYL) - Get Mylan N.V. (MYL) Report officials have offered to meet with Senate Judiciary Committee Chairman Charles Grassley, R-Iowa, on Wednesday, June 7, after the lawmaker threatened to subpoena the company for documents pertaining to the company's participation in a federal rebate program for Medicaid patients using the company's EpiPen allergy treatment.
Mylan's offer follows Grassley's May 31 release of a Medicaid investigator's report concluding that EpiPen may have received $1.27 billion more from the rebate program from 2006 through 2016 than the company was entitled. "Mylan reached out today and wants to meet next Wednesday to produce documents to Grassley staff," according to a staffer for the lawmaker.
Previously Mylan said it had agreed to return he $465 million to the government as part of settlement negotiations with the Department of Justice. Talks with the DOJ continue.
Mylan officials declined to address Grassley's comments or the investigator's report. "We have no comment beyond that we continue to work with the government to finalize the settlement as soon as possible," a Mylan spokesman said.
The estimate of overpayment was contained in a report from the Department of Health and Human Services' Inspector General's Office.
EpiPen was misclassified under the Medicaid Drug Rebate Program, which resulted in overcharges to states and taxpayers.
Grassley has pressed Mylan and the Centers for Medicare and Medicaid Services (CMS), the regulator of Medicaid, for documentation shedding light on why EpiPen was misclassified. CMS recently provided records to the Judiciary Committee indicating that CMS told Mylan on several occasions that the EpiPen was misclassified, yet Mylan failed to correct the classification.
According to Grassley, Mylan has "repeatedly refused" to turn over its records of those communications with CMS," Grassley said in a statement Wednesday. "The fact that the EpiPen overpayment is so much more than anyone discussed publicly should worry every taxpayer. Mylan and the Obama Administration reportedly were close to settling the overpayment for much less than $1.27 billion."
"It looks like Mylan overcharged the taxpayers for years with the knowledge EpiPen was misclassified, and the previous administration was willing to let the company off the hook," he said . "The fact that Mylan is unwilling to cooperate and provide documents voluntarily makes me wonder what there is to hide and whether a subpoena is the only way to get to the bottom of this."
"The government needs to do a much a better job of holding companies to their commitments in federal health care programs." Grassley added. "It appears the Obama Administration failed to use all available tools to hold Mylan accountable. The taxpayers deserve more from their government and don't need to give anyone a blank check. I'll continue to push for accuracy under the Medicaid Drug Rebate Program and for Mylan to produce the requested records to the Committee. Taxpayers have a right to know what happened here and to be repaid whatever they are owed."
Grassley has demanded information that would answer a number of questions, including whether Mylan was notified that the EpiPen was misclassified under the Medicaid Drug Rebate Program and if so, by which agency and under what circumstances. Also, if Mylan was notified about the misclassification, what if any steps did it take to correct the misclassification?
Grassley also asked for documentation detailing the components of the EpiPen's $608 product cost, including amounts that go to wholesalers, retail pharmacies, pharmacy benefit managers, and payers, including the cost of goods sold. He asked for the same cost structure breakdown Mylan's generic version of EpiPen.
The senator also asked for details on Mylan's decision to redesign the product, which contributed to a significant increase in price.
On a related topic, Grassley said he would tackle the general problem of increasing drug prices.
"High prescription drug prices are a major concern across the country," "I'm working to advance legislation that would help, including bills to bring more lower cost generic drugs to the market. As part of bringing down drug costs, we have to make sure companies that take part in federal health care programs aren't gaming the system. Congress has a constitutional responsibility to conduct oversight of the executive branch, and making sure taxpayers don't overpay for EpiPens or any other drugs in public health care programs is our job."
Also, a group of disgruntled Mylan investors, led by New York City Comptroller Scott M. Stringer, announced a "vote no" campaign May 31 to block the re-election of six directors and management's compensation proposal. Stringer, who has challenged Mylan since 2016. took action against Mylan on behalf of the New York City Pension Funds and in partnership with New York State Comptroller Thomas P. DiNapoli, the California State Teachers' Retirement System, and PGGM NV, a Dutch pension fund.