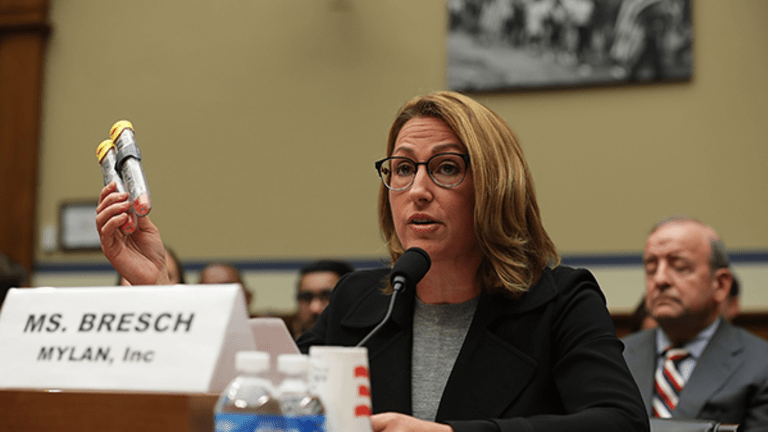 Mylan's Government Connections Go Deeper Than Initially Reported
Mylan CEO Heather Bresch's father sponsored a bill that made it easier for generic drugs to be substituted back in 1986. This helped Mylan become the largest generic manufacturer.
Mylan's (MYL) dubious relationship with both the West Virginia state government and the federal government has long been under the microscope.
But it appears that CEO Heather Bresch's father, Sen. Joe Manchin's, D-W.V., connections to the generic drug industry go further back than initially reported.
Manchin, who began his career in the West Virginia state senate in 1986, sponsored a bill in 1989, SB-137, which made it easier to substitute generic drugs for brand name drugs. Manchin's role in sponsoring the legislation has not been widely reported until now. Just two years later, Mylan hired his daughter, Heather Bresch, for a low-level position from which she eventually skyrocketed to become chief executive of the company.
Bresh's hiring came after former Mylan CEO, Milan Puskar, ran into Manchin at a basketball game. Bresch herself has admitted that it was this meeting that got her an interview at Mylan.
This in and of itself is unsurprising. Manchin—called in some circles "quid pro quo Joe"—is known for his focus on deals that benefit his family and himself as well as his home state and district.
But Manchin's dealings involving Mylan are perhaps unsettling, given that Manchin, now a U.S. senator, defended his daughter's company after it came under fire last summer for its high drug prices—especially for the EpiPen, an epinephrine autoinjector used to treat severe allergic reactions, or anaphylaxis—rather than steer clear of playing any role in the debate. In fact, Manchin has acted as an ardent supporter of Bresch, even when Mylan's policies oppose his political views.
Take, for example, Mylan's move to the Netherlands, which it made in 2015 to reduce taxes it paid in the U.S. Manchin, who once said tax inversions should be illegal, was remarkably quiet on this particular arrangement.
Mylan, not surprisingly, has warmly supported Manchin. In 2016, the company contributed the second-most money to his campaign to the tune of $58,250, after FirstEnergy Corp., which gave the senator $88,450.
In the 1980s, Mylan, which was operating out Morgantown, W.V., was thriving, thanks to the approval of the Hatch-Waxman Act, which was enacted in 1984 and encouraged the manufacturing of generic drugs. Mylan at the time was already one of the major generics players.
But Mylan became a more dominant force in generics after 1989, the year Manchin sponsored the West Virginia generics bill. That same year, multiple generic drug companies admitted to illegally paying off the FDA for approvals as a result of a private investigation paid for by Mylan. Mylan itself was not indicted in that investigation, which thus eliminated competition for its generic fluid retention drug, Maxzide.
By in 1995, Mylan had become the No. 1 maker of prescribed branded and generic drugs in the United States.
As Mylan's reputation advanced, so too did Bresch's career.
According to a 2015 profile published in Fortune, she rose from "typing labels in the factory basement" to serving as the company's director of government relations in approximately ten years. In this role, Bresch lobbied the federal government to develop the Medicare Prescription Drug, Improvement and Modernization Act of 2003, which created Medicare Part D, a program seniors can use to help pay for medications.
Her parents' careers were flourishing too. In 2004, Manchin beat incumbent Bob Wise to become governor of West Virginia, then appointed his wife, Gayle Manchin, to the State Board of Education. That sort of nepotism alone raised eyebrows.
"No one is comfortable with the fact that he appointed her back then," a source in West Virginia's state government said to The Deal, speaking on the condition of anonymity.
In 2012, Gayle Manchin was elected president of the National Association of State Boards of Education.
The NASBE a year later issued a report, "Anaphylaxis and Schools," which "gratefully" acknowledged Mylan for its "support of the development and publication" of the guide. The report advocated that schools stock epinephrine in nurses' offices or other areas. As a result of the report, eleven states drafted legislation that would require schools to stock epinephrine autoinjectors, while others wrote legislation that encouraged schools to stock the devices.
This bit of information was initially reported by USA Today back in September. Mylan spokespeople continue to refer to it as an "inaccurate story" despite clear evidence to the contrary.
At the time this report was published, Mylan dominated the market for epinephrine auto injectors, with its EpiPen and EpiPen Junior, a lower dose version of the anaphylaxis treatment.
The company also offers an EpiPen4Schools program, which provides six free EpiPens per year to schools that apply. Schools that choose to stock more than six autoinjectors—and many do—must pay the full price for EpiPens, which is $600 per two pack.
Mylan's PAC, called MyPac, has also contributed to the campaigns of state senators Susan Westrom of Kentucky, Andy Biggs of Arizona and Chuck Hufstetler of Georgia, all of whom went on to introduce legislation in their states to either require or encourage schools to stock EpiPens in nurse's offices and cafeterias.
This practice is now being investigated by New York Attorney General Eric Schneiderman, as Mylan "may have inserted potentially anti-competitive terms into its EpiPen sales contracts with numerous local school systems," Schneiderman wrote when he first announced the investigation.
Gayle Manchin's newest role puts her in a position to aid Mylan once again.
On Jan. 16, Gayle was appointed by West Virginia Gov. Jim Justice to become Secretary of the Department of Education and the Arts. In this role, she has become the head of the Division of Rehabilitation Services, which oversees the state's programs for drug abuse, including allocations for naloxone and narcan. 
West Virginia saw the highest number of overdose deaths in 2015.
As it happens, Mylan launched an injectable version of naloxone, which is used to stop a drug overdose, in 2014.
Mylan officials declined multiple requests for comment, as did Manchin's representatives.
Sen. Joe Manchin's press secretary did not respond to multiple requests for comment.
Editor's note: This article was originally published by The Deal, a sister publication of TheStreet that offers sophisticated insight and analysis on all types of deals, from inception to integration. Click here for a free trial.