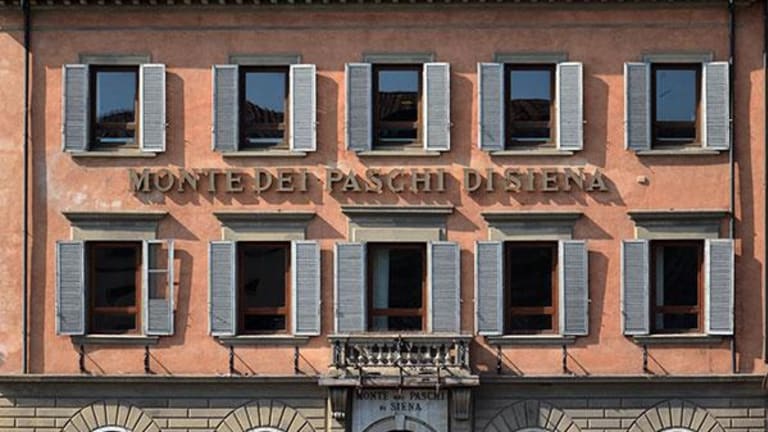 Monte dei Paschi Produces Rescue Plan, Lags Peers in EBA Stress Tests
The restructuring, if approved by shareholders, would involve hiving off bad loans into a securitization vehicle and the sale of up to $5.6 billion of shares.
Italy's Monte dei Paschi di Siena on Friday unveiled an eagerly anticipated rescue plan just minutes before European Banking Authority stress tests on 51 lenders found that the Tuscan institution would fare by far the worst in an adverse scenario.
The Italian lender was a conspicuous underperformer in a largely positive set of EBA stress tests, which are advisory only in nature and will feed into the European Central Bank's own tests and capital recommendations later this year.
The EBA found that Monte dei Paschi would emerge with a fully loaded core equity Tier One capital ratio—a measure of capital strength calculated by dividing a bank's equity and additional qualifying capital divided by risk-weighted assets—of minus 2.44% in an adverse scenario, which assumes, among other things, GDP shrinkage of 1.2% and 1.3% over two consecutive years. Ratios at all but one other bank surveyed were found to have held above the 6% Basel III minimum, though Allied Irish Banks came in at 4.31% under the same scenario.
Monte dei Paschi's restructuring Italian peer UniCredit  (UNCFF) came in at 7.10%, while Deutsche BankDB , also the subject of recent capital worries, clocked up a ratio of 7.8% in the hypothetical scenario. Austria's Raiffeisen-Landesbank, with a ratio of 6.12%, was the third-weakest, and Bank of Ireland , at 6.15%, was the fourth. 
The EBA took as a starting point a transitional core tier one equity ratio of 13.2%, which was 400 basis points more than tests in 2011 and 200 points more than in 2014. The fully loaded core tier one starting ratio was 12.6%.
"The EBA's stress tests shows the benefits of the capital strengthening done so far are reflected in the resilience of the EU banking sector to severe shock," said EBA chairman Andrea Enria in a statement.
The results came just after Monte dei Paschi announced a plan to hive off its bad loans into a securitization vehicle, which will be funded through the issue of senior, mezzanine and junior notes. The maneuver will be backed by the Italian state's recently created bank rescue fund Atlante, which will invest €1.6 billion ($1.79 billion) in the mezzanine notes.
The bank will then raise up to €5 billion in a rights issue, which comes after a €3 billion equity fund raising in June last year.
Monte dei Paschi expects to complete the restructuring by year-end, after gaining shareholders' go-ahead at a meeting in October or November. CEO Fabrizio Viola said it will issue a business plan around the end of September.
It plans to transfer "non-performing" loans (NPLs) with a gross book value of €27.7 billion at a price of 33% of their book value into the securitization. It said it would end with a core equity tier one ratio of 11.4% and net bad loans of 12% of the total portfolio, or 18% on a gross basis, well under a ceiling imposed on the bank earlier this month by the European Central Bank.
Monte dei Paschi said it has a pre-underwriting agreement with its banks, and that the underwriters wouldn't agree to back the bank's equity offering without the bad loan vehicle.
"Without the consolidation of the NPL portfolio there is no capital increase. It is a condition that is quite clear," said Viola on a conference call.
"Our expectation is the bank will improve perception with clients. The bank will have a totally different balance sheet after the transaction."
The €5 billion rights issue compares with a market value for Monte dei Paschi of €903.7 million as of Friday's close.
"You are right that we have an increase in capital that is a multiple of the market value but let me say that the size of the market value has been affected by the negative impact of the loans," Viola told analysts.
"I think the level of price that the market discounts for the non-performing loans is significantly lower than the level we are negotiating with Atlante," he said.
He also said Monte dei Paschi would look at ways to cut the size of the capital raising below the €5 billion maximum.