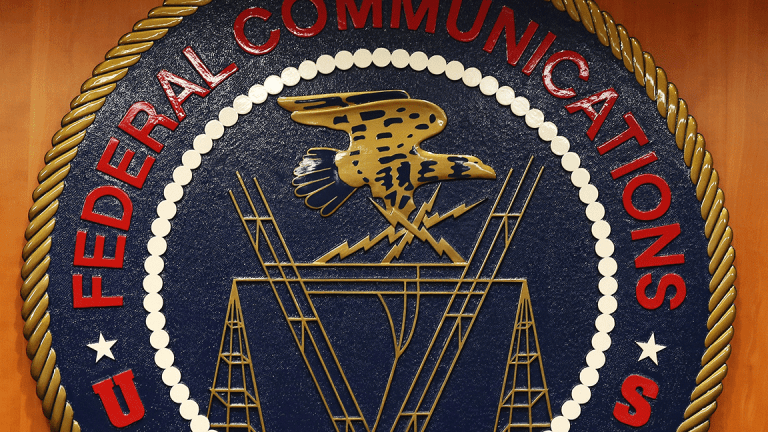 The FCC May Shift Media Consolidation Into High Gear
Much anticipated in the Trump, anti-regulation era, the agency looks to eliminate media cross-ownership rules. How will that really change the landscape?
It was a tiny bolt out of the blue and, to those who have been watching closely, another act in a long-schemed planned outage.
On Tuesday, Oct. 24, the Federal Communications Commission board voted to eliminate the Main Studio Rule. It's an obscure regulation, intended to support local operation of TV stations. The 77-year-old rule required that TV and radio stations operate a physical studio in the areas where they're licensed. It seems like a small rule change, but it's just the beginning of the biggest change in federal media ownership rules in more than half a century. In that rule's elimination, we see just part of the great unraveling of media ownership rules in the U.S.
FCC Chairman Ajit Pai has moved quickly, in these Trump deregulatory times, to eliminate decades-old rules put in place to mandate diversity in media ownership. On Nov. 16, the FCC will vote on a still larger issue, "the eight voices test." That rule prevents TV stations in the same market from merging if the outcome leads to fewer than eight independent stations operating in that market.
Also on the drawing board, the still bigger issue of cross-ownership. That rule has prevented the ownership of both dominant local TV stations and daily newspapers in the same market.
Put it all together, and coming, likely changes in TV ownership rules might -- in the age of "fake news," unprecedented attacks on news media and the continuing erosion of the business models supporting news creation -- mean major changes in media ownership within the next several years. 
All that said, it's near-impossible to predict what all the rule eliminations actually will do. We can look at that issue in the wide abstract, with a little history in mind, though, and we can look by example of one recent TV/newspaper merger.
On Sept. 25, Raycom Media Inc., owner of 65 television and two radio stations in 20 states, announced its combination with Community Newspaper Holdings Inc., a major publisher of small-town dailies. CNHI owns more than 110 newspapers, websites and publications in 22 states.
In this merger, there's more and less than may meet the eye. Raycom CEO Pat LaPlatney told TheStreet that administrative cost reduction is the first and easiest driver of the merger.
The Retirement Systems of Alabama, a fast-growing asset acquirer, long headed by David Bronner, owns what appears to be a controlling interest in both Raycom Media and CNHI. Like the two media companies, RSA is headquartered in Montgomery, Ala. By recent reports, the RSA manages more than $35 billion in retirement funds. By merging Raycom and CNHI, the businesses save on general and administrative expenses, those main administration costs of running large media chains.
Atop the "significant savings" that most easily drove the merger, Raycom indeed sees how the merged company can produce better products, both editorial and advertising.
Raycom had to agree to sell seven CNHI newspapers in markets in which it already owned a TV station, given the rules still in place. If those rules were relaxed or gotten rid of altogether, would it like to reclaim them?
"If the rules change, we'd be inclined to buy it back," LaPlatney said.
Raycom already has invested in consolidated operations. For the past half-dozen years, Raycom has operated a digital content hub to better supply its TV station sites with content. An Atlanta hub, planned to soon be built out to 15 to 18 staffers, produces that content. It will soon create more digital video content, for both the company's newspaper and TV websites.
Digital remains a test ground for the TV industry. Across the industry, stations only attribute about 5% to 10% of their revenue to digital, with Raycom "closer to 12," La Platney said. By comparison, most newspaper companies now see digital running from 15% to 35% of their overall revenue. And yet, it is likely to be broadcast companies -- with their better balance sheets -- leading any convergence.
LaPlatney said it's a time of experimentation -- and perhaps applying Raycom's hub model to better newspapers.
"Then there's also the belief that we can actually do something with a lot of these papers, and then there's a small piece that says newspapers are important, particularly in small communities. If we can do things to run a good business and help sort of protect and preserve democracy, there's nothing wrong with that."
The Raycom CEO points to his chain's emphasis on local, saying: "Each of our stations that produces news does two weekly editorials and then they invite the community to comment. It's local politics, sometimes it's statewide, sometimes it's national, it's the school board. ... It's whatever that GM thinks is important to spread dialog on the community. When the Weinstein thing went public, we had a number of guys who talked about what a problem that can be and what the solutions are. There's anti-bullying. ... There's a long, long range of issues."
An Urge to Merge?
Will there be a massive rush to consolidation?
The industry could see lots of movement -- or very little. 
Expect that the "we'd take a look at it" attitude I've heard over time from media companies will now spread like Southern kudzu in some corporate offices.
The abstract possibility of rule relaxation is becoming quite real. Not only is the FCC board's new Republican majority (the party holding the White House can appoint three commissioners; the opposition party the two others) in place, but a Republican Congress is unlikely to oppose its actions. Certainly, opposition groups as diverse as advocacy group Free Press and conservatives including Newsmax CEO Christopher Ruddy will voice major objections -- and court action could follow -- but the potential of massive media consolidation has now become concrete.
Expect to see Sinclair Broadcast Group Inc. (SBGI) - Get Sinclair Broadcast Group, Inc. Class A Reportput in even more crosshairs. As that big broadcaster attempts to finalize its acquisition of Tribune Media Co. (TRCO) - Get Tribune Media Co. Class A Report and its TV stations -- allowing it to reach 71% of the country, a reach that itself only has been made possible by recent FCC rule changes -- more will question "big" in consolidated media. 
Or consider Hearst Corp., one of few big (and private) media companies still holding both TV and newspaper properties. Would rule changes encourage it to seek consolidated local businesses in its markets? Who else may step forward?
Both newspaper and TV executives over the past year have expressed lots of indecision about this coming change. How much value can be wrung from combining print and broadcast? Is it worth the considerate pain of integration? 
Who might be buyers? Who might be sellers? Where's the financial value in newly putting together two mature industries, local TV stations and the even grayer local newspaper operations?
Media CEOs had considered those abstract questions, as I've asked them about the potential of new digital disruption-driven convergence. Go back 10 to 15 years, and you read all about the likelihood of convergence. The print and TV labels -- and thinking -- we were told no longer made sense and would quickly become artifacts of the dear departed 20th century.
Not so fast, it turned out. We witnessed a number of convergence efforts, from Tampa, Fla., to Phoenix, but none produced a business bonanza. Then, about five years ago, we saw the beginnings of the great separation.  
Rupert Murdoch's News Corp. (NWSA) - Get News Corporation Class A Report notably split in June 2013, breaking its newspaper arm off as a new News Corp. and retaining its TV and film operations as the renamed Twenty-First Century Fox Inc. (FOXA) - Get Fox Corporation Class A Report . Significantly, Murdoch had long been interested in buying Tronc Inc.'s (TRNC) Los Angeles Times. Since he owned two major L.A. TV stations, cross-ownership rules prevented a Times acquisition. 
In short order, Tribune Co. and Gannett Co. (GCI) - Get Gannett Co., Inc. Report , among others, split apart local newspapers and regional TV assets -- the better to maximize remaining broadcast financial value. Belo Corp. and E.W. Scripps Co. (SSP) - Get E. W. Scripps Company Class A Report had made similar moves a few years earlier. While both the newspaper and regional TV businesses are mature, it is the TV businesses that have managed to age better, with more steady cash flow and a better route forward to 2022. 
Now, the new financial analysis may become meaningful.
Two big trade groups -- the National Association of Broadcasters and the newspaper-centric News Media Alliance -- lobbied for these changes. They can portray themselves as the little guys, pointed to the increasing bigness of the Comcasts (CMCSA) - Get Comcast Corporation Class A Report , Charters (CHTR) - Get Charter Communications, Inc. Class A Report , AT&Ts (T) - Get AT&T Inc. Report and Verizons (VZ) - Get Verizon Communications Inc. Report . For media owners, the business arithmetic is simple. With fewer restrictions on ownership, properties -- especially print properties -- could become more valuable.
Executives can examine two kinds of value. 
It's easy to see the first value of consolidation: expense savings. Combine administrative, ad and newsrooms and margins will increase markedly. The new merged Raycom sees that in combining operations almost entirely based in markets in which has only a newspaper or a TV station. Combining costs within a single market -- as the elimination of rules is likely to allow -- would mean even greater costs savings.
Then, the growth side of the equation. Is there further value creation in greater investment? Will a bigger, better news product drive revenue growth?
In the Coming Din, Will Public Policy Serve the News Public?
There's an almost-stealth issue here. Those supporting the elimination of these "antiquated" rules can easily point to the "new world" of Alphabet Inc.'s (GOOGL) - Get Alphabet Inc. Class A Report Google, Facebook (FB) - Get Meta Platforms Inc. Class A Report and an internet that enables anyone to say -- and spread -- any would-be fact or opinion. That's the "infinite voices" argument.
Then there's the commercial argument. Local media, according to much research, no longer dominate local media pricing.
"On the idea of a quote dominant newspaper and a dominant TV station, there is really no such thing as dominance anymore outside of Google and Facebook to be honest with you in local media," Raycom's LaPlatney said.
"If you look at the local media landscape in just a market X, on average the local linear television expenditures, the ad expenditures, are roughly anywhere from 13% to 15% of total ad expenditures in a market. That means that in Louisville, Ky., the big four network stations plus the CW plus whatever else is there, in aggregate, combine for 15% of the overall ad spend." 
The data, then, backs up the argument for allowing an ad-selling combination of a newspaper and a TV station. 
What neither of those arguments address is something far squishier than dollars and cents, or market share or the ability of anybody to use the internet to say anything.
We used to have a word for it: journalism. Journalism meaning news reporting.
On that score, America's in worse shape than ever. U.S. dailies already have shed more than half their 1990 workforces, down to around 25,000 full-time journalists employed from Bangor, Maine, to San Diego. For the first time, most likely in 2017, the number of broadcast journalists about equals the daily newspaper total.
The big question: In a media-consolidating, media-converging world, who -- with what kind of knowledge and experience -- actually will report out the local news?
Regulators such as the FCC, or the Federal Trade Commission or the Department of Justice's Antitrust Division, haven't, over many years of digital disruption, even figured out how to ask that question.
The First Amendment mandates the freedom of the press, but should there be a societal policy -- in the support of local democracy-feeding news and information -- to encourage it as the data, too, tells us that the public's "market share" of news is itself ever-dwindling? Google and Facebook face new, louder music in the fake news furor, but in the meantime major changes in who owns the local media that actually produces our news may well be far more meaningful.
Comcast, Alphabet and Facebook are holdings in Jim Cramer's Action Alerts PLUS Charitable Trust Portfolio. Want to be alerted before Cramer and the AAP team buy or sell CMCSA, GOOGL and FB? Learn more now.
More of What's Trending on TheStreet: