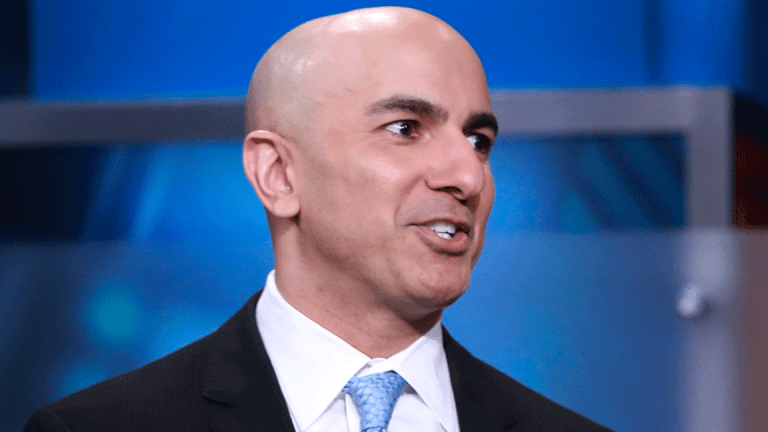 Fed's Kashkari Has a Plan to End 'Too Big to Fail'
The plan entails raising capital requirements for the largest banks while simultaneously reducing the burden placed on the smaller ones.
Minneapolis Federal Reserve President Neel Kashkari wants to end the "too big to fail" designation for some of the largest banks in the country, and his plan to do so includes dramatically reducing the risk of a crisis.
Kashkari and the Minneapolis Fed released a detailed strategy Wednesday, Jan. 10, outlining the plan to raise capital requirements for the largest banks, such as Citigroup Inc. (C) - Get Report and JPMorgan Chase & Co. (JPM) - Get Report , while reducing the burden faced by the smaller banks.
According to the Minneapolis Fed, current capital requirements place undue risk on taxpayers of a future crisis and possible need for a bailout. The plan stated that its goal is a "financial system that enables the U.S. economy to flourish without exposing it to large risks of financial crises or without requiring taxpayer bailouts."
Enacting the plan to end too big to fail, or TBTF, would reduce the 100-year chance of a crisis to 9% from its current 67%.
Under the regulations enacted following the financial crisis in 2008, the 100-year chance of a bailout was reduced to 67% from 84%. Kashkari noted that today's strong economy enables the subsequent strengthening of the U.S. financial system. Waiting for the next financial crisis to occur would be too late.
"There is no excuse for inaction," said Kashkari, "and history will judge us poorly if we so soon forget the lessons we just learned."
The final plan released Wednesday builds upon a draft plan released in November 2016. The fundamental conclusion remains the same now as it was then: Large banks do not have enough capital to protect taxpayers.
These are the steps Kashkari and the Minneapolis Fed outlined in their bid to end TBTF.
Step 1: Dramatically increase common equity capital for banks with assets exceeding $250 billion.
Kashkari's plan calls for banks to issue common equity equal to at least 23.5% of their risk-weighted assets, with a corresponding leverage ratio of 15%. According to the Fed, this will reduce the chance of a public bailout relative to current regulations to 39% from 67%.
Banks will have five years to implement new regulations should the Minneapolis Fed plan be enacted.
Step 2: Call on the U.S. Treasury secretary to certify that individual large banks are no longer systemically important or else subject those banks to extraordinary increases in capital requirements -- up to 38% over time.
Following the implementation of Step 1's 23.5% rule, the plan calls for action from the Treasury secretary, asking to certify that individual large banks are no longer considered systemically important. If the Treasury secretary can't do so in good faith, the bank will automatically face increasing common equity capital requirements with an additional 5% of risk-weighted assets per year. The requirements will grow until the Treasury secretary can certify that the bank is no longer systemically important, or until the bank's capital reaches 38%, a level which reduces the 100-year chance of a crisis to 9%.
The Minneapolis plan doesn't set a specific size limit for banks, but it does note that banks facing higher capital levels in Step 1 and the subsequent increases in Step 2 might feel increased pressure to break themselves up.
Step 3: Prevent future TBTF problems in the shadow financial sector by imposing a tax on the borrowings of shadow banks with assets over $50 billion.
The plan levels the cost of funding between banks subject to a 23.5% capital requirement and shadow banks by leveraging a 1.2% tax on borrowing for shadow banks with assets larger than $50 billion. The tax will only apply to shadow banks not classified as systemically important by the Treasury secretary. For the shadow banks the Treasury secretary deems systemically important, a 2.2% tax on borrowing will be applied.
The Minneapolis plan specifically calls for a shadow banking tax because, according the Fed leaders, the shadow banking sector was a "significant part of the last financial crisis, and reforms must be a part of any solution." The classification of "shadow bank" could apply to a number of financial entities including, but not limited to, REITs, trust companies, hedge funds, money market mutual funds and structured finance vehicles.
Step 4: Reduce unnecessary regulatory burden on community banks.
The final step calls for reform to the government's current regulatory setup for community banks, ideally in order to create a "simpler and less burdensome" system while still maintaining its responsibilities to identify and address risks.
According to the Fed's statement, the last step in the plan is fourfold: first, it aims to make capital risk-weighting for community banks less complicated to mirror Basel I.
Second, it looks to create a "default mode" for supervision of community banks. Under that supervision, regulators would only review how banks comply with laws passed by Congress plus their operations, policies and procedures in weaker banking conditions.
Third, the Fed wants to impose a wide range of specific risk-focused reform, which could include a longer exam cycle, appraisal reform, reductions in call report collections and a review of the Current Expected Credit Loss accounting standard, the Fed said.
Finally, it aims to repeal solvency and noncompliance-related aspects of Dodd-Frank that apply to community banks and aren't strongly linked to their chance of failure.
Citigroup and JPMorgan Chase are holdings in Jim Cramer's Action Alerts PLUS Charitable Trust Portfolio. Want to be alerted before Cramer buys or sells the stocks? Learn more now.
More of What's Trending on TheStreet: