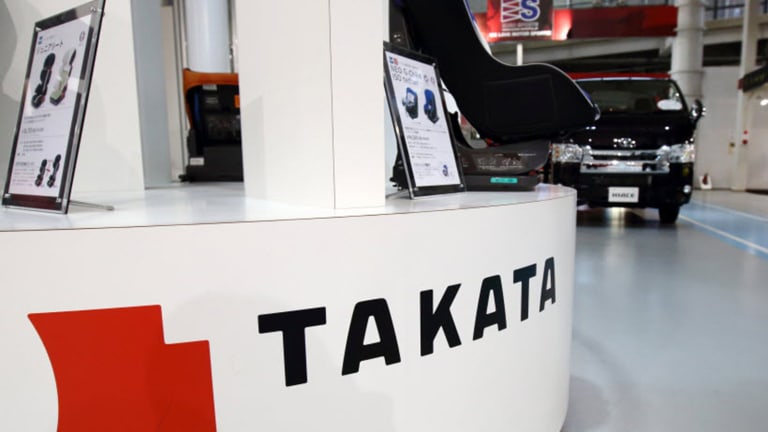 Faulty Airbag Maker Takata Files for Bankruptcy
The company has paid out over $1 billion in settlements related to faulty airbags.
Scandal-plagued airbag maker Takata Corp. filed for bankruptcy in Delaware and Japan late Sunday, June 25, after paying out over $1 billion in fines for the largest auto safety recall in U.S. history.
Takata, whose faulty airbags led to the recall of 42 million cars, said in a statement that excluding costs related to the recalls, the company has "continued to produce healthy profits and cash flows from its existing businesses." Safety technology company Key Safety Systems Inc. (KSS) - Get Report agreed to buy the bulk of Takata's assets for 175 billion yen ($1.588 billion). Japan's Ningbo Joyson Electronics Corp. acquired KSS for $920 million on Feb. 2, 2016.
"Although Takata has been impacted by the global airbag recall," KSS CEO Jason Luo said euphemistically, "the underlying strength of its skilled employee base, geographic reach, and exceptional steering wheels, seat belts and other safety products has not diminished."
As of October, 11 American fatalities had been attributed to the airbags, according to the National Highway Traffic Safety Administration. According to NHTSA, scores of car models made by 34 different brands from 2001 to 2011 were affected.
Takata's main U.S. subsidiary, Takata Holdings Inc., filed for Chapter 11 protection in the United States Bankruptcy Court for the District of Delaware, while Takata and its Japanese sponsor filed under the Civil Rehabilitation Act in Japan in the Tokyo District Court with the support of customers representing 80% of its sales.
The companies said in a statement that KSS will retain the bulk of Takata's employees and does not intend to close any of its manufacturing facilities in Japan.
"During the Civil Rehabilitation proceedings and Chapter 11 process and beyond, Takata remains fully committed to supporting all actions that advance vehicle safety," Takata CEO Shigehisa Takata said. "We deeply regret the circumstances that have led to this situation, but we are grateful to have reached a resolution that will allow us to continue to promote the safety of the driving public."
Takata has agreed to pay out over $1 billion in settlements related to faulty airbags, including a Jan. 13 plea agreement with the U.S. Department of Justice that called for $850 million to be paid to compensate carmakers for recalls and $125 million for current and future personal injury claimants. Takata has already funded the personal injury fund, and the sale to KSS will fund the carmaker restitution fund.
Three Takata executives face criminal charges of fabricating data to mask the airbags' nonperformance, with a January indictment in the Eastern District of Michigan alleging that the defendants had known about safety problems since at least 2000.
Sumitomo Mitsui Banking Corp. committed to provide a 25 billion yen revolving credit facility debtor-in-possession financing.
The KSS transaction is expected to close in the first quarter of 2018.
Action Alerts PLUS, which Cramer manages as a charitable trust, is long KSS.