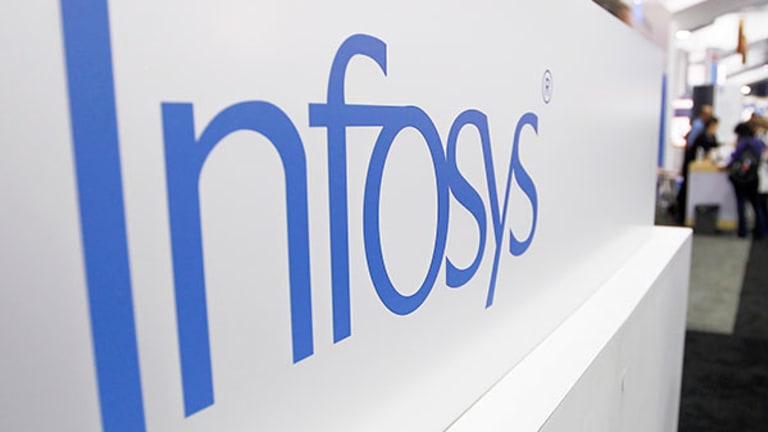 Infosys Plans To Hire 10,000 Americans After Trump Visa Crackdown
Technology consultancy Infosys is announcing plans to hire thousands of American workers in an effort to woo the White House after being name-checked as a foreign worker visa abuser.
Technology consultancy Infosys (INFY) is planning to hire thousands of American workers in an effort to woo the White House after being name-checked as a foreign worker visa abuser.
The India-based IT services firm said on Tuesday that it will hire 10,000 American workers over the next two years. It will also open four new technology and innovation hubs across the U.S., the first of which will open its doors in Indiana in August. The announcement comes just two weeks after Trump administration officials named Infosys as a company it plans to target in its review of H-1B visa approvals.
Infosys said the new technology centers will focus on areas including artificial intelligence, machine learning, user experience, emerging digital technologies, the cloud and big data. The centers will serve clients in key industries such as financial services, manufacturing, healthcare, retail and energy. Infosys said it aims to create 2,000 jobs at the Indiana hub by 2021.
"Infosys is committed to hiring 10,000 American technology workers over the next two years to help invent and deliver the digital futures for our clients in the United States," CEO Vishal Sikka said in a statement, referring to the number of people that will be hired at all its new hubs.
The move comes amid a drive by U.S. President Donald Trump to hire more domestic workers for tech sector jobs, with the President accusing some IT firms of abusing the H1-B visa program to hire cheaper foreigner employees.
The president signed an executive order promoting "Buy American, Hire American" policies in mid-April. In a briefing with the press discussing the order, White House officials listed Infosys and other consultancy firms Cognizant Technologies  (CTSH) and Tata as companies it hopes to target in its review of H-1B visas.
"They will apply for a very large number of visas, more than they get, by putting extra tickets in the lottery raffle, if you will, and then they'll get the lion's share of visas," an official said. "Which is very different than I think how most people think of the H1B program -- they imagine it for more -- being for -- again, they would think of it as being for skilled domestic work, rather than contract work."
Infosys and Cognizant are among those companies filing the most H-1B petitions, according to the Department of Labor, along with Deloitte Consulting and Wipro (WIT) . Other tech giants that also use H-1Bs include Apple (AAPL) , Amazon (AMZN) , Alphabet  (GOOGL)  and Microsoft (MSFT) .
Sikka acknowledged that the local hiring push is tied to pressure from the White House to hire more Americans in an interview with the Financial Times. "Yes it does coincide," he said. "I understand the visa regulations and so forth." 
White House spokeswoman Natalie Strom in an email likened Infosys' jobs announcement to those made by other companies but noted that it is "especially notable" given the H-1B crackdown.
"This announcement by Infosys today adds to similar announcements from Intel, Charter Communications, and Exxon Mobil, all of whom are renewing investment in the United States in the wake of the Trump administration's pro-growth economic agenda. It's especially notable in light of the President's signing of the 'Buy American and Hire American' Executive Order, which set in motion the process of ending the abuse of work visa program, ensuring that companies hire more Americans for well-playing jobs, rather than incentivizing companies to ship in workers from overseas that they pay below market rate," she said. "We're glad to see companies like Infosys see opportunity in the American economy again and as we continue to implement important policy changes - like the President's bold tax reform plan -- we are confident that jobs will continue to come back to the United States."
Infosys said it will hire experienced professionals and recent graduates from major universities, and local and community colleges. It has also committed to starting a training program to ensure American workers are fully equipped to innovate and support clients.
"It's so good to welcome Infosys to Indiana, and to expand our growing tech ecosystem with the addition of their estimated 2,000 Hoosier jobs," Indiana Governor Eric J. Holcomb said in a statement.
Shares of Infosys climbed early in the day but declined in the afternoon, down 0.24% to $14.51 in late-afternoon trading.
Updated with comment from White House.