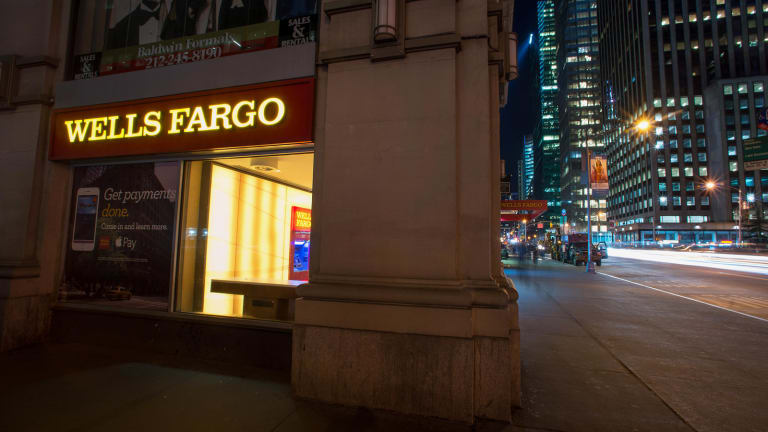 House Panel Blasts Wells Fargo CEO, Calling Bank's Behavior 'Criminal'
Lawmakers raised concerns about Wells Fargo's governance, suggesting that higher-level employees should step down and CEO John Stumpf should step down as chairman of the bank's board.
Lawmakers raised concerns about Wells Fargo's governance, suggesting that higher-level employees should step down and CEO John Stumpf should step down as chairman of the bank's board.
Both Republicans and Democrats on the House Financial Services committee berated Wells Fargo (WFC)  CEO John Stumpf on Thursday for failing to prevent employees' creation of as many as 2 million unauthorized customer accounts, with some suggesting the bank's behavior was criminal.
The two parties, who rarely agree on any subject on Capitol Hill, lashed out at Stumpf for more than three hours less than a week after an equally contentious hearing before the Senate Banking Committee. Both sessions focused on bogus accounts from credit cards to checking and savings disclosed in Wells Fargo's $185 million settlement with federal and state regulators earlier this month.
Some lawmakers urged Stumpf to submit his resignation, and others raised concerns about governance and oversight, suggesting that senior executives should step down. At least three lawmakers called for Stumpf to give up his role as chairman of the bank's board if he stays on as CEO.
Members of both parties sought to paint a picture that problems at Wells Fargo were systemic and longstanding under Stumpf's leadership. The bank has said it dismissed 5,300 employees who set up the accounts over a period of several years while attempting to meet goals of as many as eight different products to each customer.
"Why shouldn't you be in jail?" asked Rep. Michael Capuano, D-Mass. "Oh that's right, you're the one judging yourself because you are chairman of the board."
Rep. Carolyn Maloney, a New York Democrat, displayed a copy of a lawsuit filed in Montana that alleged fraudulent sales practices dated to as early as 2007, and urged Stumpf to extend the bank's review to that year.
A few lawmakers argued that the Wells Fargo scandal illustrates why large banks need to be broken up, arguing that fines the mega-bank was hit with were just a cost of doing business and that Stumpf couldn't adequately oversee such a large company.
"We had institutions that were too big to fail in 2008... we now learn they are too big to manage, too big to regulate," said Rep. Brad Sherman, a Democrat from California. "Time to break them up."
EXCLUSIVE LOOK INSIDE: Wells Fargo is a holding in Jim Cramer's Action Alerts PLUS charitable trust portfolio.Want to be alerted before he buys or sells the stock? Learn more now.
Showing that concerns about too-big-to-fail banks are bipartisan, Rep. Steve Pearce, a Texas Republican, suggested that size and complexity are a major problem at Wells Fargo, citing combined regulatory settlements of as much as $10.8 billion at Wells Fargo over a period of years.
"When you can't see 300 people being terminated and you can't see $10.8 billion in settlements, then you have a problem with size and complexity," said Pearce, who told Stumpf he should resign. "I would say that there is no community banker in this country that would not have seen people doing illegal acts."
Amid interruptions from dozens of lawmakers questioning and criticizing the bank, Stumpf repeatedly attempted to make a case that the company isn't too big to manage. He acknowledged that Wells Fargo made mistakes and has a lot of corrective work to do but said its culture is not to blame.
Stumpf also sought to downplay the extent of the scandal, noting that Wells Fargo has talked with more than 20,000 customers about their credit card accounts and "fewer than 25%" said they either did not apply for the card or did not recall whether or not they did so.
After criticism in the Senate that no senior executives were disciplined over the fake accounts, Wells Fargo's independent directors said just days before the House hearing that Stumpf would forfeit unvested equity awards valued at about $41 million while former consumer banking chief Carrie Tolstedt would lose $19 million of such awards.
The forfeiture appeared to appease no one, however.
Rep. Scott Garrett, a Republican from New Jersey in a tight re-election battle, noted that the amount Stumpf has agreed to forfeit only represents a quarter of his pay over the past decade.
"Wells Fargo is fully eligible for taxpayer bailout if the bank gets into trouble," Garrett said. "I find it extraordinary troubling as I look through the history, over 5,000 employees were fired over 2011, 2012, 2013, 2014, 2015."
The scandal also points to a broader problem -- that senior executives aren't held to account for financial misbehavior in the same way as lower level employees, lawmakers said.
"The fact that it was allowed to go on for years, suggests a failure of corporate governance and failure of management," Garrett said. "It appears that most of the employees who were fired... were branch managers. No senior executives have been held accountable the same way that the lower level employees were held accountable."
Well-connected Wall Street executives seem to "play by a different set of rules" than everyone else, he added.
In addition to lambasting Wells Fargo, some lawmakers sought to lay blame on the Consumer Financial Protection Bureau, one of the regulators that penalized the bank, thus bolstering GOP efforts to restructure the organization and limit its independence.
The committee's chairman, Rep. Jeb Hensarling, a Texas Republican, and others questioned why allegations of unauthorized accounts were first reported by the Los Angeles Times in 2013 but it took three more years for the consumer bureau to act. Several asked how many bureau employees were embedded at Wells Fargo.
"Maybe our federal regulators deserve a pat on the back, but maybe they deserve a swift kick on the backside," Hensarling said. "We'll find out which." 
Lawmakers noted that the $185 million fine represented roughly 3% of the bank's second-quarter profits.
Hensarling's committee earlier this month approved, on a partisan basis, the Financial Choice Act, a package that seeks to provide relief from the Dodd-Frank financial reform law and includes a provision to restructure the consumer agency and change its funding structure to one that is subject to congressional oversight. Instead of being overseen by a single director, the bureau would be supervised by a five-member bipartisan commission under the proposal.
The legislation is likely to face a higher hurdle to passage amid the Wells Fargo backlash, which is widening amid lawsuits from customers, employees and investors. Some shareholders are pushing to shake up Wells Fargo's board with proposals including the separation of the chairman and CEO roles.
CtW Investment Fund, an organization that advises pensions for unions belonging to the Change to Win labor group, launched a campaign last week urging the embattled bank to add two directors who understand human capital management.