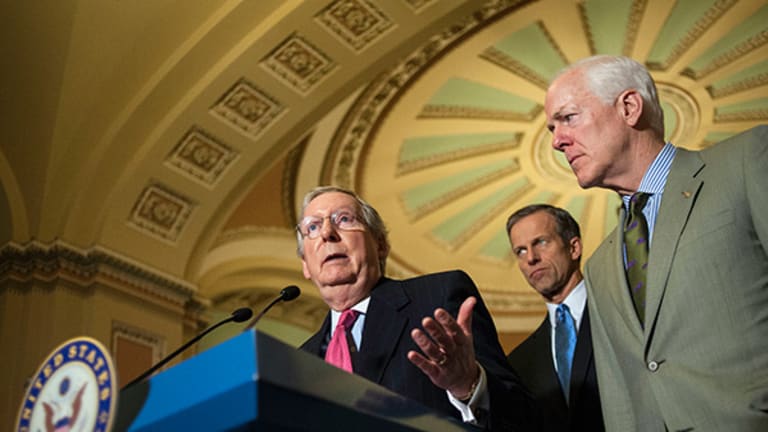 Here's What to Watch as the Senate Fights Over Healthcare Reform
To ensure passage, Mitch McConnell will have to navigate a treacherous obstacle while the clock is ticking.
To ensure passage, Mitch McConnell will have to navigate a treacherous obstacle while the clock is ticking.
Senate Majority Leader Mitch McConnell (R-Ky.), seems dead set on holding a full vote in the chamber next week on the 142-page Obamacare repeal and replace plan he veiled Thursday, June 22.
To make that happen he'll have to navigate a treacherous obstacle while the clock is ticking.
A lot of factors will determine whether he succeeds or fails.
First up, the Congressional Budget Office's estimate of the plan's costs and the effects on insurance coverage is due early in the week, perhaps Monday, June 26. If it fails to reduce the deficit sufficiently or results in too many people losing insurance coverage, McConnell could fail to secure the 50 GOP votes he needs to secure passage. None of the Senate's 48 Democrats are expected to support the package, meaning the legislation survives only if no more than two Republicans vote no. That would leave a tie, which Vice President Mike Pence can be counted on to cast the deciding vote in favor of.
Already conservative GOP Sens. Ted Cruz of Texas, Ron Johnson of Wisconsin, Mike Lee of Utah and Rand Paul of Kentucky have said they are "not yet ready" to support the plan, although they are willing to negotiate changes that could get their backing .
"There are provisions in this draft that represent an improvement to our current health care system, but it does not appear this draft as written will accomplish the most important promise that we made to Americans: to repeal Obamacare and lower their health care costs," the said in a joint statement.
A series of votes is expected Thursday, June 29, on virtually a limitless number of amendments from lawmakers of both parties, dubbed a "vote-a-rama" by lawmakers, would result in passage late Thursday night or early Friday morning.
Whether passage is possible is a big question. Any changes likely to draw support of the four arch-conservatives, is likely to alienate some moderate Republicans, who don't want to face constituents who lose coverage or simply find it becomes unaffordable.
There will also be intense lobbying by healthcare trade organizations and other interest groups. Major hospital, physician and consumer groups oppose the bill. Hospitals over the long term will see Medicaid reimbursement fall and many patients with chronic or expensive conditions like diabetes, cancer or disabilities could see their out-of-pocket costs rise dramatically
"Medicaid cuts of this magnitude are unsustainable and will increase costs to individuals with private insurance," said Rick Pollack, president and CEO of the American Hospital Association. "We urge the Senate to go back to the drawing board and develop legislation that continues to provide coverage to all Americans who currently have it."
Enactment of the Senate plan would cause a rise in the uninsured and end Medicaid expansion in 2024, which is softer on individuals who buy coverage from Obamacare exchanges or rely on Medicaid than the 2120 phase out by in the House version of the repeal legislation passed in May. The Senate version would provide $50 billion over four years to stabilize insurance exchanges in addition to cost-sharing subsidy payments through 2019. The plan, released Thursday, includes $15 billion a year in market-stabilizing funds in 2018 and 2019 and $10 billion a year in 2020 and 2021. The Senate measure would adjust health insurance tax credits for income and geography beginning in 2020, in an approach similar to the 2010 law, which the House bill would not do. The Senate credits would be available for people with income of up to 350 percent of the federal poverty level, compared with 400 percent of the poverty level under current law. The Senate version also would allow marketplace insurers to cover fewer medical costs for consumers than under the health care law.
The bill also would create a long-term state innovation fund, providing $62 billion over eight years. This would help state officials help people pay for health insurance.
The Senate draft would not require individuals to maintain continuous coverage, as the House bill does, but Senate GOP staff are said to be consulting with CBO and the parliamentarian about whether such a provision could be included under Senate rules. The House bill would require that individuals maintain insurance coverage or else they could be charged a higher premium. That would serve as an alternative to the health care law mandate that most individuals buy insurance, which the bill would repeal.
If the Senate bill does not ultimately include a continuous coverage provision but nevertheless repeals Obamacare's individual mandate, that could have a negative effect on overall insurance rates.
The Senate plan also would expand tax-preferred health savings accounts and would repeal many of the taxes that helped pay for the 2010 law.
Unveiling of the plan boosted insurance stocks, include Cigna Corp. (CI) - Get Report , UnitedHealth Group Inc. (UNH) - Get Report , Aetna Inc. (AET) , Humana Inc. (HUM) - Get Report , Molina Healthcare Inc. (MOH) - Get Report , and Anthem (ANTM) - Get Report .
Hospital stocks also rose, although the positive effect of the law relative to the House version would fade as the Medicaid expansion winds down. Up on the unveiling were Quorum Health Corp. (QHC) - Get Report , HCA Healthcare Inc. (HCA) - Get Report , Community Health Systems (CYH) - Get Report , Tenet Healthcare Corp. (THC) - Get Report and LifePoint Health Inc. (LPNT) .
Editors' pick: Originally published June 23.