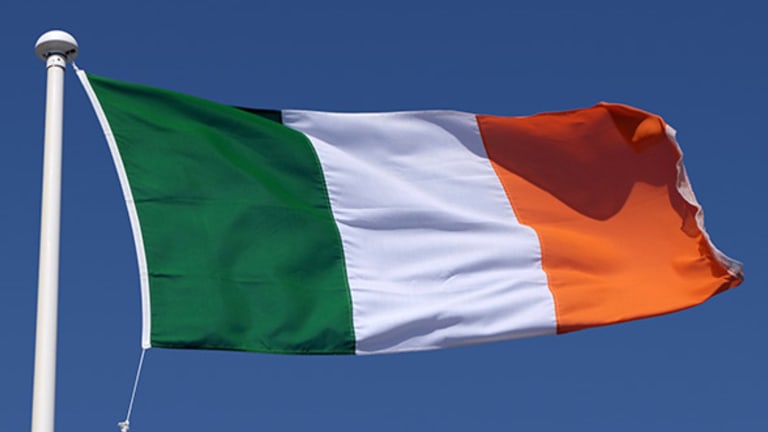 Here's What Apple Ruling Means for U.S. Companies in Ireland
Other U.S. multinationals could also face hefty back-tax bills.
Dozens of U.S. tech titans from Apple (AAPL) to Alphabet's  (GOOG)   Google have big operations in Ireland, lured by a skilled workforce, low corporate tax rate, vibrant economic growth, and access to the EU's single market of 500 million consumers.
But with Apple now on the hook for more than €13 billion ($14.5 billion) in back taxes in Ireland deemed by the European Commission in Brussels to be illegal, the Emerald Isle could lose its luster for tech firms and other multinationals.
On Tuesday, the Commission said that Dublin granted illegal tax benefits to Apple that allowed it to pay "substantially" less tax than other businesses over many years, and ordered Ireland to recover €13 billion plus interest.
Brussels watchdogs took issue with two tax rulings that allowed Apple to pay an effective corporate tax rate of 1% on its European profits in 2003, a rate of 0.05% in 2011 and 0.005% in 2015, or €50 for every €1 million in profit. The sweetheart arrangements, sometimes referred to as a 'Double Irish,' were discontinued last year.
Apple and the Irish government have both vowed to appeal Tuesday's decision in a process Apple warned could go on for several years. But Apple CEO Tim Cook said that Apple will stay in Ireland, where it has grown from a single factory in Cork opened in October 1980 to 6,000 employees across the country today, mainly in Cork but elsewhere as well.
"We are committed to Ireland and we plan to continue investing there, growing and serving our customers with the same level of passion and commitment," he said in a two-page statement. "We firmly believe that the facts and the established legal principles upon which the EU was founded will ultimately prevail."
Apple shares were down 0.7% in New York at $106.04. Among other tech stocks, Amazon (AMZN) was down 0.6%, Microsoft (MSFT) 0.6% lower, and Alphabet had also slid 0.6% in morning trading.
Like Apple, all have major operations in Ireland, where Google said it employs 6,000 people, and Amazon said it employs 1,700 people with plans to create another 500 jobs in the country as it announced in May. The EC also has ongoing tax probes into Amazon and McDonald's (MCD) in Luxembourg, part of a wider crackdown on corporate tax avoidance in Europe.
So should U.S. tech firms be worried about the Apple case?
"In a word, yes," said Louise Gracia, a professorial teaching fellow at Warwick Business School in London, via email. "This ruling should give other U.S. multinationals, including tech giants, operating their tax affairs in Ireland pause for thought."
"Much now will depend on the outcome of any appeal that is lodged by Apple," she added. "If that appeal is unsuccessful, and depending on the nature of their tax arrangements, some of these companies could also face hefty bills for back tax."
On the other hand, if the appeal is successful, she said it will "serve to shore up and legitimize the aggressive corporate tax strategies being used by Apple. This will send a strong signal to other large multinationals that tax avoidance is unacceptable."
Ireland has not only attracted U.S. tech companies, it's also lured the likes of Botox maker Allergan (AGN) and diversified industrial company Ingersoll-Rand (IR) as shown in this graphic compiled by The Street:
In total, 700 U.S. companies employ over 14,000 people in Ireland and rank among the country's leading employers, according to the American Chamber of Commerce in Ireland, which notes the attractiveness of the talented Irish workforce and the country as a "perfect gateway" to Europe.
Foreign direct investment has also helped fuel the Irish economy, which has bounced back from the financial crisis and is still going strong.
Irish GDP grew by 7.8% in 2015 compared to 1.7% for the euro-zone as a whole. And this year Irish GDP growth is expected to be 4.9%, outpacing 1.6% expected for the common currency area and 1.8% for the 28-nation EU, according to the European Commission.
Another major draw for foreign investors is Ireland's 12.5% corporate tax rate -- versus 35% in the United States.
The EC said Tuesday that its is not questioning Ireland's general tax system or its corporate tax rate, though competition chief Margrethe Vestager noted that Apple's tax rate was "very far away" from 12.5%.
Apple, Allergan and Alphabet are all holdings in Jim Cramer's Action Alerts PLUS Charitable Trust Portfolio. Find the full list here.