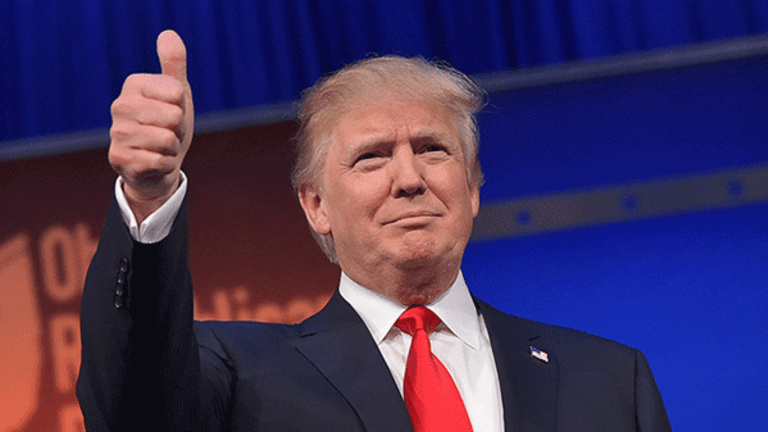 Gilead, NetApp, First Solar Could Profit Most on Trump's Tax Plan
Apple isn't the biggest winner from Trump's plans for a tax holiday. These three stocks are. ...
Wednesday's tax-cut proposal from the White House may have been scant on details, but the big picture was hard to miss: If it passes, corporations are about to get a big gift in the form of lower tax rates.
That's obviously a good thing for investors -- cutting the corporate tax rate from 35% to 15% would translate into an earnings coup, one that could turn into a lot more upside for the stock market. But there's an even bigger potential windfall that investors should be paying attention to: The one-time tax holiday for U.S. companies that want to repatriate cash from their foreign subsidiaries.
Apple Inc. (AAPL) - Get Apple Inc. Reportis the most obvious example. With about $230 billion in overseas cash on its balance sheet, Apple alone currently accounts for about 10% of the total offshore profits held abroad by U.S. firms. If speculation is correct that the Trump administration could cut tax rates on repatriated cash to around 10%, it would effectively add $90 billion in "found money" to Apple's balance sheet.
Apple is a holding in Jim Cramer'sAction Alerts PLUS Charitable Trust Portfolio. Want to be alerted before Cramer buys or sells AAPL? Learn more now.
While Apple is the biggest, it doesn't come with the biggest upside from Trump's tax plan. In fact, there are three big stocks that stand to win more. These three stocks have a higher proportion of overseas cash to their current market capitalizations than Apple does, giving them the biggest potential percent gains if the White House's plan goes through.
Here's a look at the three big stocks that could score the biggest wins from Trump's tax holiday.
Gilead Sciences Inc.
It's been a tough year for investors in $91 billion-biopharmaceutical stock Gilead Sciences Inc. (GILD) - Get Gilead Sciences, Inc. Report. In the trailing-12 months, this big drug maker has shed almost a third of its market value. But Trump's tax plan could provide a much-needed shot in the arm. That's because Gilead currently has $27.4 billion in overseas cash held on its balance sheet, accounting for 30% of its market capitalization at current price levels. That means a 10% tax on repatriated cash could add $5.5 billion in "found money" to Gilead's books.
Gilead is one of the biggest developers of infectious disease treatments, with a huge business battling HIV and hepatitis. It has also acquired a valuable cardiovascular and cancer treatment portfolio in recent years, contributing to a segment of the market that continues to get significant investor attention. None of that has helped Gilead's price trajectory lately. But the price action has turned positive in the past few sessions, offering to potentially break shares free of the downtrend that's harangued them for much of the year.
Simply put, if Gilead can break through prior highs up at $70, its technical trajectory has likely made a turn for the better. Look for tax holiday windfalls as the catalyst to play in the months ahead.
NetApp Inc.
A $10.7 billion data-storage stock, NetApp Inc. (NTAP) - Get NetApp, Inc. Report has fared well in 2017. Shares have climbed 12.8% since the start of the year, besting the rest of the broad market by a big margin. But what you might not realize is that, of all the large caps in the tech sector, NetApp has one of the highest proportions of foreign cash on its balance sheet. The firm's $4 billion in overseas dollars adds up to 37.4% of its total market capitalization right now.
And that means the firm could find an $800 million in extra assets if a tax holiday cuts NetApp's repatriation taxes to 10%.
NetApp is the leader in the network attached storage space, selling ad-hoc devices to increase enterprise customers' storage capabilities. That's a hot market right now, as global data infrastructure demand continues to skyrocket, and more devices get connected to the internet. Buyers are clearly in control of NetApp's price action right now.
First Solar Inc.
First Solar Inc. (FSLR) - Get First Solar, Inc. Report has been under pressure lately. It's no secret that President Trump hasn't been a friend to solar energy stocks. Shares of FSLR are down 10% this year -- and they've been halved over the course of the past year. Thing is, First Solar's overseas cash holdings are significant -- enough to move the needle if President Trump pulls off a tax holiday.
First Solar currently holds $1.2 billion in foreign cash, accounting for about a third of the company's $3 billion market cap.
First Solar makes solar modules and systems, and it's one of the largest players in an industry that's rapidly increasing efficiency both in terms of space and cost. Despite those tailwinds, the solar industry has been a volatile place to park your cash, and FSLR hasn't been immune. That said, shares have been showing some signs of life again in recent sessions, and a tax holiday could unlock $240 million in extra cash for investors.
At the time of publication, author was long AAPL.