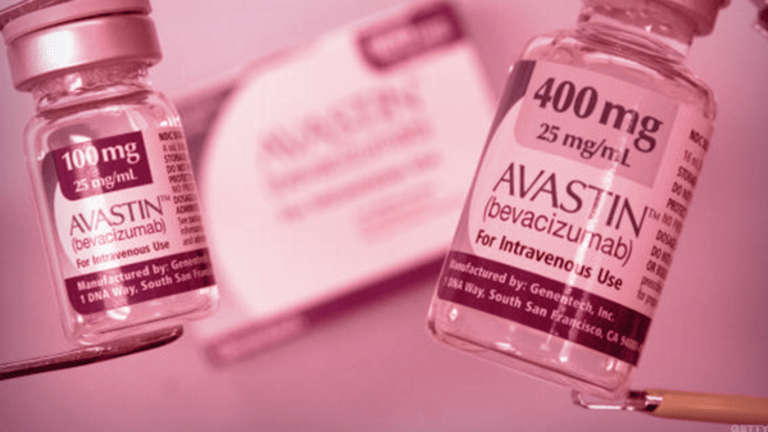 FDA Approves First 'Biosimilar' for Cancer Treatment
Amgen sets to offer a competitor to Roche's Avastin.
Amgen Inc.  (AMGN) on Thursday, Sept. 14, received approval from the Food and Drug Administration to market the first biosimilar in the U.S. for the treatment of cancer.
The new drug, branded as Mvasi (bevacizumab-awwb), is a biosimilar to Roche Holding Ltd.'s (ROG)  Avastin (bevacizumab) for the treatment of multiple types of cancer. 
Roche shares were up $1.10 to $244 Wednesday. Amgen shares fell 26 cents to $189.44.
Biosimilars are one of the most watched areas in the pharmaceutical business and are being rolled out to compete with expensive biologics. Biologics are drugs made from complex molecules manufactured, often through recombinant DNA techniques, using living cells, and they have revolutionized the treatment of many serious and chronic illnesses.
Today, seven of the 10 top selling drugs are biologics,including, Avastin with $6.8 billion in annual sales.
AbbVie's (ABBV) Humira, a treatment for rheumatoid arthritis, psoriasis, Crohn's disease and other conditions, is the globe's top selling drug, according to Genetic Engineering & Biotechnology News, with annual sales of $16 billion. Other biologics rounding out the top 10 are Amgen and Pfizer Inc.'s (PFE) Enbrel at $9 billion, Roche Holding AG's (ROG) Rituxan at $8.6 billion, Johnson & Johnson (JNJ) and Merck & Co.'s (MRK) Remicade at $7.8 billion, Roche's Herceptin at $6.8 billion-and Sanofi SA's (SFY) Lantus at $6.1 billion.
Biosimilars are analogous to generic drugs but, unlike generics, aren't exact copies of the original biologics they are based on and undergo a more complex approval process at the FDA than typical generics do.
"Bringing new biosimilars to patients, especially for diseases where the cost of existing treatments can be high, is an important way to help spur competition that can lower healthcare costs and increase access to important therapies," said FDA Commissioner Scott Gottlieb. "We'll continue to work hard to ensure that biosimilar medications are brought to the market quickly, through a process that makes certain that these new medicines meet the FDA's rigorous gold standard for safety and effectiveness."
Mvasi is approved for the treatment of adult patients with certain colorectal, lung, brain, kidney and cervical cancers.
No Buyers for All of Tenet, Analysts Say
Halozyme Jumps on Immuno-Oncology Deal with Bristol-Myers
Fidelis Care Buy Could Make Centene Less Likely Takeout Candidate
Like Avastin, labels for Mvasi must contains a boxed warning to alert health care professionals and patients about an increased risk of stomach and intestinal perforations; surgery and wound healing complications; and severe or fatal pulmonary, gastrointestinal, central nervous system and vaginal bleeding.
Avastin was approved in February 2004 and is manufactured by Roche's Genentech unit.
Only two biosimilar products are currently on the market in the U.S.. Sandoz Inc.'s Zarxio is a biosimilar to Amgen's Neupogen for the prevention of chemotherapy-related infections. Pfizer launched Inflectra in November 2016 to compete with Remicade for the treatment of rheumatoid arthritis and other inflammatory auto immune conditions.
A few months from now Remicade and Inflectra are  expected to face competition from a third biosimilar, Renflexis, developed by a joint venture of South Korea's Samsung and U.S. biotech firm Biogen Inc. (BIIB).
More of What's Trending on TheStreet:
Editors' pick: Originally published Sept. 14.