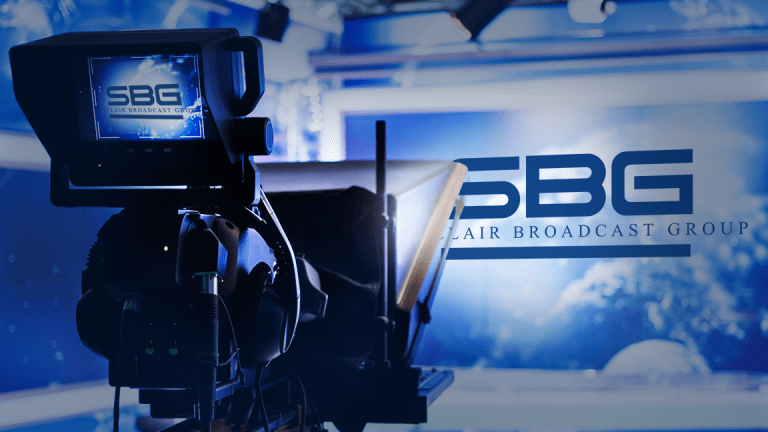 FCC Eliminates 'Main Studio' Rule in Boost for Sinclair
Altering the rule was among many changes to telecom rules being pushed by Sinclair Broadcast Group, the country's largest owner of local TV stations.
They must be popping corks in Hunt Valley, Md.
The five-member Federal Communications Commission on Tuesday, Oct. 24, voted along party lines to eliminate the Main Studio Rule, a cornerstone of the landmark Communications Act of 1934 that required TV broadcasters as well as radio station owners to maintain a studio, or office, in or near the local community where they hold each license.
Local television station owners, led most vociferously in recent years by Hunt Valley's Sinclair Broadcast Group Inc. (SGBI) , the country's largest, had pushed for eliminating the rule. But it wasn't until President Trump elevated Republican appointee Ajit Pai, a former associate counsel at Verizon Communications Inc. (VZ) , to serve as the agency's chairman that broadcasters got their wish.
Shares of Sinclair were up 1.8% to $30.65 on Tuesday afternoon.
The FCC on Tuesday argued that "technology enables stations to produce local news even without a studio nearby" and that residents can just as usefully interact with their local TV stations by "email, social media and the telephone."
Furthermore, the commission's media bureau concluded eliminating the rule would save broadcasters as much as "several hundred thousand dollars per year or more," money that could be spent on programming, equipment and news gatherings.
Commissioner Mignon Clyburn, a Democratic appointee, countered there is no guarantee that station owners will redirect the saving back to local stations. She argued that TV stations are more likely to serve local communities if employees who oversee the broadcast station live in the area where the antennae are located. The decision, she said, will separate large TV broadcast owners from local communities, allowing them to produce cookie-cutter content piped into dozens of stations
Clyburn had called for amending the proposal to require that broadcast stations of a certain size be required to maintain a local studio.
"By eliminating the Main Studio Rule in its entirety for all broadcast stations, regardless of size or location, the FCC signals that it no longer believes those awarded a license to use the public airwaves should have a local presence in their community," Clyburn said at the agency's meeting.
The FCC, in a statement sent shortly after the vote, said "the Commission found that requiring broadcasters to maintain a main studio is outdated and unnecessarily burdensome."
A Sinclair spokeswoman declined comment on the vote.
More of What's Trending on TheStreet: