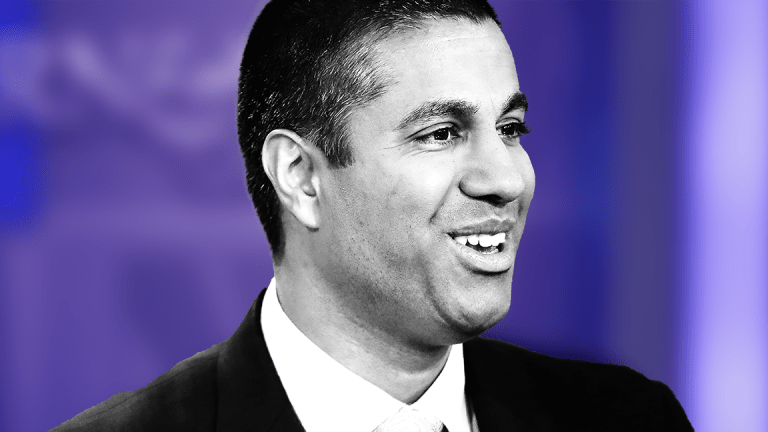 FCC About to Eliminate Even More Media Ownership Rules
The FCC is expected on Thursday to make further changes to media ownership rules, long sought by Sinclair Broadcast and other TV station groups.
Through Republican and Democratic administrations, rules restricting media concentration have remained on the books, emboldened by warnings that local communities and public opinion benefit from a variety of news sources.
But the Federal Communications Commission under Donald Trump is poised to eliminate regulations that critics warn will accelerate an already high tempo of mergers and acquisitions among TV station owners. Top of mind for both parties and their lobbyists is Sinclair Broadcast Group Inc.'s (SBGI) - Get Sinclair Broadcast Group, Inc. Class A Report proposed $6.6 billion acquisition of Tribune Media Co. (TRCO) - Get Tribune Media Co. Class A Report , a deal that would combine the largest- and sixth-largest TV station owners in the country and create a giant reaching 72% of U.S. households.
On Thursday, Nov. 16, in Washington, FCC Chairman Ajit Pai is expected to use the Republicans' majority control of the commission to approve rules changes that will allow for a single entity to own a newspaper and broadcast station in the same market. The FCC also appears likely to lift a restriction that forbids a company from owning more than two TV stations and one radio station in a single market, although exceptions have been made in very large markets.
Finally, though very much intertwined with the other regulations, the FCC is poised to eliminate a restriction that prevents two TV stations in the same market from jointly selling advertising time. For years, Sinclair has skirted the joint-sales rule by creating so-called sidecar companies that own another TV station in the same market. 
Pai, a former attorney with Verizon Communications Inc. (VZ) - Get Verizon Communications Inc. Report , has argued that restrictions on TV station owners should be replaced given the ascent of Facebook Inc. (FB) - Get Meta Platforms Inc. Class A Report , Twitter Inc. (TWTR) - Get Twitter, Inc. Report and Google, a unit of Alphabet Inc. (GOOGL) - Get Alphabet Inc. Class A Report . The rule changes, he said, are necessary to prevent TV stations from going the same route as newspaper publishers and radio station companies. (America's two largest radio station owners, iHeartMedia Inc. and Cumulus Media Inc., are in restructuring talks with creditors that could end in bankruptcy court.)
"We need to create a level regulatory playing field," Pai wrote in a column published by The New York Times on Nov. 9. "It makes no sense for internet giants like Google, Facebook and Twitter to be allowed to buy newspapers while a small AM radio station is prohibited from purchasing its local paper."
Debate over so-called cross-ownership between a newspaper and local TV station has been a source of disagreement at the FCC for years. Pai argued that the advent of internet-based news outlets offers additional sources of information, offsetting the historically outsized role of local broadcasters and newspapers.
Yet consumer advocates and others have charged that even in the age of Facebook and aggregation platforms such as Apple Inc.'s (AAPL) - Get Apple Inc. Report News, local newspapers and local TV stations continue to hold enormous sway in communities. To allow a local newspaper to be owned by a local TV station is to risk handing one company, and one viewpoint, an inordinate influence over public opinion, according to Craig Aaron, president of Washington policy group Free Press.
"The FCC is fulfilling this longstanding industry wish list and ignoring how decades of runaway media consolidation have significantly harmed local news and independent voices," Aaron said at a press conference in Washington on Wednesday. "They want sell this as some kind of Hail Mary for local journalism, but we know the results of these moves will be a whole new wave of media consolidation, leaving even fewer dominant firms in control."
Though Pai insists that he has wanted to eliminate these rules for years, the proposal, which the FCC made only three weeks ago, comes as Sinclair is pushing regulators to approve its acquisition of Tribune Media. Democrats in Washington have repeatedly charged that Sinclair has allowed its libertarian views, and outspoken support of Trump, to shape its reporting at the local level. 
A Sinclair-owned Alabama TV station's reporting on allegations of sexual harassment and assault against Republican Senate candidate Roy Moore are the latest example in a string of incidents that go back to the company's broadcasts against former Massachusetts Sen. John Kerry during the 2004 presidential race.
Already this year, the FCC has approved rule changes long sought by Sinclair. In the spring, Pai's FCC restored the so-called UHF discount, which allows Sinclair and other station owners to skirt a national cap that prevents a single company from owning TV stations that cover more than 39% of U.S. households. In September, the commission voted along party lines to eliminate the Main Studio Rule, a cornerstone of the landmark Communications Act of 1934 that required TV broadcasters as well as radio station owners to maintain a studio, or office, in or near the local community where they hold each license.
Pai has been quick to assert that he, too, sees the potential harm in media consolidation, and thereby has yet to propose the elimination of the duopoly rule that prevents a single company from owning two of the top four TV stations in a single market. Additionally, the FCC has yet to lift or increase the 39% cap, a rule change long sought by Sinclair.  
A Sinclair official wasn't immediately available for comment.
Facebook, Alphabet and Apple are holdings in Jim Cramer's Action Alerts PLUS Charitable Trust Portfolio. Want to be alerted before Cramer, and the AAP team buy or sell FB, GOOGL and AAPL? Learn more now.
More of What's Trending on TheStreet: