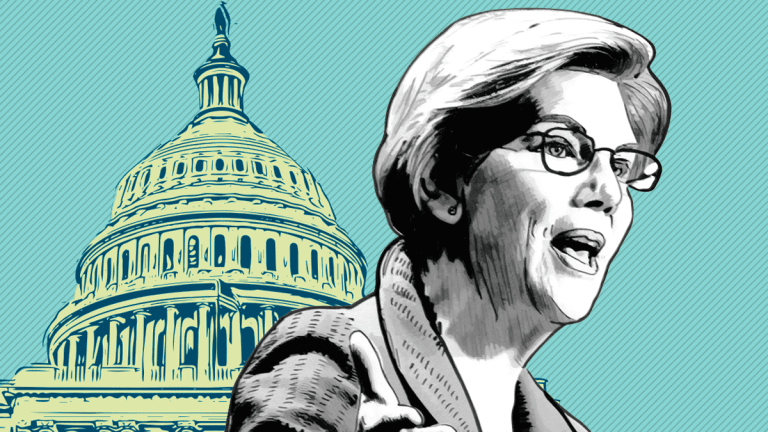 Elizabeth Warren Ups Ante With Billionaire Calculator in Wealth Tax Fight
Sen. Warren outlined her tax plan for the ultra-wealthy. It would apply to households with net worths of $50 million or more.
Sen. Elizabeth Warren (D.-Mass.) isn't backing down from her plan to tax the wealthy at a higher rate, going as far to add a billionaire tax calculator to her campaign website. 
Billionaires who are curious about how much they would pay in taxes under a President Warren administration can plug in their net worth and find out just how much they'd pay in taxes under her ultra-millionaire tax. 
And in a jab to some of the billionaires who this week have publicly criticized Warren's plan, the website specifically has links saying, "If you're Michael Bloomberg, click here," "And if you're Bill Gates, you can click here," "And if you're Leon Cooperman, just click here." 
Cooperman is a hedge-fund manager and CEO of the New York firm Omega Advisors.
Former New York Mayor Bloomberg, who runs the financial-services firm Bloomberg LP, is inching closer to becoming Warren's political rival, with multiple reports saying he's expected to enter the race for the Democratic Party nomination.
According to Forbes, Bloomberg's net worth is $52.4 billion, giving him a Warren tax bill of $3.08 billion.
"This amount, which you likely won't even feel, will help us invest in education from birth through college and help finance health care for everyone," Warren's campaign website says of Bloomberg's potential tax bill.
"Good news - you'll still be extraordinarily rich! And if history is any guide, if you do nothing other than invest your wealth in the stock market, it's likely that your wealth will continue to grow."
Meanwhile, former Microsoft (MSFT) - Get Free Report CEO Gates' tax bill would be $6.38 billion next year, slightly less than the $100 billion he joked he might have to pay under Warren. Here's a tweet from a reporter at Recode:
The senator recently announced her Medicare for All plan, which would cost about $52 trillion over a decade, including $20.5 trillion in new federal spending.
Under the plan, President Warren would issue new taxes on "financial firms, giant corporations, and the top 1% - and making sure the rich stop evading the taxes we already have" to pay for the plan.