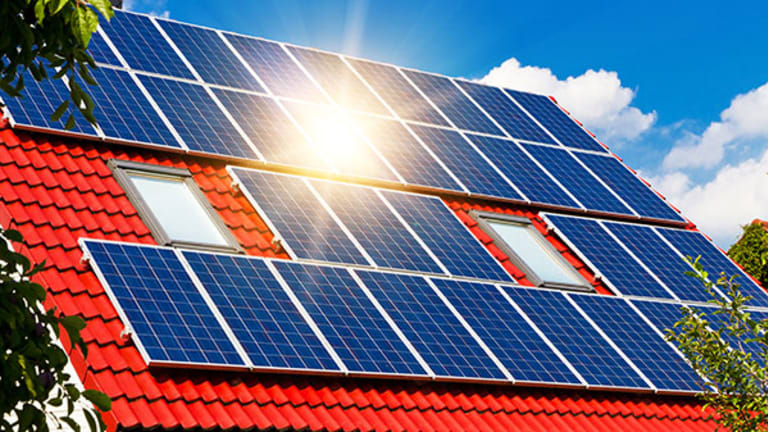 Donald Trump Shouldn't Be Cause for Solar, Wind Industries to Fret
Analysts think the President-Elect is unlikely to touch a key tax credit that helps solar and wind energy producers.
The election of Donald Trump to the presidency and his subsequent appointment of Rick Perry as Secretary of Energy have shaken renewable energy advocates who are concerned - fairly or otherwise - of a pendulum swing back to fossil fuels and natural gas.
Any impact they might have on solar or wind energy, however, may be decidedly muted.
Solar companies in the U.S. benefit from the Business Energy Investment Tax Credit, which currently promises a 30% tax credit on residential and commercial solar development in the U.S. The credit is locked onto the books until 2022, though the size of the credit will have shrunk to 10% by then after it begins a step-down process in 2019.
"I would not expect them to touch [the investment tax credit], since this is a minor issue in the grand scheme of things," Raymond James analyst Pavel Molchanov said in a phone interview. "The only way it would be addressed by Congress is if there was comprehensive tax reform. And there's a reason why comprehensive tax reform hasn't happened in 30 years."
Wind power is also a beneficiary of the investment tax credit, albeit with an earlier expiration date: 2019. The wind tax credit will decrease to 24% in 2017 before bottoming out at 12%.
A quick glance at maps developed by the federal government's National Renewable Energy Laboratory to demonstrate the potential for wind power development shows that the highest average gusts are concentrated in states that broke for Trump: Texas, Oklahoma, Nebraska, Kansas and the Dakotas.
Indeed, those states are already ahead of the curve on wind power, Texas in particular. Perry's home state leads the country in installed wind turbines (117) and wind capacity (18,531 megawatts), according to data from the American Wind Energy Association.
"It seems unlikely, when it comes down to it, that the administration is going to mess [with that dynamic]," JMP Securities analyst Joe Osha said in a phone interview. "I could be wrong, but there's lots of money getting made by lots of people."
The solar story is less gleeful. Though utility-scale solar installations are booming - thanks in part to renewable portfolio standards for energy companies in 29 states - residential penetration is lagging. The most recent quarterly market report from the Solar Energy Industries Association shows a slowdown in residential solar installation growth rates. In California - the country's largest residential solar market - installations actually fell 7% year-over-year.
One part of the problem isn't going away: simple market forces.
"A single large solar farm has the same amount of capacity as thousands of residential systems," Molchanov said. "Inherently, it's easier and faster to scale utility."
The economics of utility-scale solar development are also free from the state-by-state energy metering policies that plague residential projects.
It also doesn't help that the entire solar industry is going through an oversupply shakeout not dissimilar to the one in 2012 and 2013 that drove companies like Chinese solar giant Suntech Power into bankruptcy.
Fear of the investment tax credit expiring at the end of 2015 forced many solar companies to accelerate the development cycles of their projects. Now that the tax credit is locked in, solar companies are lying in the bed they made.
First Solar (FSLR) - Get Report announced in November it was laying off about 1,600 employees. Similar spells of bad news could be coming across the industry as it downsizes.
"It's part of what needs to happen," Osha said.