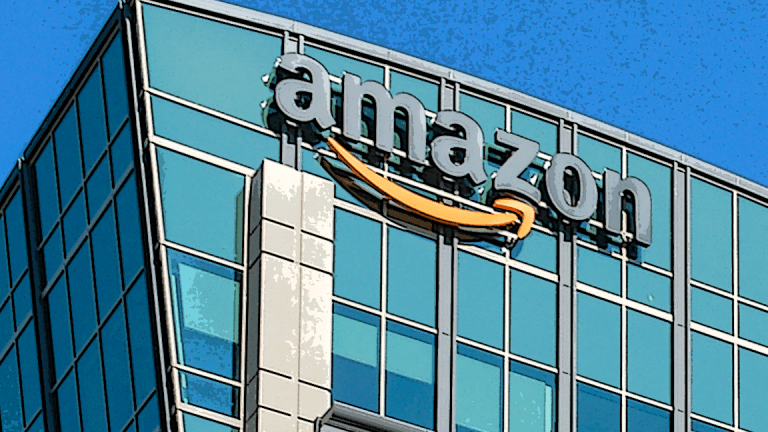 Could Amazon Move Into Banking? Look No Further Than Walmart's Failures
"There is a very clear legal prohibition against [commerce companies] becoming banks," said NYU economics professor Lawrence White. "Walmart tried 10 years ago and got the door slammed in its face."
It's no surprise that Amazon.com Inc. (AMZN) - Get Amazon.com, Inc. Report is making waves after reports suggested that the digital behemoth could soon offer customers banking services. Before Wall Street and the news media can scream "disruption," though, laws would have to change, multiple sources told TheStreet.
Walmart Inc. (WMT) - Get Walmart Inc. Report would know. In the mid 1990's, Walmart tried to penetrate the banking space by registering to be a savings and loan institution, but was shot down by the enactment of the Gramm-Leach-Bliley Act of 1999, which closed loopholes for commercial entities to become financiers. Undeterred, Walmart tried again in 2005 under Utah's more lax local policies, only to be rejected this time by the Dodd-Frank Wall Street Reform and Consumer Protection Act of 2010.
For Action Alerts Plus holding Amazon to succeed, these laws would have to change, according to Lawrence White, an economics professor at the Leonard N. Stern School of Business at New York University. "Right now, Amazon cannot be a bank. There is a very clear legal prohibition against [commerce companies] becoming banks," he told TheStreet. "Walmart tried 10 years ago and got the door slammed in its face."
Monday's news suggests that Amazon is in talks with financial institutions like Action Alerts Plus holding JPMorgan Chase & Co. (JPM) - Get JPMorgan Chase & Co. Report and Capital One Financial Corp. (COF) - Get Capital One Financial Corporation Report to create a "checking-account-like" product with banking services at low fees, the Wall Street Journal first reported. Details remain vague. Amazon did not respond immediately to a request for comment from TheStreet.
"Anything is a possibility, but I don't think Amazon wants to be a bank in the way that JPMorgan is a bank," said Bankrate analyst Taylor Tepper. "There's a reason why Walmart couldn't get this done in the 2000s."
Still, others were quick to muse about where Amazon's development could head, regardless of legislative hurdles.
"The sexier thing to do is to have not only a checking option, but a paperless system like Venmo or PayPal," said DA Davidson analyst Tom Wolfe. "Amazon could really be leveraging this technology as another means to drive transaction and further integrate itself with the movement of money among consumers."
Wolfe pointed to Amazon's popularity among consumers — particularly its trustworthiness — and he wasn't the only one.
Forrester analyst Sucharita Kodali told TheStreet that many consumers already trust Amazon more than their banks. She added that while the Seattle-based giant may stick with a "partnership" for now, it will eventually venture into banking. "I think ultimately Amazon would like to get into the business of issuing loans," she said. "Everything is very speculative, but there could be a reason why Amazon hasn't pursued this until now."
The reason could be as simple as timing, as agencies like the Federal Deposit Insurance Corporation have no choice but to acknowledge growing consumer preference for mobile payment and digital transfer platforms like PayPal Holdings Inc. (PYPL) - Get PayPal Holdings, Inc. Report and Venmo.
"Amazon might have a better chance than Walmart, because the climate is more favorable than it was in the past, thanks to the rapid changes already happening in the digital payment environment," Wolfe said, especially if the retailer could figure out a way to be a financial platform rather than a lender.
"Just imagine a future where you're paying bills through Amazon."