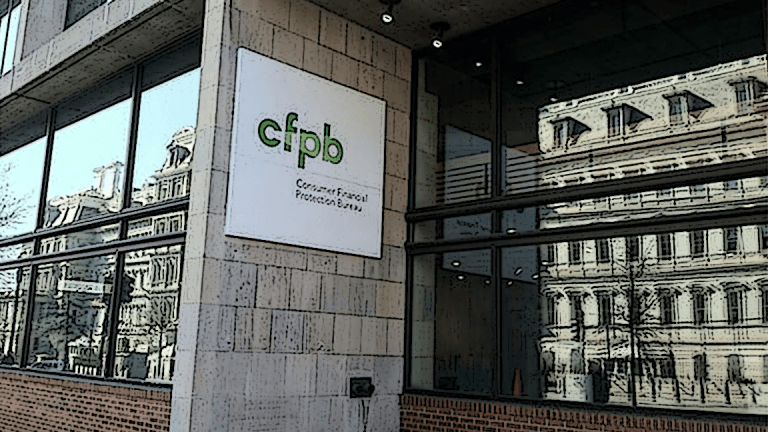 Trump's Consumer Bureau Turmoil Won't Confuse Wall Street for Long
'Team Trump will eventually get its person in charge' of the Consumer Financial Protection Bureau, an agency created in the aftermath of the 2008 financial crisis and championed by Sen. Elizabeth Warren.
'Team Trump will eventually get its person in charge' of the Consumer Financial Protection Bureau, an agency created in the aftermath of the 2008 financial crisis and championed by Sen. Elizabeth Warren.
Wall Street shed few tears over Richard Cordray's exit from the Consumer Financial Protection Bureau, but it doesn't like what has happened since much better: a dispute over who's really in charge.
The question of whether the bureau is being run by presidential appointee Mick Mulvaney, who backed a bill eliminating it while in Congress, or high-ranking staffer Leandra English leaves the U.S. finance industry in a state of what it calls "regulatory uncertainty," a bête noire that can be even more frustrating than strict oversight because CEOs don't know what standards they're being held to.
The good news, analysts say, is that the confusion won't last long: Either director would hold the post on only an interim basis, and Republican President Donald Trump's authority to select the permanent director is clear. A headline-making office, the CFPB was championed by Elizabeth Warren before she became a senator and is credited with returning $12 billion to consumers through actions including the exposure of a massive fake-accounts scandal at Wells Fargo & Co. (WFC) - Get Report
The fight "masks the broader reality that Team Trump will eventually get its person in charge of the agency as part of its broader takeover of the bank regulatory agencies," Jaret Seiberg, an analyst at Cowen Washington Research Group, said in a note to clients on Monday, Nov. 27. "This takeover is broadly positive for banks, especially regional banks."
At stake for Wall Street in the shakeup are new rules governing debt-collection tactics against defaulting bank customers, which the bureau had been considering, as well as regulations that might loosen standards for mortgage loans. A proposal that would have made it easier for consumers to sue banks by blocking mandatory-arbitration rules was overturned by Congress earlier this year, and Mulvaney himself conceded that it's too late stop a rule tightening oversight of high-interest payday lenders.
In the short-term, the leadership dispute might delay lawsuits or negotiated settlements but is unlikely to alter the bureau's day-to-day interactions with the companies it oversees, said Alison Schoenthal, who heads the consumer finance litigation division at international law firm Hogan Lovells.
"It's just the big-ticket items that might be put on hold," she said in a telephone interview. "Anyone outside the bureau is probably not changing course based on this, unless they're at a decision point in their matter and it's something that requires the director's approval." 
In terms of the bureau's overall direction, she said, "English will certainly do as Cordray did, and Trump's appointee will change that course."
English, who has held several positions at the CFPB, was part of the Treasury Department team that implemented the office's creation. Cordray, a 58-year-old appointee of former President Barack Obama, said in an announcement on his last day that naming her deputy director "would minimize operational disruption and provide for a smooth transition, given her operational expertise."
The deputy director argued in a federal lawsuit filed Sunday night contesting Mulvaney's appointment that her rival had no such expertise, having never served in a consumer-protection or financial regulatory agency.
A Republican Congressman representing upstate South Carolina for six years, Mulvaney was chosen by Trump to head the White House's Office of Management and Budget earlier this year. In addition to backing a bill to eliminate the agency while in the House, he observed during a June 2015 hearing in the House of Representatives that, "I don't like the fact that CFPB exists," English's claim noted.
Mulvaney also stuck by his characterization of the consumer bureau as a "sad, sick joke" during a January confirmation hearing with the Senate Budget Committee.
"There is a fundamental objection, a principled objection, to an agency that is not accountable to to the people it is supposed to serve," he said at the time. "I have had more complaints about the CFPB in my office from small local banks and credit unions -- I'm not from a big-bank area -- than every other government agency put together."
While it's true that none of the largest U.S. banks are headquartered in the 50-year-old's former district, Bank of America Corp. (BAC) - Get Report , which is based just across the district's border in Charlotte, N.C., and New York-based JPMorgan Chase & Co. (JPM) - Get Report , both contributed to his 2016 re-election campaign, as did the reliably conservative Koch Industries. 
If federal law allowed him to do so, Mulvaney said in a news conference on Monday evening, he'd try to convince Trump that other agencies could handle the roles assigned to the CFPB and that it should be dismantled.
However, he added, "I have none of that flexibility as the director of this bureau." As for whether he can operate independently of the White House, Mulvaney said, "I will be as closely tied to Donald Trump as Richard Cordray and Timothy Geithner were to President Obama."
Mulvaney, who plans to continue as Trump's budget director while leading the CFPB, spent Monday morning at the latter site, where he brought doughnuts and met with the management team, according to posts on budget spokesman John Czwartacki's personal Twitter account.
Mulvaney said he's confident that the team he assembled at the budget office can cope with the extra workload created by his dual roles and that he hopes the same will be true at the CFPB.
"I'm very encouraged by the quality of the people I met here today, the professionalism of the folks," he said. "This is going to be a very heavy workload for the next couple of weeks or months, however long I end up being here."
Despite positioning himself as the de facto incumbent, Mulvaney has no legal claim to the job, Congressional Democrats say.
"Americans deserve a full-time cop on the beat with a proven track record of fighting for them," said Sen. Sherrod Brown, the highest-ranking Democrat on the Banking Committee, "not a part-time director with a record of working for Wall Street."
Mulvaney is an "unacceptable" choice for the job, added U.S. Rep. Maxine Waters, the highest-ranking Democrat on the House Financial Services Committee. "He has not only expressed noxious views about the important work that the consumer bureau does to protect hardworking Americans, he has also worked to destroy it."
By trying to install Mulvaney, she said, Trump is "once again trying to circumvent Congress to rush allies of Wall Street into key positions to put their priorities first, at the expense of American consumers."
The question of who succeeds Cordray until Trump makes a permanent appointment turns on wording in the 2010 law that created the bureau, a response to government concerns that consumers had been exploited in the buildup to the 2008 financial crisis, when loose lending policies ultimately led to widespread foreclosures on homes.
The statute says the deputy director serves "as the acting director in the absence or unavailability of the director," and English's suit argues that it entitles her to serve until Trump appoints, and the Senate confirms, a new director.
The president, a real estate mogul who has championed looser regulation in order to foster economic growth, is relying on a separate bill, the Federal Vacancies Reform Act of 1998, that gives the White House the power to appoint an acting director unless another law establishes an agency-specific process. The Justice Department's Office of Legal Counsel recognizes that such a law, in fact, applies to the consumer bureau but maintains that it doesn't supersede the president's authority.
"Even when the Vacancies Reform Act is not the 'exclusive' means for filling a vacancy, the statute remains an available option, and the president may rely upon it in designating an acting official in a manner that differs from the order of succession otherwise provide by an office-specific statute," Assistant Attorney General Steven Engel wrote in a letter to White House Counsel Donald McGahn.
The consumer bureau's own general counsel concurred with that assessment in a memo to senior managers on Saturday, Nov. 25, the day after Cordray departed.
"I advise all bureau personnel to act consistently with the understanding that Director Mulvaney is the acting director of the CFPB," wrote Mary E. McLeod, who joined the consumer agency in December 2015 after nearly 40 years at the State Department, where she rose to become the senior career attorney.
Updated from 1:49 p.m. ET on Monday, Nov. 27, 2017.
More of What's Trending on TheStreet: