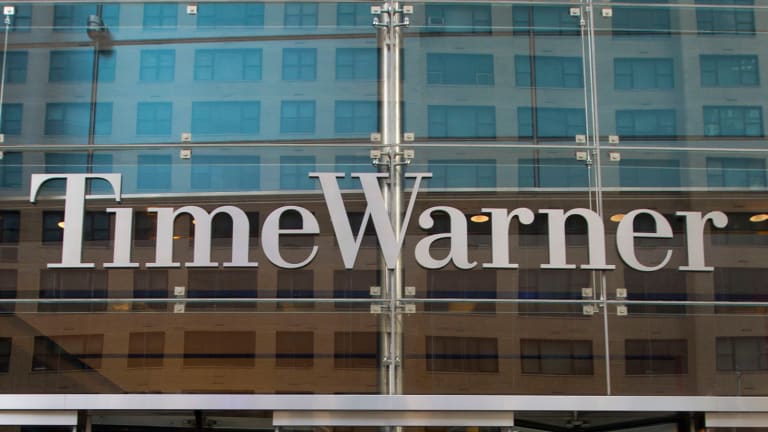 Comcast-NBCU Deal Offers a Shaky Model for Time Warner Takeover
The regulators are ambivalent about the conditions imposed on the Comcast-NBCU deal.
AT&T  (T) - Get AT&T Inc. Report and Time Warner (TWX) officials are all but certain to argue that their $85.4 billion merger announced Saturday should be approved by the federal government with conditions similar to those demanded by regulators when Comcast (CMCSA) - Get Comcast Corporation Class A Report acquired NBC Universal in 2011.
But approval along those lines is not a slam dunk, say telecom experts in Washington, in large part because government officials have found it hard to track Comcast's compliance with those obligations and because regulators are even more determined to prevent old-school media and telecom firms like AT&T and Time Warner from stifling the growth of Internet-based delivery of sports, movies and streaming video by newer competitors like Amazon.com, Facebook and Google.
"Comcast-NBCU is a good precedent for AT&T-Time Warner," said Paul Gallant, a telecom and media policy analyst for Cowen & Co. "But the video market is evolving, and protecting [Internet-delivered television] is a higher priority today than six years ago. Plus Democrats are sending out more hawkish signals generally on reining in big companies via antitrust. So I don't think this is a done deal just yet."
The deals are similar because both buyers primarily are conduits for telecom and media services--Comcast with cable service, and AT&T with wireless and legacy phone service and DirecTV and its own pay-TV service Uverse.
The Justice Department will review the merger although it is likely, in contrast to previous telecom deals, the Federal Communications Commission will sit this one out, at least formally. Time Warner owns only a single TV station license, which likely means that the FCC's role will be limited to informally advising the DOJ on the merger review.
Because of regulators' longstanding desire to promote Internet-delivered television, what telecom experts call over-the-top television, Comcast was required to submit to net neutrality conditions preventing the company from interfering with rival Web content or carrying it under less favorable specifications than its in-house content. It also had to agree to a series of conditions meant to prevent it from using the acquisition to restrain emerging Internet competition to cable. One condition required Comcast to offer rival online video distributors access to NBC Universal content at rates similar to those charged by NBC Universal's peers. Comcast also had to withdraw as a managing partner of Hulu, the webstreaming service operated by a consortium of broadcasters.
AT&T is likely to face similar conditions for HBO and the rest of Time Warner's huge stable of content.
The Department of Justice and the Federal Communications Commission built upon those conditions when they approved AT&T's purchase of DirecTV in summer 2015. Those requirements included requiring AT&T to build out its high-speed fiber connections to an additional 12.5 million customers and prohibiting AT&T from hampering unaffiliated services such as Netflix over its broadband network. AT&T also had to apply any data caps that it imposed on its broadband connections to its own online video services as well.
Andrew Schwartzman, a senior counselor at the Georgetown University Law Center's Institute for Public Representation, said the fact that AT&T focus will be on delivering Time Warner content via wireless streaming will raise completely different issues than Comcast's cable-centered delivery.
"Even if one did think this was substantially similar to Comcast/NBCU, that doesn't mean that the deal will necessarily be approved--there are always factual differences," he said.
He added that prior approval  of the Comcast-NBCU deal is not binding precedent in the same way as a judicial decision in a court of law, so the regulations are free to veer from their prior decisions.
"Antitrust analysis and policy can change over time," he said. "This is especially the case in dynamic sectors driven by technology."
Another big problem for AT&T is that the regulators are ambivalent about how the conditions imposed on the Comcast-NBCU deal have performed. "Many people at the FCC and DOJ think that the behavioral conditions adopted in the Comcast/NBCU deal proved to be difficult to enforce and that Comcast got around some of the provisions. This was an important factor in the decision to block the Comcast/Time Warner Cable deal" in 2015. 
Comcast was fined for failing to create a standalone broadband product for people who want only Internet service and was found to have partly violated a condition requiring it to place Bloomberg LP's news channel adjacent to CNBC and other news channels on program guides.
Diana Moss, president of the American Antitrust Institute said that a AT&T-Time Warner combination "raises myriad issues."
"The U.S. is now struggling with declining competition and slowing entry by smaller, innovative firms," she said. "This deal would advance the ball on this adverse trend by slowing, shaping, or even reversing important innovation and technological advancement in telecommunications and media."
In examining how the substantial market power held by a combined AT&T-Time Warner could be used to stymie competition from rival content providers and distributors regulators would be "ill-advised" look to Comcast-NBCU and its difficult-to-enforce remedies as a model, she said. "Regulators will also ask the critical question of how all-important diversity in the delivery of political, social, and economic information and commentary will be affected by AT&T-Time Warner's unified control over content and distribution."
Politicians have also lined up to question the deal. On Saturday, GOP presidential nominee Donald Trump said he would oppose the merger if elected. Democratic vice presidential candidate Tim Kaine on NBC's "Meet the Press" called for the deal to be heavily scrutinized and said that less concentration is generally preferable in the media industry. Senate Antitrust Subcommittee Chairman Mike Lee (R-Utah) and Amy Klobuchar of Minnesota, the panel's ranking Democrat said Sunday they plan to hold a hearing on the merger. They are expected to hold the hearing next month.
Action Alerts PLUS, which Cramer co-manages as a charitable trust, is long CMCSA.