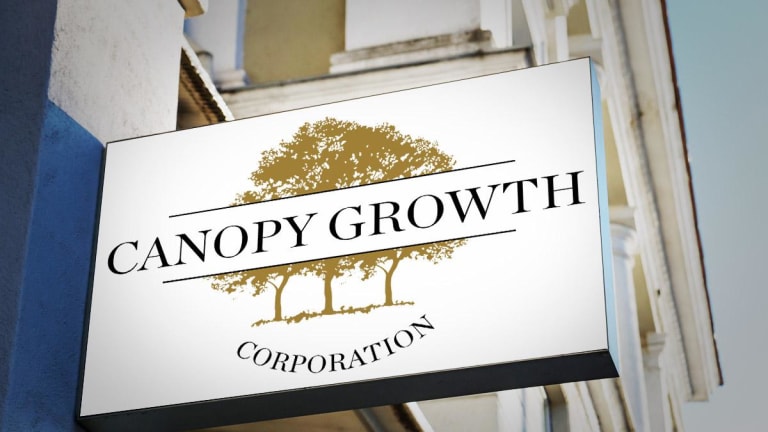 Canopy Growth CEO Outlines Cannabis Disruption Still to Come
Bruce Linton, CEO of Canopy, said the cannabis industry is likely to continue to cause a commotion across industries in years to come.
The market for cannabis is already valued at nearly $200 billion. Bruce Linton, CEO of Canopy Growth Corp. (CGC) - Get Canopy Growth Corporation Report  thinks that estimate might be too conservative.
In his view, the cannabis market is still just scratching the surface of the drastic disruption it could bring across numerous industries. Linton sat down with TheStreet's founder, Jim Cramer, to outline the opportunities at Thursday's Deal Economy Conference. The discussion is bringing cannabis to the forefront of Wall Street, a place it could increasingly occupy in years to come.
With the growth yet to be realized in the sector, the company's deal with beverage giant Constellation Brands Inc. (STZ) - Get Constellation Brands, Inc. Class A Report could be the first of many in the industry.
Ousting Opioid Manufacturers
Linton began his outline of the disruptive potential of cannabis with some medical applications for cannabis, a large and higher margin market for the marijuana industry to intrude on.
"Late 2019 is the time when pharmaceuticals move in ... the big guys," he said.
According to Grand View Research, the global market for opioids stands at $22.96 billion and is only projected to grow from this already gaudy valuation to a total value of $34.96 billion by 2025.
Linton said that the companies like his will be the ones to disrupt that forecast, as it already is in Europe.
"Germans are the No. 3 per capita opioid consumers in the world," he said. "If the Germans do it, how long before other countries [follow suit]?"
He noted that countries like the Czech Republic and Spain are already on the way to regulating the marijuana industry and orienting it toward relieving opioid use issues in their respective countries.
"There's huge middle classes in these countries and they aren't interested in having opioid prescriptions," he said.
Stuart Titus, CEO and president of Medical Marijuana Inc. (MJNA) , the first publicly traded cannabis company in the United States, pre-empted Linton's comments in an interview with Real Money ahead of the conference, noting the potential efficacy and risk reduction available in cannabis.
"Opioid receptor sites are very close to the parts of the brain that control your breathing reflex," he explained. "In overdoses this causes a number of individuals to asphyxiate."
By contrast, cannabinoid receptors are located in the center of the brain and pose no threat to the brain stem, even if an overdose were possible.
As such, he thinks regulators and physicians will come to accept cannabis and cannabidiol as first-choice painkillers if their efficacy continues to be proven in clinical trials.
Titus likened medical cannabis disruption of the opioid and pharmaceutical industry to the disruption that alcohol distributors have felt from recreational cannabis.
The disruption in this market resulted in the aforementioned $4 billion investment from Constellation Brands in Canopy Growth in order to hedge the cannibalization expected in the alcohol industry.
His suspicions echo those of Tilray Inc. (TLRY) - Get Tilray Brands, Inc. Report CEO Brendan Kennedy who has said he sees cannabis as a replacement for a number of pharmaceutical products.
"Cannabis is a substitute for prescription painkillers, prescription opioids," he said. "So, if you're an investor in a pharmaceutical company or you're a pharmaceutical company, you have to hedge the offset from cannabis substitution."
Overall, the opinion seems unanimous that pharmaceuticals need to hedge their bets before cannabis burns up their bottom line.
Sparking Up Sports
Linton also outlined the disruption to come in sports recovery beverages, a market that rests within a sports nutrition market charted to accelerate toward a $100 billion valuation in years to come.
"CBD with a couple of other ingredients might make a very good sports recovery drink," he told Cramer. "Every sports recovery player should be in [cannabis]."
His comments echo his sentiment in an interview with Real Money's Kevin Curran even before full legalization in Canada was confirmed in October.
"I think the larger companies from other spaces are either going to have to joint venture or acquire, because the final option is to fearfully wait," he said. "I don't think that there's any material alcohol-producing company or sports-drink company or pharma company that isn't either in country or in committee looking at how to [get into cannabis]."
For companies looking at aiding athletes with inflammation and irritation, cannabis could be the answer.
Pot for Pets
The range of products could even span beyond simply human use.
Clinical studies have find that cannabidiol, or "CBD" -- a non-psychoactive substance in pot -- could have positive medicinal effects ranging from pain relief to opioid-replacement therapy. That could make pot-related products popular not only with humans, but with the $72 billion-a-year pet-products industry.
Linton picked up this thread in his chat with Cramer, zeroing in on pet anxiety and the clinical trials that have observed a pacifying effect of cannabis on human anxiety.
"If that data set carries over from how we help grandma with the same problem, that starts to look interesting," he commented.
He joked that if you have an anxious dog and you do not want to put the poor boy down, cannabis could be your key to calming your pup.
Given the size of the pet product industry and people's propensity to spend on their "best friends", the entry into the U.S. market for pet-focused pot could be a fruitful one for Canopy as well as numerous other cannabis companies and investors.
Jolting the Sleep Aid Market
Linton also touched upon the sleep-aid market, that has been much maligned since being blamed for the cancellation of certain popular sitcoms.
"Who love's Ambien?" Linton asked. "No one."
He said that the name-brand drug is currently the main competitor to cannabis in the sleep aid market, but carries baggage of addictiveness and side effects not present in cannabis-based products.
One is reminded of a scene from "The Outlaw Josey Wales"as Linton outlined his myriad of uses for cannabis, wherein a uncomely salesman tells Clint Eastwood's title character that his magic elixir works "on most anything."
Eastwood's Wales replies by spitting tobacco on the man's white suit and inquiring; "How is it on stains?"
The surly snakeoil salesman stands aghast without a penny from our hero.
Such reminders should of course provoke a degree of skepticism on the outsized claims of panacea that Linton's comments suggest.
Still, if a company as smart and successful as Constellation is happy piling $4 billion into Canopy's coffers and even U.S. staple companies like Coca Cola Co. (KO) - Get Coca-Cola Company Report are taking a look at the burgeoning industry.
There might be something to all of these claims and they could end up making investors quite a bit of returns. The key will be choosing the right business amidst a sea of cannabis companies vying for investor capital.