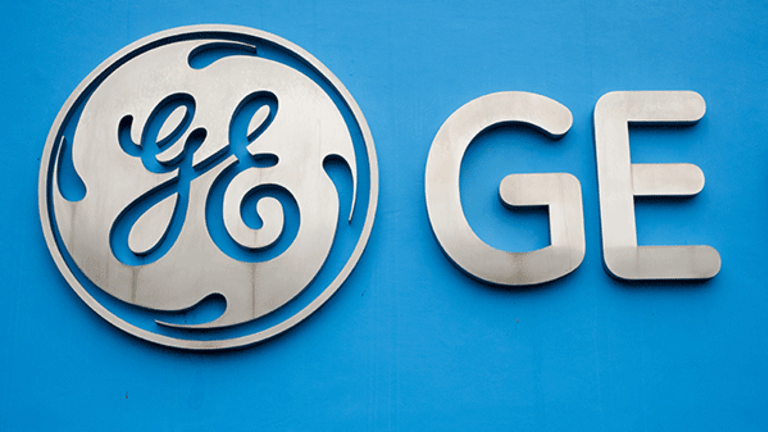 Publish date:
GE's 'Nearly Flawless' Lending Strategy Pays Dividends in Britain
General Electric still needs to deliver on this year's goals of $17.2 billion in industrial operating profit and adjusted earnings of $1.60 a share.
General Electric still needs to deliver on this year's goals of $17.2 billion in industrial operating profit and adjusted earnings of $1.60 a share.
Nearly a year after U.S. regulators ended heightened oversight of General Electric (GE) - Get Report  due to the size of its lending business, the United Kingdom is doing the same.
The Bank of England's Prudential Regulation Authority, created in the aftermath of the 2008 financial crisis to make certain companies had sufficient capital to weather economic storms, is no longer subjecting the conglomerate's GE Capital business to so-called consolidated supervision, which evaluates the health of companies as a whole to ensure the safety of their banking and lending units.
The British regulator's decision marks GE's global exit from such scrutiny, which had been CEO Jeffrey Immelt's goal since he decided to sell most of the mammoth lending portfolio in April 2015. The Boston-based company has since shed $198 billion of finance assets.
"We have transformed GE Capital and simplified our regulatory footprint," Rich Laxer, the head of the business, said in a statement. London's lifting of the oversight, which comes with high compliance costs, is a positive development for the company as Immelt faces pressure from activist investor Nelson Peltz's Trian Fund Management to deliver on an earnings target of $2 a share by 2018.
Indeed, while GE's wind-down of the lending business was "nearly flawless," generating a 10% premium to the book value of loans sold, "changes in GE's leadership could become far more plausible" if the CEO fails to deliver on this year's goals of $17.2 billion in industrial operating profits and earnings of at least $1.60 a share, Nicholas Heymann, a William Blair analyst, said in a note to clients.
GE dropped 7 cents to $29.80 on Friday. The shares have gained 16% since Immelt began shrinking GE Capital in 2015, outperforming both the broader S&P 500 and the Dow Jones Industrial Average. 
EXCLUSIVE LOOK INSIDE: GE is a holding in Jim Cramer's Action Alerts PLUS charitable trust portfolio. Want to be alerted before Cramer and the AAP team buy or sell the stock? Learn more now.
Exiting most of the lending business paid off last June, when a panel of regulators in the U.S. rescinded the "systemically important" label imposed on GE Capital after the 2008 crisis. The panic froze short-term debt markets the company relied on to fund its lending operations, prompting GE to slash its dividend for the first time in its history and costing it AAA credit ratings.
Later, as the CEO sold off the company's lending assets, GE Capital trimmed its issuance of commercial paper by 88%, from $43 billion to $5 billion, taking it from the top U.S. issuer of such short-term securities to less than a tenth of 1% of the market as of a year ago.
The manufacturer wasn't the only company to find itself chafing under its designation as a "systemically important financial institution," a label that comes with tough capital and liquidity rules as well as high compliance costs. Insurer MetLife (MET) - Get Report successfully contested its designation in court, and activist Carl Icahn once urged AIG  (AIG) - Get Report to split itself into three new companies to shed the label.
Now, however, as memory fades of the crisis wiping out trillions in market value, a GOP majority in Congress is agreeing with businesses that some of the rules backed by their predecessors are too strict.
Republican House members said in a hearing Tuesday that federal regulators shouldn't be designating more big companies as "systemically important," a power given to a panel of regulators known as the Financial Stability Oversight Council, because the formula used to support that label is arbitrary and inconsistent.
The hearing was yet another indication that the council may gradually become dormant, cutting compliance costs at large corporations as new President Donald Trump works to ease what he has characterized as a regulatory burden.
This article, originally published at 4:26 p.m. on Thursday, March 30, 2017, has been updated with analyst comments and market data.