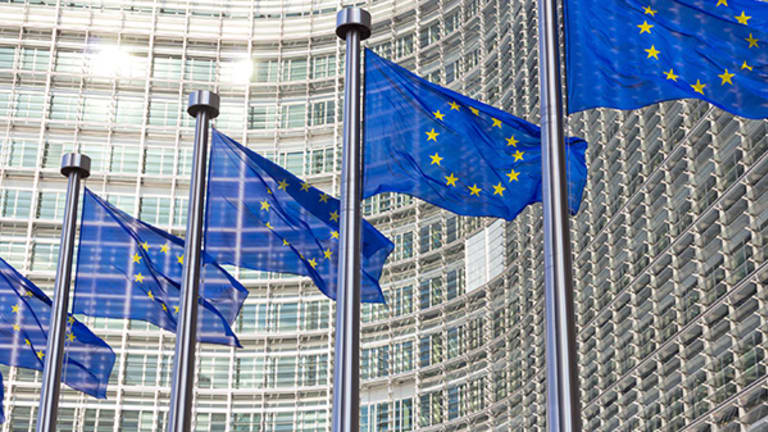 Apple, Ireland to Appeal EC Decision Ordering Recovery of $14.5 Billion in Back Taxes
Brussels competition chief Vestager hints that other nations may look again at their tax arrangements with the tech giant.
Apple (AAPL) will have to pay €13 billion ($14.5 billion) in back taxes to Ireland under a European Commission ruling Tuesday. Both Apple and Ireland said they will appeal the decision in a process that Apple warned could take several years but with no impact on its cash balance or future tax rate.
Amid a wider crackdown against corporate tax avoidance in the 28-nation bloc, the EC said that "undue benefits" granted to Apple amounted to illegal state subsidies, and will need to be recovered.
"Member states cannot give tax benefits to selected companies -- that is illegal under EU state aid rules," said EU Competition Commissioner Margrethe Vestager in a statement.
Speaking to journalists after the decision, the Danish Liberal politician insisted that the €13 billion is not a penalty, but unpaid taxes to be paid, and has to do with Apple's profits generated in Europe and recorded in Europe.
She said it's now up to Ireland to recover the amount.
Vestager also hinted that Apple could potentially be on the hook for further taxes in other jurisdictions, saying that governments in the EU and elsewhere could look to the latest decision and the yet-to-be-published reasoning to determine whether to require Apple to pay additional taxes. But she said any back taxes due elsewhere could theoretically reduce the Irish tax bill if related profits should have been booked in other jurisdictions.
The Commission has denied allegations of anti-US. bias in its tax probes, which include pending cases against Amazon (AMZN) and McDonald's (MCD) .
Apple shares tumbled 1.6% in pre-market trading to $105.09.
A negative decision against had been expected, though the magnitude of the tax benefits wasn't known, with estimates starting as low as €1 billion.
The EC launched an in-depth probe into Irish tax breaks for Apple that go back more than a decade in June 2014. On Tuesday, it found that two so-called tax rulings issued by Dublin allowed the technology giant to pay an effective corporate tax rate of 1% on its European profits in 2003. The rate by 2014 had fallen to 0.005%.
Apple disputes the findings.
"The European Commission has launched an effort to rewrite Apple's history in Europe, ignore Ireland's tax laws and upend the international tax system in the process," it said, warning that the decision "will have a profound effect on investment and job creation in Europe."
Apple also said it "follows the law and pays all of the taxes we owe wherever we operate. We will appeal and we are confident the decision will be overturned."
Separately, Apple said on its website that it does not expect Tuesday's ruling to have an impact on its future tax rate, and said its cash balance will not change as a result of the decision though it does expect to place some amount of cash in an escrow account. It also warned that the appeals process is likely to take "several years."
Speaking on behalf of the Irish government, Finance Minister Michael Noonan said, "Ireland did not give favorable tax treatment to Apple. Ireland does not do deals with taxpayers."
Both sides have a little more than two months to launch an appeal.
European Commission President Jean-Claude Juncker has made a crackdown on corporate tax avoidance a priority following the 'LuxLeaks' scandal revelations in November 2014.
In October 2015 the EC announced state aid decisions against Starbucks (SBUX) and Fiat Finance and Trade. And in January it ordered Belgium to recover about €700 million from at least 35 multinational firms, including Anheuser-Busch InBev (BUD) and oil giant BP (BP) under a Belgian tax scheme it judged to be illegal.
There are also still pending probes into Luxembourg's tax agreements with Amazon and McDonald's although Vestager on Tuesday said she could not give any timing for when those cases will finish.
Apple and Starbucks are holdings in Jim Cramer's Action Alerts PLUS Charitable Trust Portfolio Want to be alerted before Cramer buys or sells AAPL or SBUX? Learn more now.