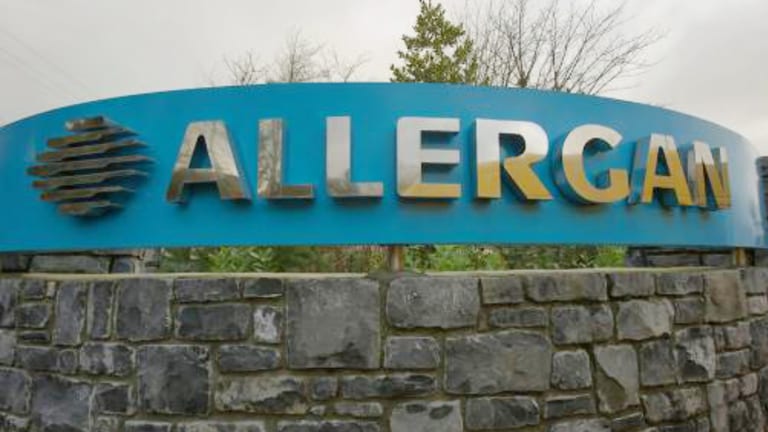 Allergan Unhappy with Patent Office Decision to Allow Mylan Challenge to Restasis Patents
U.S. Patent Office allows Mylan to go after half a dozen patents tied to Allergan's dry eye franchise Restasis.
U.S. Patent Office allows Mylan to go after half a dozen patents tied to Allergan's dry eye franchise Restasis.
Allergan (AGN) - Get Report is vowing to fight a decision by the U.S. Patent and Trademark Office to grant Mylan Pharmaceutical's (MY) L petitions to look at half a dozen patents tied to Allergan's Restasis, its longstanding dry eye medication.
Restasis is a star performer for the Dublin-based pharmaceutical company, with the eye drop medicine drawing revenues for the first three quarters of 2016 of almost $1.8 billion. As of the end of October, the medication had been prescribed for 6.4 million patients according to the company.
The Patent and Trial Appeal Board will institute an Inter Partes Review (IPR) of six patents that are listed in the FDA's Orange Book and will expire August 27, 2024. The board's decision regarding the patents is anticipated in the fourth quarter of 2017.
"Allergan is disappointed in the PTAB's decision to institute IPR proceedings regarding the patents that protect RESTASIS," the company said in a statement. "Allergan is currently reviewing the grounds for the decision to institute, and will continue to vigorously defend the patents in the IPR proceeding and pursue all legal options available to protect its products and intellectual property rights for this product."
(AGN) - Get Report is a holding in Jim Cramer's Action Alerts PLUS Charitable Trust Portfolio. Want to be alerted before Cramer buys or sells (AGN) - Get Report? Learn more now.
The company is currently pursuing a Hatch-Waxman litigation involving these patents against Mylan as well as Teva Pharmaceutical (TEVA) - Get Report in the U.S. District Court for the Eastern District of Texas in Tyler, Texas. The action is tied to plans of Mylan and Teva to sell generic versions of Restasis in Texas.
Mylan has worries beyond Allergan's action. Dec. 7 the company announced it planned to put about 3,500 employees on the street as part of its restructuring focused on cutting costs. The layoffs are just the latest episode pushing the company into the spotlight. Earlier this year the company's CEO appeared before a Congressional committee to talk about the price hikes of EpiPen, its injectable epinephrine product. The company is also paying $465 million to the Justice Department because of underpaid Medicaid rebates on EpiPen.
Restasis, cyclosporine ophthalmic emulsion, was approved by the Food and Drug Administration in October 2003. A multiple dose version of the drops received the FDA's blessing in October of this year.
Allergan has been aggressive in protecting its share of the eye medication market. When Shire (SHPG) - Get Report introduced its Xiidra medication to treat dry eye earlier this year, Allergan reacted by adding 60 new sale reps to its ranks, a bump of 20%. In an August conference call detailing the company's quarterly financials, the company also said it was also increasing its direct to consumer advertising for Restasis. Shire is competing head-up with Allergan and Restasis, pricing its new entrant at the same level as the incumbent drug.
Allergan is in the midst of a stock buy-back plan, targeting 15% of the company's outstanding stock by the end of the third quarter next year. CEO Brent Saunders says he intends to purchase $1 million worth.
Shares traded at $192.87 on December 9, up a little bit better than 2%. Over the last year the stock has lost traction from a high of $317.48 to a low of $184.50.