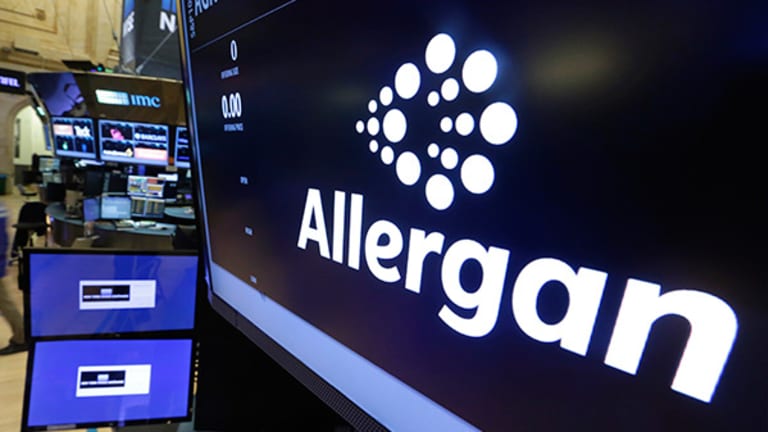 Allergan's Restasis Patent Transfer to Face Precedent-Setting Legal Battle
Patent lawyers are intrigued and competitors will likely challenge, but the move to transfer ownership of the patent to the Saint Regis Mohawk tribe could cause other companies to try a similar tack.
Allergan plc (AGN) - Get Free Report caused a lot of hand-wringing in the biotech community and excitement among patent lawyers, when the drugmaker announced it would transfer patents for Restasis, Allergan's longstanding dry eye medication, to the Saint Regis Mohawk Tribe.
The arrangement is a legal maneuver to shield Restasis, Allergan's second best-selling drug behind cosmetic treatment Botox, from patent challenges being waged by Mylan NV (MYL) - Get Free Report and others.
When Allergan announced the transfer on Sept. 8, a number of biotech players criticized the move, explaining that the unconventional move would draw unwanted attention from Washington, which is already concerned about the high price of branded drugs and the slow pace of approvals for price-restraining generics.
Patent lawyers are intrigued by Allergan's gambit but say it's too early to say whether it will survive the inevitable legal battle with Mylan and other companies seeking to compete with Restasis.
If Allergan's approach is successful, other companies might try a similar tack, though. Evercore ISI analyst Umer Raffat in a note to clients listed patent holders that could be tempted to transfer their rights to native communities. He included Eli Lilly and Co. (LLY) - Get Free Report , which faces an inter partes review brought by drug makers challenging its rights to chemotherapy drug Altima. Similarly, Amgen Inc. (AMGN) - Get Free Report could do the same to protect its patent for rheumatoid arthritis drug Enbrel and Pfizer Inc. (PFE) - Get Free Report to protect pneumonia and meningitis vaccine Prevnar.
Allergan and the Saint Regis Mohawk tribe argue that as sovereign entity the tribe is exempt from patent challenges would-be generics producers can wage under the 2012 America Invents Act. The law created a process known as "inter partes review" that lets entities seeking to nullify a patent to file a challenge with the U.S. Patent and Trademark Office's Patent Trial and Appeal Board (PTAB).
One legal question about Allergan's transfer is whether the tribe's sovereign immunity kicks in, given that Allergan was the original target of the inter partes challenges.
Yasser El-Gamal, co-chair of the IP practice at Manatt, Phelps & Phillips, said it's also uncertain whether the PTAB will agree the sovereign immunity that applies to universities also applies to Native American tribes. "The analysis Allergan is making and whether the jurisprudence being relied on applies to Native American tribes is untested," he said.
Mylan, no surprise, said the maneuver won't work. In a court filing in the separate patent infringement case Allergan brought in federal court in Texas, Mylan called the transfer a "last minute attempt to shield the patents-in-suit from inevitable cancellation" and that it will "vigorously oppose" the gambit before the Patent Trial and Appeal Board.
The tribe in its statements about the legal prospects said "it is possible (but not very likely) that IPR or some court could rule that the Tribe's immunity does not apply" in this instance.
Another question is whether Congress will view the transfers as a loophole in the America Invents Act that should be closed.
"We're just at the front- end of developing the jurisprudence that ultimately governs in these types of situations," El-Gamal said.
"If patent transfer does become widespread, I'm sure Congress would have a problem," said Sarah Brooks, a shareholder at Stradling Yocca Carlson & Rauth, P.C. and a member of the firm's IP practice group.
"But maybe there won't be so much outrage if the impact is limited just to inter partes reviews where the companies are already fighting in federal court. It's not like patents will never be challenged."
The inter partes review process was set up to give inventors a way to defend themselves from so-called "patent trolls" who buy up patents for the purpose of filing patent infringement lawsuits in federal court. Innovating companies complain that the primary mission of the trolls is to extract lucrative settlements even though the trolls did not do anything to develop the patented technology. Supporters of inter partes review claim that relying solely on federal courts to address patent fights takes too long, three years on average, and puts inventors at a disadvantage to the patent trolls. Inter partes reviews are limited to one year.
Patent holders, on the other hand, complain that inter partes review before PTAB simply adds a layer of uncertainty about their patent rights on top of the federal court process.
Recent PTAB rulings have exempted public universities, as entities of their state governments from the PTAB process. Allergan and the St. Regis Mohawk tribe argue that that sovereign immunity enjoyed by state governments is shared by federally recognized Native American tribes. The tribe said it will file a motion to dismiss the ongoing inter partes review of the Restasis patents based on that sovereign immunity.
Under terms of the transfer agreement, the Tribe will receive $13.75 million upon execution of the agreement. Additionally, the Tribe will be eligible to receive $15 million in annual royalties.
In return, Allergan has been granted exclusive licenses to market Restasis, which will have it patents in force until August 27, 2024.
Although the deal is the Saint Regis tribe's first for a drug patent, it did acquire 40 computer technology patents from another unnamed company in April and a third patent deal is in the works.
The community is setting up an Office of Technology, Research and Patents within its economic development division but most of its legal IP work will be handled by Dallas law firm Shore Chan DePumpo LLP. In fact, the tribe said it expects to earn "a significant amount of money" through the Shore firm's enforcement of the computer patents and that the firm is preparing a filing in federal court to do just that.
To some in the technology industry that sounds like the tribe could be setting itself up to be a patent troll, too.  
More of What's Trending on TheStreet:
The iPhone 8 Might Already Be Completely Irrelevant in Apple's Worst Market