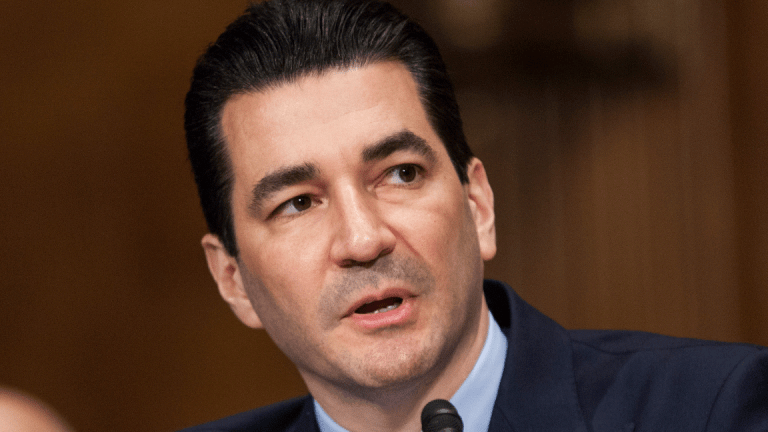 Alkermes Wins Quick Reversal From FDA on Antidepressant Drug
Two weeks ago, the agency told Alkermes it needed more trials for antidepressant drug candidate ALKS-5461. The agency, however, had a change of heart, sending shares jumping on the news.
Alkermes plc (ALKS) saw its shares hammered April 2 when the Food and Drug Administration said its data for an antidepressant drug application wasn't ready, but two weeks later the agency has reversed itself, and now ALKS-5461 is back on track.
When the FDA gave the drug a thumbs down two weeks ago, shares dropped 21.5%. On Monday, April 16, after the FDA flip, shares jumped 12.8% to $48, before giving back some of those gains by the afternoon, with shares trading at $44.06.
The company said the agency gave the antidepressant a green light after the company clarified some of its New Drug Application information, but no new data was submitted. Alkermes chief medical officer Craig Hopkinson said in a securities filing, "We will continue to engage with the FDA throughout the review process, as we work to bring this important medicine to patients."
As is the agency's policy, it declined to comment on the reversal of its initial decision.
ALKS-5461 is a once-daily oral medication for treating major depressive disorder in patients who have not responded well to standard therapies. The drug is a fixed-dose combination of buprenorphine, a partial mu-opioid receptor agonist and kappa-opioid receptor antagonist, and samidorphan, a mu-opioid receptor antagonist.
The FDA had delivered a Refusal to File letter to Alkermes, saying the drug candidate had shown insufficient evidence that it actually worked, saying it wanted the company to pursue new trials and resubmit its NDA.
Though Alkermes already has done a trio of trials, two of the three failed to hit the marks, but the company contended that the data in the third trial was positive enough to gain NDA approval.
When the drug application was rejected, the company was indignant. CEO Richard Pops in a statement said: "We are extremely disappointed with this decision and the implications for patients in the U.S. suffering from major depressive disorder, a serious disease where there is a clear and urgent need for new treatment options for patients and their families. We strongly believe that the clinical development program, including data from more than 1,500 patients with MDD, provides substantial evidence of ALKS 5461's consistent antidepressant activity and a favorable benefit-risk profile."
In a follow-up investor call, the company called the FDA decision "surprising and troubling" and said it planned to appeal the decision and ask the agency to more fully explain its decision.
Getting ALKS-5461 back on track is a big deal for the company as it plans to increase its sales force 70% to back the drug's eventual roll-out, assuming it receives approval.
Though Alkermes is willing to invest in the new drug, there is no guarantee of its success in an already crowded field. The competition includes Pfizer Inc.'s (PFE) Zoloft; Prozac and Cymbalta from Eli Lilly and Co. (LLY) ; Valeant Pharmaceuticals International Inc.'s (VRX) Wellbutrin; and Abilify from Bristol-Myers Squibb Co. (BMY) . It isn't just that these medications are well-established with patients; it's also that for the most part they have aggressive direct-to-patient media campaigns, which means that Alkermes will need to find a way to stand out in the noisy crowd.
Under Trump appointee Commissioner Scott Gottlieb, the FDA has received high marks for trying to speed up the drug approval process. In the past, the agency normally has required positive data in at least two trials to approve an NDA, so at first blush its rejection of ALKS-5461 was understandable. But the agency hasn't been as consistent of late, giving an NDA acceptance to Amicus Therapeutics Inc. (FOLD)   and approvals to Eli Lilly and TherapeuticsMD Inc. (TXMD) after first telling the companies to head back to the drawing board.
Eli Lilly is a holding in Jim Cramer's Action Alerts PLUS Charitable Trust Portfolio. Want to be alerted before Cramer and the AAP team buy or sell LLY? Learn more now.