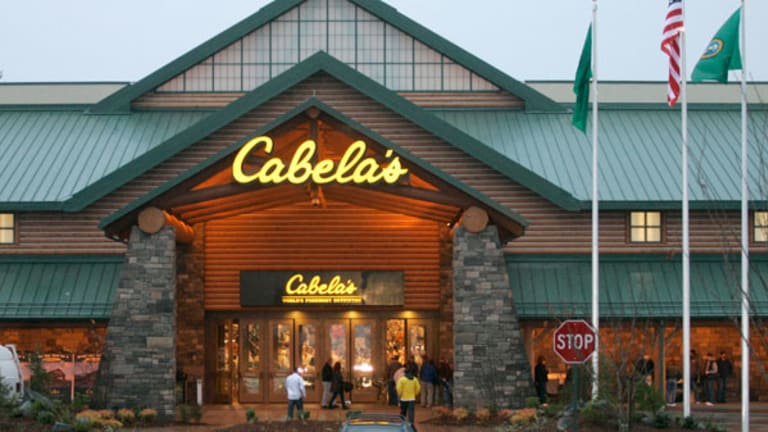 Hey Walgreens and Rite Aid, Look at These Two Deals the Government Just Said Are Cool
The chess game continues.
The chess game continues.
Walgreens Boots Alliance (WBA) - Get Report and Rite Aid Corp. (RAD) - Get Reportmay have missed on on the FTC sweepstakes but two other retail mergers were cleared by the Federal Trade Commission in the past week.
Shares of Cabela's Inc. (CAB) were up slightly Wednesday, July 5, after the company announced that at long last Cabela's had received antitrust approval for its sale to privately-held rival, outdoor supplier Bass Pro Shops. Also approved recently was Alimentation Couche-Tard Inc.'s $4.4 billion acquisition of competitor CST Brands Inc.
The companies announced plans for the sale back in October 2016, but was slowed down by the need for antitrust clearance and approval from financial regulators.
The companies said the U.S. Federal Trade Commission notified them that it had closed its investigation in a securities filing on July 5.
Walgreens Boots Alliance is aholding in Jim Cramer'sAction Alerts PLUS Charitable Trust Portfolio.Want to be alerted before Cramer buys or sells WBA? Learn more now.
The Cabela's sale emerged after intense pressure imposed by activist investor Elliott Management's Paul Singer. Elliott Management in October 2015 reported it has acquired an 11.1% stake made up of common shares and derivatives agreements and said at the time that it wanted the retailer to explore strategic options, including a possible sale of the company. The fund argued in the filing that there were "multiple pathways" to unlock shareholder value at Cabela's because there was a "robust environment" for private equity investment in retail companies and "potential strategic interest" for the hunting and camping supplies retailer.
It is likely that the possible threat of a proxy contest helped prod Cabela's to auction itself to Bass Pro Shops. Elliott didn't publicly threaten a proxy contest at Cabela's, but its track record suggests that a failure by the hunting and fishing goods retailer to launch an action process would have driven the activist fund into seeking to nominate dissident director candidates.
Cabela's shares were up 20 cents to $59.70 Wednesday. They are up $1.59 from their $58.11 close on June 28.
Canada's Competition Bureau wrapped up its review of the deal in May.
Consummation of the transaction remains subject to the approval of the Cabela's stockholders at a special meeting to be held Tuesday, July 11 and closing of the sale of Cabela's World's Foremost Bank, which was announced April 18.
Cabela's agreed to a $500 million price cut on the sale to Bass Pro Shops as a result of restructuring the sale of its credit card unit. The Sidney, Neb.-based company agreed that Bass Pro would pay $5 billion, or $61.50 per share, to acquire its retail business. The initial deal, announced Oct. 3, called for Bass Pro parent BPS Direct LLC to pay $5.5 billion in cash, or $65.50 per share.
Editor's Pick: This article was originally published on July 5, 2017.
The reason for the price cut was Cabela's need to restructure its deal to sell World's Foremost Bank to Capital One Financial Corp. (COF) - Get Report .
Capital One initially agreed to acquire $5.2 billion in credit card receivables from Cabela's and other assets and assume approximately $5 billion in associated funding liabilities. The U.S. Comptroller of the Currency balked at that original deal, and the credit card unit sale was altered so that Synovus Financial Corp. (SNV) - Get Report , a $30 billion-in-assets bank based in Columbus Ga., would acquire about $1.2 billion in deposits as well as other assets liabilities of World's Foremost. Synovus will sell the bank's credit card assets and related liabilities to Capital One.
O'Melveny & Myers LLP's Richard Parker, Ted Hassi and Lindsey Freeman were antitrust counsel to Springfield Mo.-based Bass Pro Shops. Cabela's was represented by Sidely Austin LLP partner William Blumenthal.
The Cabela's deal is the second major retail deal approved by the FTC in the last week. On June 26, the commission required Alimentation Couche-Tard Inc., owner of the Circle K gasoline and convenience store chain, to divest at least 70 retail fuel stations with convenience stores to Empire Petroleum Partners to address antitrust concerns raised by the $4.4 billion acquisition of competitor CST Brands (CST) .
San Antonio, Texas-based CST operates 1,146 convenience stores and retail fuel stations in the U.S. Its convenience stores operate primarily under the Corner Store banner, and the fuel stations generally use the Valero brand.
The 70 fuel stations that must be divested are in Arizona, Colorado, Florida, Georgia, Louisiana, New Mexico, Ohio, and Texas. The FTC also required ACT to give Empire the option of acquiring an additional location in Albany, Georgia. 
To address competition concerns in Canada, Quebec, Canada, ACT agreed upfront to sell most of CST's assets in that country to Parkland Fuel Corp. for approximately $750 million.
Ron Orol contributed to this story.
Visit here for the latest business headlines.