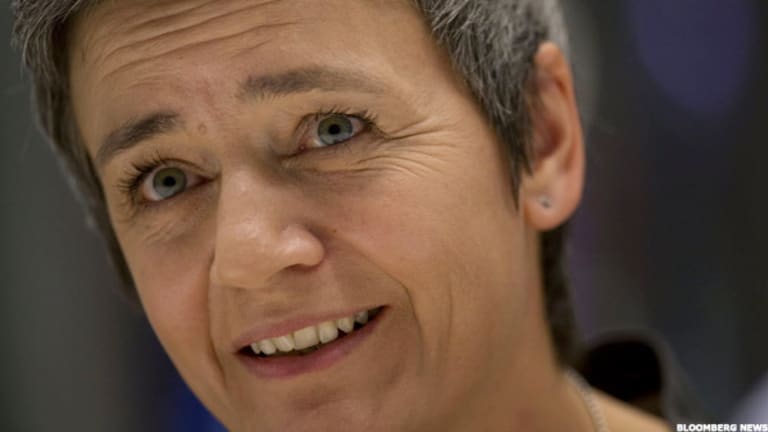 A Look at Apple's Long Road to Resolution in EU Tax Case
Apple probably won't see a final resolution of its tax case for four to six years.
Apple Inc. (AAPL) - Get Apple Inc. (AAPL) Report and the European Union will be tied up in litigation for several years over the European Commission order that Ireland force the technology giant to pay €13 billion ($14.5 billion) in back taxes, according to Georg Berrisch, a antitrust and litigation partner at Baker Botts LLP in Brussels.
That litigation will occur as EU courts are hearing similar disputes over the Netherlands' tax treatment of Starbucks Corp. (SBUX) - Get Starbucks Corporation Report and Luxembourg's treatment of Fiat Finance and Trade Ltd. a subsidiary of Fiat SpA (FCAU) - Get Fiat Chrysler Automobiles N.V. Report .
All three matters involve the issue of when a favorable tax ruling by a country constitutes state aid, an issue whose political ramifications are important enough that the U.S. Treasury Department issued a white paper on the topic last week.
EU Commissioner Margrethe Vestager, who is in charge of competition policy, said on Tuesday that Ireland granted illegal tax benefits to Apple. But the EU launched its investigations into the countries' tax treatment of Apple, Starbucks and Fiat Finance on June 11, 2014, a year after it began probing tax ruling practices of its member states under EU state aid rules.
Such investigations are much closer to U.S. regulatory proceedings than to a federal lawsuit, Berrisch said, and companies have very limited procedural rights. As a formal matter, the EU interacts primarily with its member state and may ask the company for further information.
But practically speaking, Berrisch said, "I suppose in this case that Apple had full access to the case file though the Irish government and would have coordinated their filings with those of the Irish government."
Whichever lawyers Ireland and Apple tap will be involved in the appeal of the European Commission's ruling that both the country and the company say they will file with the EU's General Court. Ireland has 70 days from the issuance of the ruling to file an appeal, while Apple has 70 days from the date that the European Commission publishes its decision, which could take a year, Berrisch said.
But Apple likely won't wait that long. Instead, Berrisch says, the company "will want its case to be aligned with and proceed at the same pace as the Irish case."
The European Commission issued its rulings on Fiat and Starbucks in October. Fiat, meanwhile, appealed on Dec. 29.
Apple and Starbucks are holdings in Jim Cramer's Action Alerts PLUS Charitable Trust Portfolio. Want to be alerted before Cramer buys or sells AAPL or Starbucks? Learn more now.
Ireland and Apple will bring their appeal in the EU's General Court. After the appellants file their written pleadings, the European Commission will respond, followed by another exchange of pleadings.
The General Court will then schedule an oral hearing that will last at most a day, Berrisch said, and will consist entirely of oral argument, like a case heard by an appellate court in the U.S. The oral hearing will not feature the introduction of evidence or questioning of witnesses, Berrisch said. The entire process from appeal to final decision will likely take two to three years.
Regardless of the outcome in the General Court, Berrisch said, the case is so important that the loser will almost certainly appeal to the Court of Justice, the EU's highest court, which could take another two or three years to render a decision.
Parties don't necessarily get a second round of written pleadings in the Court of Justice, which can also rely on the help of the Advocate General, who provides an independent legal opinion on the case. According to one study, the Court of Justice follows that opinion two-thirds of the time.
EDITORS' NOTE: A version of this article was originally published by The Deal, a sister publication of TheStreet that offers sophisticated insight and analysis on all types of deals, from inception to integration. Click here for a free trial.