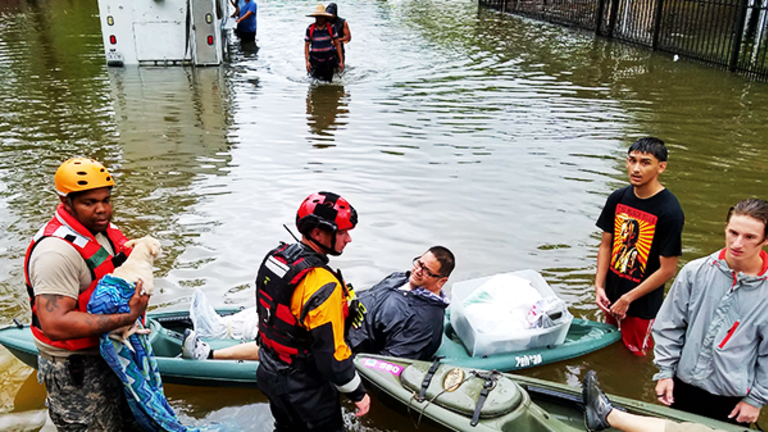 Hurricane Harvey Is About to Pummel Your Wallet
Gas prices spiked again as more refineries went offline.
Refineries near Houston and in the Gulf Coast area are facing additional challenges.
On Wednesday, three refineries went offline and others lowered their ability to refine crude oil into gasoline, jet fuel and diesel, pushing up gasoline prices for the third consecutive day in the aftermath of Tropical Storm Harvey.
Motiva, Valero (VLO) - Get Valero Energy Corporation Report , Total (TOT) - Get Total SA Sponsored ADR Class B Report and Marathon (MRO) - Get Marathon Oil Corporation (MRO) Report said they were not able to refine any products as the plants were assessed and the damage was greater than they expected. While experts initially believed that the impact to the refineries would only last a week to 14 days, the prolonged aftereffects of Harvey means that the damages are likely far more substantial.
The refining capacity in Texas has been decreased by 4.1 million barrels of oil a day, which means that 45% of the oil that is normally turned into gasoline and other products in the Gulf Coast has been halted. The U.S. relies heavily on this region as it accounts for almost 50% of the refining capacity. On Sunday, Harvey had impacted the refining of 2.2 million of barrels of oil a day.
"It is too early to know what it's going to look like just because some of the water is drained," said Suzanne Minter, director of client strategy and energy solutions at S&P Global Platts, a New York-based provider of information and benchmark prices for the commodities and energy markets. "We don't know how saturated the ground is or for how long across various parts of the Gulf Coast."
The problem with the shutdowns is that the "longer you go without the ability to refine oil to make product, the worse it gets," she said. "Even operating refineries will start to struggle to source the 'right' quality of crude barrels due to lack of imports. At the same time, if product pipelines are effected, distribution of any product created is affected. It's too early to make the assumption that this is a two week phenomenon."
While Houston received a reprieve from the rain on Tuesday, Motiva, Total and Valero shut their Port Arthur, Texas plants. Some of the capacity is being replaced by Valero, which was preparing to restart its Corpus Christi refinery and Marathon was restarting its Texas City plant.
The outages in Port Arthur have boosted the lack of refining and the total amount will rise to 4.08 million barrels of oil a day, as some are only able function at half of their normal capacity, consisting of 22% of the U.S. refining capacity, a S&P Global Platts report said. While the Corpus Christi refineries produce 4.4% of the capacity in the U.S., the refineries in Houston, the fourth largest city, and Texas City together generate 12% of refining capacity, producing a mixture of products ranging from gasoline to jet fuel.
Although Harvey has moved onto Louisiana, the ports in Houston and Corpus Christi replaced closed and producers and refiners of oil and refined products are unable to import or export them. The currents are from rivers and bayous are higher than normal and will pose a challenge for some vessels to navigate. Corpus Christi is most likely to reopen first and have estimated it could occur as soon as Sept. 5.
Gasoline prices spiked on Monday in the aftermath of Harvey by 10 to 20 cents and have risen steadily as the closures at the refineries are prolonged indefinitely. The prices in all 50 states have now risen as the impact of Harvey broadens, said Patrick DeHaan, a senior petroleum analyst for GasBuddy.com, a Boston-based provider of retail fuel pricing information and data.
"We are seeing big jumps in Michigan, Indiana, Ohio and Florida up by 20 to 40 cents a gallon versus Sunday," he said. "The Gulf is starting to see jumps."
The national average is already up by four cents a gallon, but will likely hit the highest price since September of 2015 later today, DeHaan said. The national average may rise a total of 15 to 25 cents a gallon due to Harvey and the U.S. could see another 11 to 21 cent rise.
"Expect to see some large jumps today and the next few days as recent jumps in wholesale gasoline prices start migrating to pumps as stations fill with pricier fuel," he said. "I would expect Harvey will have an impact for at least several weeks. "The price jumps are going to really hit hard today, tomorrow and Friday. Retail prices are starting to see a surge and we are seeing a chilling effect on the refining industry from Harvey, which is in a dire state right now."
Earlier on Wednesday, as Gulf Coast gasoline reached $79.08 a barrel, WTI, the benchmark for light, sweet crude oil sunk to $46.18 a barrel as the crack spreads increased and is "encouraging refiners to run full tilt," he said.
Refined product futures rose again Wednesday as the October NYMEX RBOB crack spread was trading around $22.35 a barrel midday, up from $15.76 a barrel last Wednesday. The October ULSD crack was at $22.99 a barrel, up from $20.0 a barrel last Wednesday.
The outlook for refineries returning back to their normal rates of production is pessimistic as there could be additional shutdowns, DeHaan said.
Hurricane categories, defined. 
"Refineries have to deal with running out of crude oil due to the Houston Ship Channel and other Infrastructure being out of service," he said.
While crude prices reached $45.97 at 4:12 p.m. ET, in the short-term it will remain range-bound at $44 to $47 a barrel in the short term, said Phil Flynn, senior market analyst at Price Futures Group in Chicago.
"As they assess damages at the refineries, crude could rise to $55 to $60 by the end of the year," he said. "The combination of the refineries being down and issues due with transporting oil to them could seriously crimp the supply of all oil products and drive up prices."
Not only are the prices of gasoline being affected, but with the closures of the ports, companies have also been stymied in being able to import or export their products, said Minter. The Texas and Louisiana region imports an average of 4 million barrels of oil a day.
Another glitch which has emerged is that while the refineries are able to switch from refining lighter crude oil to the intermediate grade, many tend to focus on the medium or heavier grades of crude which are used to manufacture products such as LPG, she said. The lighter, sweet crude oil is refined into gasoline, diesel, jet fuel and kerosene.
"The whole world can not run on jet fuel," said Minter. "We are starting to see that the longer this goes on, refineries need access to different grades of oil."
Pipelines have also been affected by Harvey although the impact has not been as significant. The Colonial Pipeline, which is a major distributor of gasoline, diesel and jet fuel and starts in Houston, runs through Louisiana and picks up products, then moves to Mississippi, Alabama, Georgia, up to the Carolinas and to Virginia, has lowered their capacity since the supply from refiners from Houston has been limited.
The Explorer Pipeline, which hauls refined products from Texas to Illinois, closed at midnight on Tuesday to allow products to "back up at the start of the line and enable faster deliveries at the northern end" and should reopen before Friday, a S&P Global Platts report said. The Magellan Midstream has suspended operations on the BridgeTex and Longhorn, its two long-haul pipelines which carry a combined 675,000 barrels of oil a day of crude from the Permian Basin in Texas to the Gulf Coast. Kinder Morgan also shut down "select systems" of its 300,000 barrels of oil a day of crude and condensate pipeline in Texas. The shut-in is being implemented on the 250-mile Kinder Morgan Crude and Condensate line.
More of What's Trending on TheStreet: