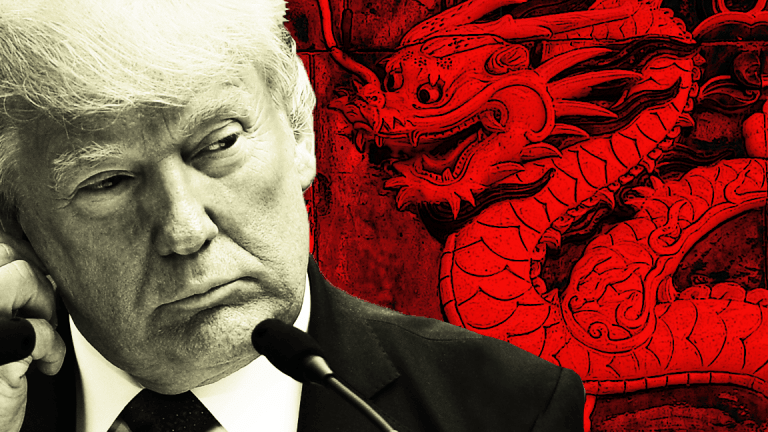 Record Bull Market Poised to Run Further as Trump Frets Over Fed
The S&P 500 has rallied 18% in the past 12 months, closing Tuesday near a record high, even as the Fed has raised rates to the highest levels since the financial crisis of 2008. Wall Street analysts say there's no apparent reason it can't run further.
President Donald Trump need not fear the Fed.
With the Standard & Poor's 500 Index poised to set a new record Wednesday for the longest bull market in U.S. history, Wall Street analysts say there's no apparent reason it can't run further. The Federal Reserve's rate increases since 2015 are moving too gradually to hold it back.
Trump told Reuters this week that he was "not thrilled" with the Fed's rate increases under Chairman Jerome Powell, his own appointee, and that he should be "given some help" by the central bank as he threatens China with a trade war that has weighed on stock-market sentiment.
But Eric Donovan, a managing director at the brokerage firm INTL FCStone in New York, says the Fed's rate hikes are merely a sign of a strong economy: Inflation is picking up but still moderate, unemployment is low, the dollar is buoyant and stocks continue to climb even as borrowing costs rise.
"The market is applauding," Donovan said in a phone interview. "It's a sign that all is going well."
The S&P 500 undefined has rallied 18% in the past 12 months, closing Tuesday near a record high, even as the Fed has raised rates to the highest levels since the financial crisis of 2008. The U.S. unemployment rate is at 3.9%, close to an 18-year low, and inflation is running right around the central bank's target of 2%.
Yet investors are jittery over trouble spots in the global economy, such as Trump's threats to impose more tariffs on Chinese imports to reduce the trade deficit; already, reports have surfaced of U.S. consumers facing higher costs, and some American exporters have complained they're suffering from retaliatory tariffs erected by China's leaders.
Fed officials fret that a full-blown trade war could put the brakes on global economic growth, in turn prompting businesses to delay plans for expansion or purchases of new plants and equipment. U.S. gross domestic product, which expanded at a 4.1% pace in the second quarter, is projected to slow during the second half.
But for now, such worries aren't holding back the stock market.
According to the brokerage firm LPL Research, the current bull market started on March 9, 2009, in the wake of the financial crisis. 
Rich Bernstein, CEO of Richard Bernstein Advisors in New York, said in a phone interview that none of the usual warning signs of a stale bull market are currently present, such as an "inverted curve," where yields on long-term Treasury bonds fall below those on short-term securities. Typically, longer-term yields are higher, to compensate investors for holding the bonds for a longer time until maturity. An inverted yield curve is seen by many economists as a harbinger of recession.
"Why try to forecast a forecasting tool?" Bernstein said. "To get bearish when the yield curve is still giving a positive sign just seems like the story of this entire cycle, where people got bearish too soon."
Other signs that a bull run is about to end, according to Bernstein: When investors become overly bullish even as corporate profits start to deteriorate. "That's clearly not happening," he said.
In fact, one reason the bull run may have gone on for so long is that investors were scarred by the 2008 financial crisis, Bernstein said: "People were consistently expecting the worst, and you didn't get the excesses in the economy that normally cause the end of the cycle."
Scott Wren, senior global equity strategist at Wells Fargo Investment Institute, says he thinks the S&P 500 could keep climbing for at least another 12 months. The Fed would halt the bull market only if it raised rates too far, too fast, he said in a phone interview.
"It's obviously lasted a long time, but I think this thing can roll on for a little longer," Wren said.
Scott MacDonald, chief economist at Smith Research and Gradings, said in an e-mail that the Fed is likely to continue raising rates through 2019, "considering the strong tailwinds of economic growth." Trump's tax cuts in December likely "extended and elevated a late-cycle growth spurt."
But the Fed's benchmark for interest rates, currently set in a range of 1.75% to 2%, remain low by historical standards, MacDonald noted.
"For the U.S. central bank to really take the punch bowl of liquidity away, we would need to see several more hikes," he wrote. "Currently it is not likely to be the Fed that kills the bull stock market, but a downturn in the economy."
That could happen if the trade war with China becomes more "destructive," he wrote.
In other words, Trump may have more to fear from Trump than from the Fed.