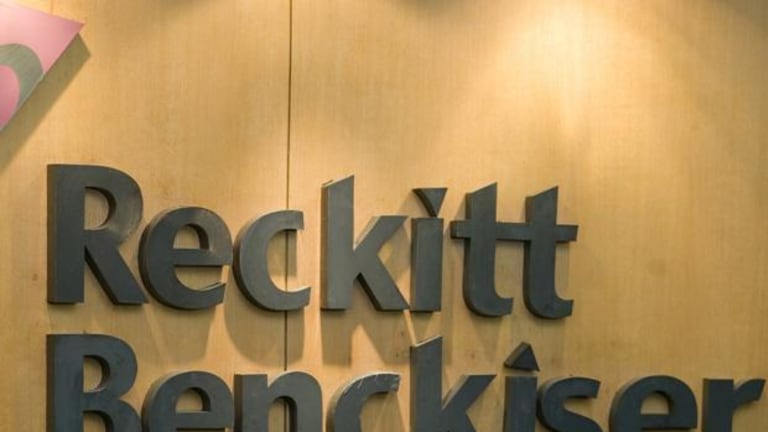 Frank's Red Hot, French's Mustard Could Be Worth $3 Billion in a Sale
Reckitt Benckiser said Monday it will look at options for the sale of its non-core food brands as it seeks to fund its 16.6 billion takeover of Mead Johnson.
Reckitt Benckiser (RBGLY)  said Monday that it will look at options for the sale of one of its non-core food brands that includes the popular French's mustard brand as it seeks to fund its 16.6 billion takeover of Mead Johnson (MJN) .
"French's Food is a truly fantastic business with great brands, people and a history of outperformance," the company said. "It is nevertheless non core to RB. We have therefore decided to initiate a strategic review of Food where we will explore all options for this great business."
The Sunday Times reported Reckitt's food division, which includes French's mustard and Frank's RedHot sauce, could be worth £2.4 billion ($3 billion).
The review followed weekend media speculation that it would sell some of its non-core assets to fund the $16.6 billion takeover of Mead Johnson as it moves towards a focus on consumer health products.
The division sits as a stand-alone business in the company's portfolio and generated £411 million ($515 million) in sales last year, up 5% from 2015 on a like-for-like basis, compared to the group's overall £9.9 billion in revenues. Operating margins, however, decreased by 50 basis points to 28.7% last year, the company said, "as we continue to invest for growth and international expansion."
Reckitt said last month it will pay $90 a share for the Glenview, Ill.-based maker of infant formula, a bid price that represented a 30% premium to Mead's share price when the deal was first announced on Feb. 2.
"The acquisition of Mead Johnson is a significant step forward in RB's journey as a leader in consumer health. With the Enfa family of brands, the world's leading franchise in infant and children's nutrition, we will provide families with vital nutritional support. This is a natural extension to RB's consumer health portfolio of Powerbrands which are already trusted by millions of mothers, reinforcing the importance of health and hygiene for their families."
Reckitt shares were marked 0.3% higher at 7,304 pence each by 09:00 BST in London. The stock has gained around 7% since it first approached Mead in early February and about 6.1% over the whole of the first quarter.