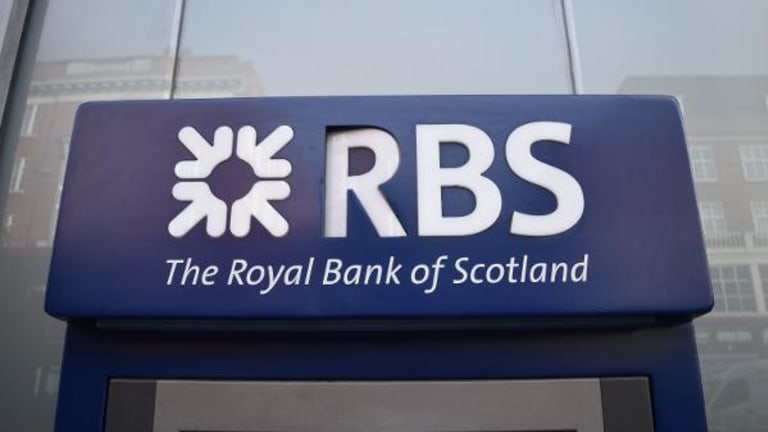 RBS Posts $8.7 Billion Full-Year Loss as Litigation, Restructuring Costs Hammer Bottom Line
RBS posted a larger-than-expected full year loss of £6.95 billion after massive litigation and writedown costs hammered the bottom line of the taxpayer owned bank.
Royal Bank of Scotland Plc (RBS) - Get Royal Bank of Scotland Group Plc Report posted a larger-than-expected full year loss of just under £7 billion, the bank said Friday, after massive litigation and writedown costs hammered the bottom line of the taxpayer owned bank.
RBS said its full year loss came in at £6.955 billion ($8.73 billion) for 2016, the bank said, compared to £1.979 billion in the previous year, after litigation and conduct costs reached £5.868 billion and restructuring costs topped £2 billion.
The loss marks the ninth consecutive year the lender has failed to return a profit to its shareholders, 83% of which are British taxpayers. Stripping away one-off costs, the lender will book an operating loss of £4.082 billion, RBS said, more than double the figure posted in 2015. However, a full adjustment of costs, including litigation, conduct and restructuring, would lift operating profit £3.67 billion into the black. 
"In 2016 RBS made an attributable loss of £7 billion, mostly reflecting charges for outstanding litigation and conduct, and costs associated with restructuring of the bank", said CEO Ross McEwan. "The financial impact of these issues is a difficult but necessary step in working through the bank's legacy issues."
"These costs are a stark reminder of what happens to a bank when things go wrong and you lose focus on the customer, as this bank did before the financial crisis," McEwan said. "The more progress we have made on clearing these past issues, enables us to sharpen our focus on the core go forward bank."
Last month, RBS said it will book a £3.1 billion provision in advance of a settlement with the U.S. Department of Justice linked to the sale and underwriting of mortgage-backed securities in the run-up to the global financial crisis.
The additional writedown takes the total provisions the state-controlled lender will book in the fourth quarter to £6.7 billion, the bank said, but would "not directly impact the distributable reserves of The Royal Bank of Scotland Group plc.".
However, the bank warned that it continues to cooperate with the DoJ and that duration and outcome of ongoing investigations into the lender's activities during that time remains "uncertain, including whether settlements for all or any of such matters may be reached."
RBS offered no update on the DoJ negotiations in its earnings report Friday.
RBS, which was rescued by the British taxpayer in 2008 at a cost of £45.5 billion, is the fourth of the country's banks to report earnings this week, most of which surprised investors will solid underlying performance.
Barclays plc (BCS) - Get Barclays Plc Report posted weaker-than-expected full year earnings of £3.2 billion ($3.98 billion) Thursday and reduced its bonus pool to £1.15 billion as the U.K. lender came to the end of its ongoing restructuring program.
But the bank also said it improved its CET1 capital, a measure of financial strength, by 100 basis points to 12.4%, well ahead of the 11.8% figure analysts were anticipating.
Lloyds Banking Group plc LYG posted its strongest full year profits since the global financial crisis at £4.2 billion Wednesday and boosted it annual dividend to around £2.2 billion.
HSBC plc (HSBC) - Get HSBC Holdings Plc Report  , Europe's biggest bank, posted much lower-than-expected full year earnings of $7.1 billion and increased its share buyback program Tuesday after taking a $3.2 billion writedown on its European private banking assets.
RBS shares fell around 1.5% in early London trading to change hands at 245.5 pence each, trimming the three month gain to just under 20% but still well ahead of the 8.12% advance for the Stoxx Europe 600 Banks index.