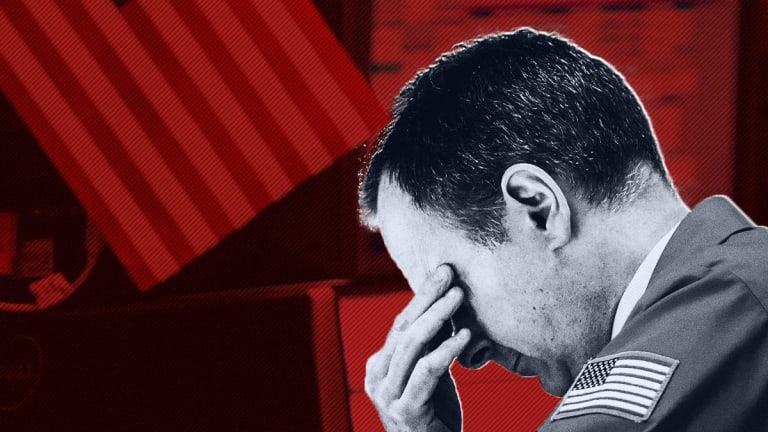 Yield Curve Points to May '20 Recession, December '19 Stock Selloff, Stifel Says
Investment bank says historical trends indicate the U.S. will see a recession next May. Stocks would sell off roughly five months beforehand.
The U.S. may see a recession in May 2020 and the stock market could sell off five months beforehand, in December, Stifel says, citing historical trends.
"The smoothed 10-year-3-month curve inverted June 20, 2019, indicating a May 2020 recession and S&P 500 risk [in] December 2019," the firm's head institutional equity strategist, Barry Bannister, wrote in a Wednesday report.
"Stocks may plunge in December 2019 with the standard lead time to the onset of recession."
Bannister's price target on the S&P 500 is 2,950, a touch above the index's current level of 2,915. The analyst says that's his price target "for now," as a December selloff would tarnish that estimate.
The S&P 500 could shed 32% in that event, when just a 10% loss is viewed as a correction. Bannister says the index usually plummets about five months before recession. 
The index is up 16.5% in 2019 to date, after correcting in December 2018 on concern that the global economy was slowing faster than anticipated.
President Donald Trump's trade war with China has not only shaved a few basis points off U.S. GDP, but most recently it has caused business confidence to plummet, Bannister says. That's because uncertainty about the possible imposition of more tariffs on both sides is making corporate executives hesitant to invest.
The purchasing-managers index contracted to 49.9 in August from 50.4 in July, the first such shrinkage in almost 10 years. Meanwhile, the Federal Reserve had raised rates twice in 2018, which most investors ultimately opposed, Bannister argues. 
Now, the yields on the 10-year and 3-month treasurys are inverted, with the 10-year at 1.49%, lower than the 3-month's 1.99%. This reflects investors' belief that the economy will head into recession and that inflation will be weak, prompting capital flows into safe assets while riskier ones like stocks lose value.
The yield curve has been inverted for months, as Bannister pointed out, which usually signals a recession within roughly six to 24 months from the inversion. Bannister says the inverted yield curve has given "no false signals in 50 years." 
Stocks this year have rallied partly on optimism the Fed will cut rates two more times in addition to its July 31 cut. But "even if the Fed cuts another 25 basis points in September 2019, policy would still be too tight," Bannister says.
He said that earnings multiples usually expand when the Fed cuts rates, as corporate cash flows are discounted at lower rates, but that earnings per share may have already peaked.
His S&P 500 earnings estimate of $152 a share is below the consensus of $162, but the current economic headwinds are "putting our already below consensus EPS views at risk," he said. 
While many defensive stocks have recently run up and are somewhat expensive, Bannister recommends them over cyclicals. The Invesco S&P Consumer Staples ETF, for example, is up 25% year-to-date. 
Bannister isn't alone in his bearishness. 
UBS Global Chief Investment Officer Mark Haefele moved the bank's equities position to underweight this week. "Downside risks are increasing for both the global economy and markets," Haefele wrote in a note. 
And LPL Financial Chief Investment Strategist John Lynch wrote in a note this week, "We are tweaking our 2019 forecasts to reflect increased risk to economic growth and corporate profits" from the U.S.-China trade conflict.
Save 57% With Our Labor Day Sale. Join Jim Cramer's Action Alerts PLUS investment club to become a smarter investor! Click here to sign up!