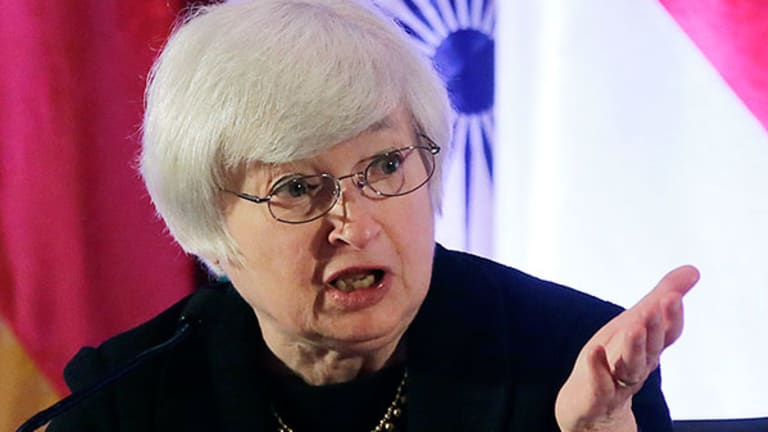 Yellen Delivers Tepid Remarks on Economic Outlook, Masters Senate's 'Too Big To Fail' Fears
Federal Reserve Chairwoman Janet Yellen says economic data softened since her testimony two weeks ago to the House Financial Services Committee. But she offers a fluid response to senators' questions about 'too big to fail.'
WASHINGTON (TheStreet) -- Federal Reserve Chairwoman Janet Yellen offered investors an unsettling update on Thursday as she said soft economic data the last two weeks merit a closer look by the central bank.
Addressing the Senate Banking Committee for the first time in her position as head of the Fed, Yellen diverged from prepared opening remarks to say that since she spoke two weeks ago to the House Financial Services Committee, softer housing, retail and industrial production numbers required closer attention from the Fed.
Economists have blamed severe winter weather across the United States for declining retail sales and industrial production, as well as weaker-than-anticipated existing home sales and housing starts.
While Yellen didn't offer markets a marked difference in commentary since she last spoke, the chairwoman delivered fluid opinions of how the Fed is moving forward with critical banking regulation.
The S&P 500 until this week was trading in negative territory for 2014, during which emerging markets suffered. But Yellen said at this stage global financial markets don't pose substantial risk to the U.S. economy.
The top central banker said the Fed will look to finalize rules of the Dodd-Frank Wall Street Reform and Consumer Protection Act in the near term. When pressed by Sen. David Vitter (R., La.) when exactly the Fed would finalize those rules, Yellen stuttered and said in the not-too-distant future.
Vitter wasn't surprised and didn't expect her to give a specific answer, the senator told TheStreet in an interview.
Yellen said she isn't worried about the pace of economic growth, but she did say she is becoming concerned that underwriting standards appeared to be deteriorating in leveraged lending.
Senators repeatedly pressed Yellen about "too big to fail" banks and the Fed's commitment to prevent the financial sector from overleveraging and creating a crash similar to the 2008 financial crisis. The Fed chair swatted away these questions by agreeing with lawmakers that the central bank should continue to rein in leveraging ratios. She also said that the Fed will vote on bank enforcement actions.
Like predecessor Ben Bernanke, Yellen said fiscal policy remained "quite tight" and continues to place a drag on the recovery -- a sentiment that many Republican and Democratic senators agreed with.
How to Interpret Thursday's Testimony
Investors witnessed a much briefer session on Thursday with a far more topical question-and-answer session than the House hearing.
This was true for a few reasons.
First, many of the senators on the banking committee aren't up for reelection in 2014 and are therefore not being pressed by likely voters on labor issues. House members often push harder about the Fed's hand in jobs because the unemployment rate has remained elevated for an uncharacteristic amount of time.
While Yellen and the central bank target bringing down the unemployment rate, there's only so much monetary policy can do to spur labor growth. Fiscal policy has struggled beneath partisan pressures, and the private sector -- though creating record profits -- hasn't experienced enough demand to force hiring sprees.
Second, senators tend to focus on the general sentiment of state voters instead of constituents of one district. Ohio, for example, boasts pockets of blue-collar, major industrial towns that likely focus more on wage growth and jobs growth, but the state's financial services areas focus more on banking regulation. This encourages senators like Ohio's Sherrod Brown, a Democrat, to focus on the complex details of leverage ratios, but also voice his concern about income inequality.
In other words, a congressperson who represents a deeply Republican district with high unemployment has more voting interest in slamming the Fed for running a massive economic stimulus program that hasn't pushed the unemployment rate below 5%, than praising the unprecedented policy and having to answer to constituents why Congress hasn't done more on the fiscal side to combat high unemployment.
While Yellen emerged from the Hart Senate Building unscathed, she has two months of poor economic numbers to discuss with her policy-making body in March. If the slow start to 2014 isn't just about frosty weather, the markets could be in for an icy summer.
-- Written by Joe Deaux in New York.
>Contact by Email.