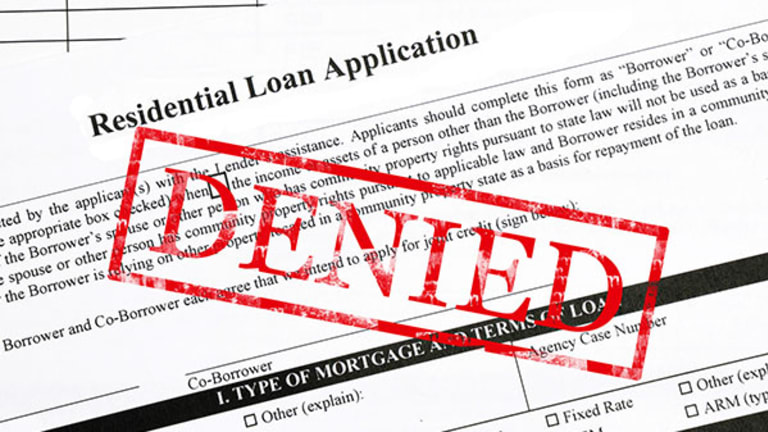 Why Banks Aren't Lending
An analyst points to overregulation, while others point to doubts over the economy.
NEW YORK (
) -- Banks aren't lending enough to get the economy moving. In an effort to understand why, I spoke to three people with different points of view who are smarter about these issues than I am.
The Federal Reserve shows banks have an astonishing
$2.3 trillion in excess reserves
-- that is capital available for lending but merely sitting on bank balance sheets. Prior to the financial crisis,
that figure was at about $1.5 billion
.
I started with Richard Bove, a bank analyst at Rafferty Capital Markets. Bove has been outspoken in his view that U.S. banks are overregulated in virtually everything that they do. He recently argued that fines against
JPMorgan Chase
(JPM) - Get JPMorgan Chase & Co. Report
amounted to government "
" of the bank's shareholders.
This overregulation, in Bove's view, is what is keeping banks from lending.
"The government, through a series of capital restraints are forcing the banks to have an unusually large amount of liquidity," Bove says. He points to rules including Basel 3, as well as a supplementary leverage ratio for big U.S. banks like JPMorgan,
Bank of America
(BAC) - Get Bank of America Corp Report
,
Citigroup
(C) - Get Citigroup Inc. Report
and
Wells Fargo
(WFC) - Get Wells Fargo & Company Report
, among other requirements that force banks to have a larger portion of capital in cash or cashlike instruments, which means it isn't available for lending.
Bove says the U.S. banking system was fine for 75 years without such strict capital rules. The last time rules were so strict, he argues, was in 1938, which helped extend the Great Depression.
Dan Alpert, a banker at Westwood Capital, says banks aren't lending "because there aren't any creditworthy borrowers to lend to that haven't already borrowed all the money that they need. They're trying to lower their lending standards a little bit because business has fallen off a cliff, but there's a limit to how much they can lower their standards without a.) losing money and b.) inciting the regulators."
Michael Barr, a University of Michigan professor who was the U.S. Department of the Treasury's Assistant Secretary for Financial Institutions from 2009-2010, points to an uncertain outlook for the economy which he believes makes businesses reluctant to borrow and banks reluctant to lend, as well as uncertainty over whether Congress will raise the federal borrowing limit. He doesn't think higher capital requirements are holding back lenders, in part because they don't fully kick in until 2019.
"Banks have to be more conservative in how they fund themselves going forward and I think that is a good thing. What we saw in the run up to the financial crisis was a massive overleveraging of the system and in the wake of the crisis you saw, understandably, deleveraging, and to some extent that process is still continuing," Barr says.
--
Written by Dan Freed in New York
.
Disclosure: TheStreet's editorial policy prohibits staff editors, reporters and analysts from holding positions in any individual stocks.