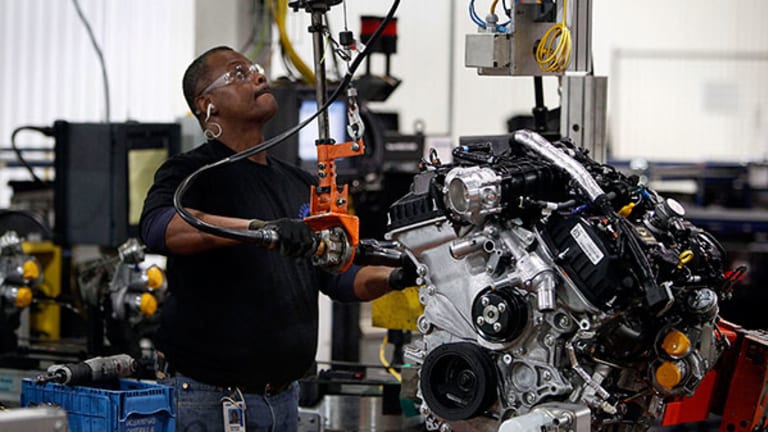 U.S. Jobs: What's Hot and What's Not
A deeper look at the January jobs report offers some upside surprises and unexpected stumbles across different labor sectors.
NEW YORK (TheStreet) -- A week after President Obama said he would work with CEOs to return the long-term unemployed to the work force, the January jobs report on Friday failed to boost optimism in the U.S. economy.
And despite the president's plan to reward companies for hiring those who have been out of work for 27 weeks or longer -- which he discussed at a roundtable with successful chief executives -- it remains a long-shot initiative to fundamentally shift the sluggish labor recovery.
"Jobs are hard to create. I think people don't understand that," said Lee Munson, chief investment officer at Portfolio LLC, in a telephone interview. "Over the last 10 to 15 years companies are more interested in hiring the right people. There's a reason why companies don't hire long-term unemployed: They lack skills and the motivation."
But like most top-line data, these headline-grabbing numbers failed to communicate the full complexity of this latest report. There were in fact unexpected bright spots in the employment situation: Some sectors are adding jobs, in significant numbers, even as others are still shedding them.
Here are three areas where the labor market is picking up steam, and three in which it continues to sputter.
Construction
Construction added 48,000 jobs in January, making it the top performer for employment growth among industries surveyed by the Labor Department. The gains, which occurred in residential and nonresidential building, offset the 22,000 job decline the sector experienced in December.
Manufacturing
Manufacturing jobs gained by 21,000 in January, which was more than the 10,000 economists surveyed by Bloomberg anticipated. This was well above the 7,000 jobs a month the sector added in 2013. While the January uptick in manufacturing jobs offered upside surprise, recruiting firms don't think the sector is growing quickly enough.
"The lack of skilled labor on the manufacturing side is significant," Chad Oakley, president of Charles Aris, said in a phone interview. "Twenty-one thousand is scratching the surface of what I think that could be." Oakley said the January report was great, but that it "absolutely" isn't even close to hiring enough people in the sector.
Professional and Business Services
Professional and business services, which includes engineering, accounting, consulting, scientific, and many other service-based occupations, gained 36,000 jobs in January. This was below the 55,000 jobs a month added in 2013.
Education and Health Services
Education and health services dipped by 6,000 jobs in January. This sector has shown consistent expansion since the end of the Great Recession, and hiring firms continue to point to health care as one of the best sectors for job placement. "Health care IT is on fire," said Nick Turner, CEO of Kaye Bassman International.
"The health sector has been one of the biggest contributors to job growth over the past few years, but over the past two months employment in that sector has fallen," Paul Ashworth, chief U.S. economist at Capital Economics, wrote Friday in a note. "Whether this is an unexpected consequence of the implementation of the Affordable Care Act is open to question."
Retail
Retail lost 13,000 jobs in January, which the Labor Department said was "little changed" from December. The sector witnessed gains in the prior three months, but cuts in sporting goods, hobby stores, book stores and music stores ended that streak.
"The guy that's working in retail, it doesn't mean there are not jobs, it means that the job you used to make $18 for, you're now going to take it for $11," Turner said in an interview.
Government
Federal government employees dropped by 12,000, 9,000 of which came from cuts by the U.S. Postal Service. A decline in government employees isn't new, and has significantly weighed down on the labor market's recovery since the 2008 financial crisis. Critics argue that rigid budget cuts and a fiscal policy that hasn't been as accommodative as monetary policy is why government jobs continue to tumble. For now, it appears this trend won't soon reverse.
"I just think that there hasn't been much effort by either party to really address the jobs situation," Robert Brusca, chief economist at FAO Economics, said in a phone interview from New York.
-- Written by Joe Deaux in New York.
>Contact by Email.