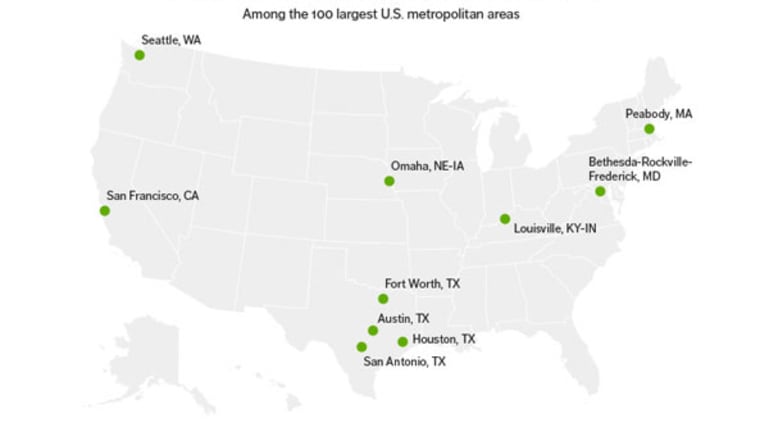 Where to Buy -- and Not to Buy -- a House in 2013
The markets with the biggest price gains might not be the best places to buy a home, according to Trulia.
NEW YORK (
) -- The recovery in housing, while welcome, has been uneven and buyers and investors should be cautious before jumping back into the market.
Home prices rose 5.2 % through November 2012, according to
Zillow but the year saw huge divergences in performance. While cities such as Phoenix, Las Vegas and San Jose saw strong double-digit growth, other markets such as Chicago and Atlanta experienced declines.
Investors looking to buy property in 2013, however, should focus on markets with healthy fundamentals rather than chase recent performance, according to Jed Kolko, chief economist at real estate information provider Trulia.
"Just as losing lots of weight might be part of an unhealthy cycle of yo-yo dieting, big price gains aren't necessarily a sign of a healthy housing market if they're being driven by a post-crash rebound, rather than solid fundamentals," Kolko said in a recent
blog post.
For instance, while home prices have gained 26% and 16% respectively in Phoenix and Las Vegas, these markets continue to be plagued by high foreclosure inventory rates that could limit further upside.
Healthy housing markets, however, are those that could see more sustainable rise in home values. These are cities where there is strong job growth, low vacancy rates that would encourage new construction (but not so low that inventory and sales are constrained) and low foreclosure inventory.
The post lists the
10 healthiest housing markets for 2013.
TheStreet
followed up with Trulia and came up with this list of where to buy and where not to buy in 2013 based on the above parameters.
Four of the top ten healthiest markets identified by Trulia are in Texas, with cities such as Houston experiencing robust job growth. Other markets are characterized by relatively low foreclosure inventory rates. Seattle, which experienced one of the biggest turnarounds in housing in 2012, has low vacancy rates, which could spur construction.
Meanwhile, four out of the five markets that are still likely to struggle in 2013 are in Florida.
The state, which was among the worst affected by the bust, continues to suffer from a high foreclosure rate, in part due to a lengthy judicial foreclosure process.
The backlog of foreclosed homes that are yet to hit the market means home prices in the region could follow a "saw-toothed" recovery, according to analysts. Prices could rise for a few months only to fall once another wave of inventory hits the market. Timing the market could prove more difficult in these regions.
-- Written by Shanthi Bharatwaj in New York.
Disclosure: TheStreet's editorial policy prohibits staff editors and reporters from holding positions in any individual stocks.