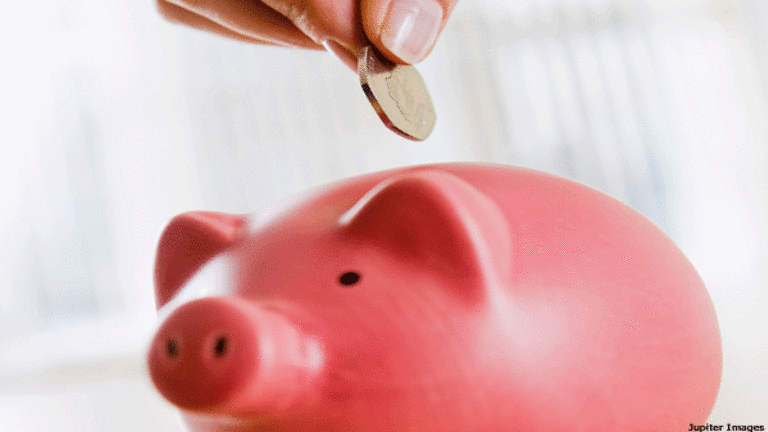 Wall Street's Early-Won Gains Disappear
Stocks in New York give up early gains as dismal news from U.S. companies overrides bullish outlook for China's new economic stimulus package.
Updated from 12:00 p.m. EST
Stocks in New York were trading lower after an exuberant open Monday, as buying interest spurred by China's economic stimulus package gave way to worries over a grim near-term future for U.S. companies.
The
Dow Jones Industrial Average
was losing 110 points to 8833, and the
S&P 500
was down 15 points to 916. The
Nasdaq
was losing 31 points to 1617.
Financial firms were in focus as Monday's session got under way. Troubled insurer
(AIG) - Get American International Group Inc. Report
received a revamped $150 billion bailout package from the U.S. government and reported a third-quarter loss of $24.47 billion, or $9.05 a share, compared with year-earlier net income of $3.09 billion, or $1.19 a share.
(C) - Get Citigroup Inc. Report
is in talks to acquire a bank, according to a report in
The Wall Street Journal
. Earlier this year, Citi had been a suitor to
Wachovia
(WB) - Get Weibo Corporation Report
, only to have its offer trumped by
Wells Fargo
(WFC) - Get Wells Fargo & Company Report
.
Shares of
Goldman Sachs
(GS) - Get Goldman Sachs Group Inc. (The) Report
were incurring heavy losses following a Barclays Capital analyst prediction that the company would lose $2.50 a share in the quarter ending Nov. 30.
In other
,
General Motors
(GM) - Get General Motors Company Report
suffered a Deutsche Bank downgrade to sell, and the bank's analysts cut the automaker's share price target to $0 from $4. Barclays analysts moved their price target to $1. On Friday, GM reported a $2.5 billion loss and a rapidly declining cash-flow level, spurring speculation that the company will need government assistance to avoid bankruptcy. GM shares were lately tanking more than 25%.
Wells Fargo
(WFC) - Get Wells Fargo & Company Report
, on the other hand, got a Credit Suisse boost to outperform from neutral.
Credit markets remained a concern, as the Group of 20 finance ministers and central governors on Sunday released a statement calling for additional interest-rate cuts from central banks.
Three-month dollar Libor, a measure of the rates banks charge one another for large loans, dropped 6 basis points to 2.24%. Overnight Libor edged up 2 basis points to 0.35%.
"We're going to look back in three months and six months and realize the federal government took extraordinary amounts of action," said Gary Flam, portfolio manager at Bel Air Investment Advisors. He said that taken all together, the
Federal Reserve's
interest-rate cuts and other government actions were significant in restoring confidence, but "this financial crisis does have economic implications. People, businesses, governments going forward are going to have reduced leverage." He said he does not see a swift recovery and expects the economy to continue to stagnate into the first and second quarters of 2009.
Statements from several firms reflected the tough economic environment. Electronics retailer
Circuit City
(CC) - Get Chemours Company (The) Report
filed for Chapter 11 bankruptcy protection Monday.
Meanwhile, shipping company
Deutsche Post
said it would cut 9,500 jobs and reduce U.S. operations of its DHL Express business.
On the
side, financial conglomerate
Berkshire Hathaway
(BRK.A) - Get Berkshire Hathaway Inc. Report
announced a 77% decline in third-quarter profit that owed in part to unrealized losses on derivatives and other securities.
Telecom firm
Nortel Networks
( NT) announced a third-quarter loss and said it would cut its headcount by 1,300.
Meanwhile, mortgage company
Fannie Mae
( FNM) reported a $29 billion loss for the third quarter.
Meat products producer
Tyson Foods
(TSN) - Get Tyson Foods Inc. Report
announced an increase in third-quarter earnings, and fast-food concern
McDonald's
(MCD) - Get McDonald's Corporation Report
said global same-store sales increased 8.2% in October.
Beyond earnings, energy company
(NRG) - Get NRG Energy Inc. Report
late Sunday rebuffed a $6.08 billion buyout offer from
Exelon
(EXC) - Get Exelon Corporation Report
.
Agricultural firm
Bunge
(BG) - Get Bunge Limited Report
formally did away with plans for a $4.8 billion merger with
Corn Products International
( CPO).
closed higher Monday following China's announcement of a $586 billion stimulus package to bolster consumer and business confidence. European indices, including the FTSE in London and the DAX in Frankfurt, also were marking gains.
Although China's initiative to bolster its economy has given the U.S. market a boost in early trading, such a decision calls into question the theory that China could continue to grow even as other economies suffer a downturn, said Phil Flynn, vice president and senior market analyst at Alaron Trading. "A few months ago, the biggest concern about China and the government was getting the economy to slow down." He said that the stimulus package "probably signals that things in China are probably a lot worse than people have feared."
Flynn said that the market was behaving as though China's stimulus package was a short-term bullish event, but he also said that the infrastructure buildout undertaken by the package is a longer-term plan, and the news is actually bearish for the short term. "I think what's going to happen is that the excitement is probably going to wear off," he said.
Looking at commodities, crude oil was falling 40 cents to $60.64 a barrel. Gold was up $9.10 to $743.30 an ounce.
Longer-dated U.S. Treasury securities were rising in price. The 10-year note was adding 12/32 to yield 3.75%, and the 30-year was up 1-7/32, yielding 4.2%. The dollar was gaining on the euro and yen but falling vs. the pound.