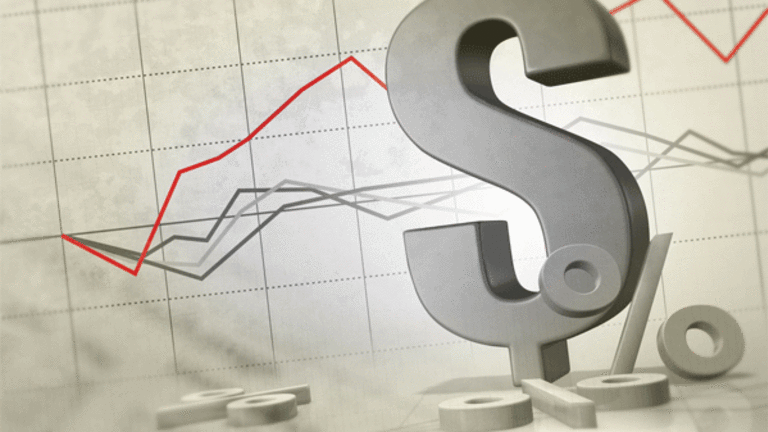 U.S. Stock Futures Build Higher on Citigroup Bailout
Premarket futures were hinting at a higher open for U.S. stocks Monday, following a U.S. government plan to rescue ailing financial giant Citigroup.
Updated from 7:03 a.m. EST
Premarket futures were hinting at a higher open for U.S. stocks Monday, following an announcement that
Citigroup
(C) - Get Citigroup Inc. Report
had secured government aid that would help prevent a breakup of the enormous and troubled bank.
Futures for the
S&P 500
were up 21 points at 813 and were 14 points above fair value.
Nasdaq
futures were adding 17 points at 1108 and were 23 points ahead of fair value.
On Friday, stocks fluctuated sharply throughout the day before staging a late rally that coincided with reports that President-elect Barack Obama would select New York
Federal Reserve
chief
Tim Geithner
to run the
Treasury Department
. Reports also indicated Monday that former Treasury Secretary Lawrence Summers would head the National Economic Council.
Over the weekend, the Treasury, the Fed and the Federal Deposit Insurance Corp. announced they would move to
prop up Citigroup
in part by investing $20 billion of the $700 billion Troubled Asset Relief Program in Citi shares. The large stake follows an earlier $25 billion TARP investment from the government. The government agencies also will guarantee against up to $306 billion in potential loan losses by the bank.
Shares of Citi had dropped 60% in the past week on concerns about its ability to survive the credit crunch intact. On Friday, Citi executives reportedly denied speculation that the bank would sell all or part of itself to raise capital. The stock was soaring more than 50% in premarket trading.
Meanwhile,
Bloomberg
reported that
(GM) - Get General Motors Company Report
, which along with
Ford
(F) - Get Ford Motor Company Report
took large hits last week as they failed to secure a bailout from Congress, is trying to reduce its debt and delay a large payment to a union health fund. The report indicated that such a move is an effort to meet conditions that the automaker retool its business if it hopes to get government money.
Also over the weekend, a report by
The Wall Street Journal
, citing people familiar with the matter, said that GM's board was now open to a possible bankruptcy filing.
Separately, the transition team of President-elect Barack Obama said on Sunday it is working on an
economic-stimulus plan
to help avert the worst of an emerging economic downturn. Details of the plan include possibly allowing President Bush's tax plan to remain in place and legislation that would add or replace 2.5 million American jobs.
Reflecting additional pessimism about the performance of U.S. companies,
at Citigroup cut their price target for the S&P 500 to 850, and cut its 2009 target for the index to 1200.
News of the incoming administration's plan to prop up the economy came after three banks, including
Downey Financial
(DSL) - Get DoubleLine Income Solutions Fund of Beneficial Interests Report
, failed on Friday.
As to corporate earnings,
Campbell Soup
(CPB) - Get Campbell Soup Company Report
saw increasing fiscal first-quarter earnings.
Xerox
(XRX) - Get Xerox Holdings Corporation Report
also affirmed that it has sufficient capital and offered profit guidance that was in line with analysts' expectations.
In the merger arena,
Johnson & Johnson
(JNJ) - Get Johnson & Johnson Report
announced it would buy
Omrix Biopharma
(OMRI)
for $438 million, or $25 a share, in cash.
Looking at the day's economic data, October existing-home sales from the National Association of Realtors are due out Monday.
As to commodities, crude oil was climbing $1.59 to $51.52 a barrel. Gold was gaining $29.10 to $820.90 an ounce.
Longer-dated U.S. Treasury securities were mixed. The 10-year was down 7/32, yielding 3.22%, and the 30-year was gaining 2/32 to yield 3.69%. The dollar was weakening against the euro and pound but rising vs. the yen.
Abroad, European exchanges including the FTSE in London and the DAX in Frankfurt were marking gains. In
, Japan's Nikkei was closed for a holiday. Hong Kong's Hang Seng index finished with losses.