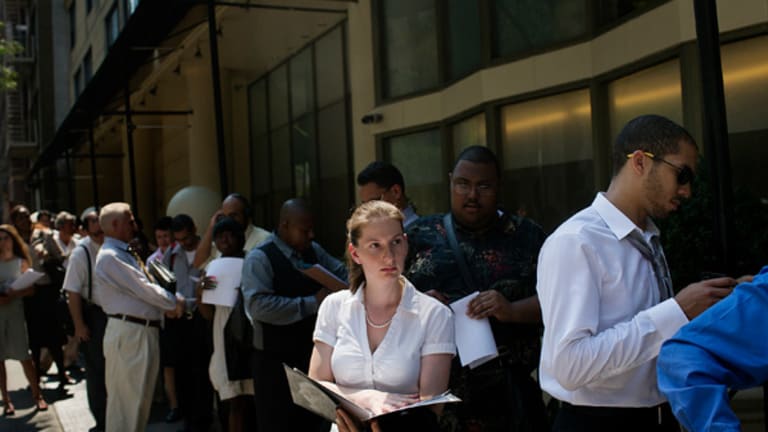 WASHINGTON (MNI) -- Initial jobless claims for U.S. state unemployment benefits fell by 11,000 claims to 304,000 in the week ending July 5, the Labor Department reported Thursday.
The 304,000 level of jobless claims was below the 315,000 median expectation from a survey of forecasts compiled by MNI. The June 28 week was unrevised at 315,000.
The Labor Department said there were no special factors and the impact from the holiday shortened week because of the 4th of July won't materialize until next week's release.
Seasonal factors already published by the Labor Department also indicate that unadjusted initial claims are expected to rise 15.5% next week, likely in anticipation of higher claims as auto manufacturers shutdown for annual retooling.
The four-week moving average for initial claims fell by 3,500 to 311,500 as the June 7 week increase in claims rolled off.
The Labor Department said seasonal adjustment factors had expected a 9.3% increase in unadjusted claims. Instead, unadjusted claims rose 5.4% to 322,248. That level is below the 383,811 level reported in the comparable week a year ago.
The level of continuing claims came in at 2.584 million after seasonal adjustment in the June 28 week, an increase of 10,000 from the previous week, and the four week moving average fell 7,750 to 2.571 million which is the lowest level since October 27, 2007 when it was 2.562 million.
The level of unadjusted continuing claims fell 18,627 to 2,393,005 in the June 28 week, which is below the 2,807,991 level seen in the comparable week a year ago.
The seasonally adjusted insured unemployment rate was 2.0% in the June 28 week which is lower than the 2.3% insured unemployment rate during the comparable week a year ago.
The unemployment rate among the insured labor force is well below that reported monthly by the Labor Department because claims are approved for the most part only for job losers, not the job leavers and labor force reentrants included in the monthly report.
The Labor Department reported that a total of 2,465,792 persons claimed unemployment benefits in the June 21 week, a decrease of 3,427 from the previous week and a 2,048,625 decline from a year ago. That level is well below the 4,514,417 persons in the comparable week a year ago. It should be noted that last year's total includes Emergency Unemployment Compensation benefits.
These data are not seasonally adjusted, and include regular state claims, federal employee claims, new veterans claims, extended benefits programs, state additional benefits, and STC/Workshare claims.