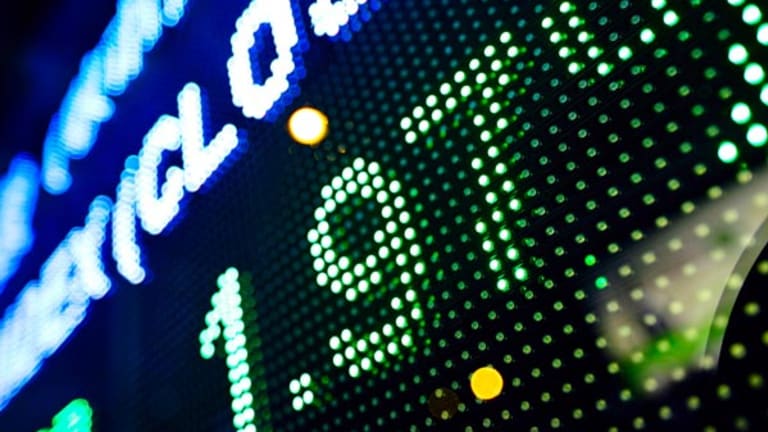 U.S. GDP Misses on Federal Spending Cuts
First quarter GDP disappointed mostly because of negative contributions from government spending.
NEW YORK (
) -- The U.S. economy grew less than expected in the first-quarter due to cutbacks in federal spending, a government report showed on Friday.
The Bureau of Economic Analysis said that U.S. GDP increased 2.5% in the first quarter after rising 0.4% in the fourth quarter. Analysts, on average, were expecting 3% growth, according to a Thomson Reuters poll.
This, as real federal government consumption expenditures and gross investment decreased 8.4% in the first quarter, compared with a decrease of 14.8% in the fourth quarter.
"This drop in government spending was almost twice the pace expected and accounted for the difference in actual GDP performance and our forecast," noted Millan Mulraine, U.S. director of research and strategy at TD Securities in New York. "This sizable drop in Q1 underscores the rising concern (especially among FOMC officials) that the impact from the intensifying fiscal austerity may be having a bigger and earlier impact on growth than previously thought. On the bright side, with more of the impact becoming front-loaded, the drag from government spending will likely dissipate faster."
There were constructive details in the report. For instance, personal consumption spending activity continued to rise at its fastest pace in nearly three years with a sequential gain of 3.2%, adding 2.24 percentage points to growth and defying expectations for a more modest 2.8% gain.
"It suggests that U.S. households are continuing to power this recovery along, even in the midst of the drag from higher personal taxes," Mulraine commented in a note.
Investment activity also contributed substantially to growth, with fixed investment gains adding 0.53 percentage points and inventories contributing 1.03 percentage points to the GDP.
"Those bearish on the economy who might feel vindicated by today's slower-than-expected pace will be trying to figure out why the expenditures component is so strong," noted Andrew Wilkinson, the New York City-based chief economic strategist at Miller Tabak & Co.
Written by Andrea Tse in New York
>To contact the writer of this article, click here:
Andrea Tse
.